"Ball Of Confusion"
The Temptations
Gordy 7099
Jun. 1970
Billboard: #3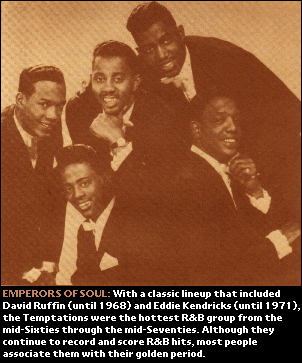 y the early '70s, the so-called dawning of the age of Aquarius had reached its twilight, and the encroaching darkness didn't look half as appealing as the dawn had promised. Most artists and producers at Motown, not to mention company head Berry Gordy, preferred to avoid controversy at all costs, but producer Norman Whitfield deliberately sought contemporary issues to use as subject matter. He began to tackle them with regularity, using the Temptations as his (somewhat resistant) creative outlet. As a result, his work became the most modern of all Motown acts. "Cloud Nine" marked the Temptations' first foray into social issues, with its obvious references to drug use as a form of escapism from inner-city woes. Runaways ("Runaway Child, Running Wild"), rampant consumerism ("Don't Let the Joneses Get You Down"), and psychedelia ("Psychedelic Shack") were all referenced to varying degrees of critical appeal but continually good commercial success.
| | |
| --- | --- |
| The Temptations' #3 single "Ball of Confusion (That's What the World is Today)" made its debut on LP on the group's Sept. 1970 greatest hits compilation Temptations Greatest Hits II, which peaked at #15 on the Billboard Hot 200 and remained on the charts for 70 weeks. In March 1997, Uni/Motown released The Temptations: The Ultimate Collection (above), a 21-track collection that features "Ball of Confusion" and 15 other Top 10 hits. | |
"Ball of Confusion" took the format another step farther by layering virtually every contemporary complaint that could fit into the lyrics and spewing them out in rapid-fire success. The song didn't bother to offer any solutions, but it sure was one hell of a gripe-fest.

Considering the confused state of affairs and the pessimistic outlook that had descended on the country, disillusion was justifiable. Listening to this lyrical rant today, it's hard to believe that the country didn't collapse completely into a police state or a radical civil war. It's hard to say wheter the circumstances of conception have any effect on the resulting child, but if they do, then one can only wonder how many disaffected souls from the so-called Generation X were conceived while their parents listened to songs like "Ball of Confusion."

Along with the consciousness-raising lyrics came a new and updated approach to instrumentation for Motown. Wah-wah pedals and distortion were sudddenly commonplace, as were electronically synthesized sounds and wildly exotic and self-indulgent arrangements. The post-hippie wasteland was grim indeed, but the music somehow didn't collapse -- yet. The most remarkable aspect of the Temptations' sudden embracing of social issues was how drastically different it was from their graceful past. It was as though they had been pulled forward through a time warp, yet their sound remained recognizable. Strange days required strange measures, and in the hands of Whitfield, the Temptations were plunged gracelessly into a time that spurned grace with "Ball of Confusion."

The seventies also brought more changes to the group than lyrical ones. Paul Williams left for health reasons in 1971 (and allegedly committed suicide in 1973). Eddie Kendricks reasserted himself as lead singer, and his mellow "Just My Imagination" topped the charts in April of 1971. Kendricks himself then left the group to go solo, hitting number 2 with "Keep on Truckin'" in late 1973 and number one with "Boogie Down" in March 1974. The Temptations proved resilient, however. Despite all the personnel shakeups, they were back on top with the sensational million seller "Papa Was a Rolling Stone" in late 1972. It won three Grammy awards that year -- Best R&B Performance, Best R&B Instrumental Performance, and Best R&B Song.

The Temptations continued to record through the decade, switching from Motown to Atlantic Records, then back to Motown in 1980. But they never regained their former status. They were one of the top soul groups, if not the soul group from 1965 through 1972. Whether brilliantly interpreting Smokey Robinson tunes, spectacularly weaving sophisticated vocals with precision dance steps, or planting the musical seeds of disco with their wilder sounds in the late sixties, the Temptations demonstrated again and again a relentless capability for excellence -- a quality that was recognized in 1989 when they were inducted into the Rock and Roll Hall of Fame.

- Thomas Ryan, American Hit Radio, Prima Entertainment, 1996.