"Gonna Fly Now (Theme from 'Rocky')"
Bill Conti
United Artists 940
Jul. 1977
Billboard: #1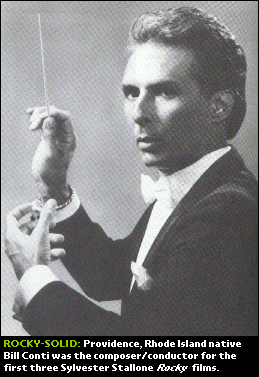 arol Connors was a child prodigy on piano even before she recorded a number one hit in 1958 with the Teddy Bears, "To Know Him Is to Love Him," under her real name, Annette Kleinbard. "They wheeled a baby grand into my incubator," she deadpans.
With a friend named Ayn Robbins, she tried to create a show for Walt Disney Productions called "Cloud Nine." It didn't sell, but the studio liked the project enough to ask the pair to collaborate on the music for The Rescuers, resulting in an Oscar nomination for "Someone's Waiting for You."
At the time of the Oscar win, Sylvester Stallone was in production on "a little film about a boxer," as Carol describes it. Bill Conti had been hired to score the film and needed a lyricist. Connors and Conti shared the same agent, who suggested his clients work together.
| | |
| --- | --- |
| Released in March 1977, the Rocky Original Soundtrack album peaked at #4 on the Billboard Hot 200 and remained on the charts for 34 weeks. It was certified platinum by the R.I.A.A. on June 22, 1977. | |
"I remember sitting in a screening... with Sly," Carol says. (He was) sitting in front of us with (director) John Avildsen... Frank (Stallone) had written a tune for Rocky. I think it was Ray Bradbury, I can't remember... (who) looked over to John at the end of the evening. Now remember, we're sitting in the back, I just happened to overhear him. He said, 'You will not only have a wonderful film, you will have an Academy Award film if you just get rid of the song.'

I loved Frank's song, 'He Had a Sunday Punch That Will Put Him Into Monday,' it was a good song but it didn't really work for what they were trying to accomplish. So we got the job. There was a temporary track on the film. Bill had been signed to be the composer and was still making a decision for the theme song."

Conti met Connors and Robbins at Carol's house. He played the instrumental theme he wanted to use and asked his collaborators, "What do we do with that?" A few days later, Carol was taking a shower when the words "Gonna fly now..." came into her head. "I called Bill from the shower and said I knew what the words should be. He said, 'Where are you?' and I told him I was in the shower. 'Are you alone? I said, 'Would I be calling you if I wasn't alone?' He said, 'Do me a favor, give me the lyrics before you electrocute yourself!'"

The completed song with full lyrics was submitted for the film, but the version heard in the final cut only contains 30 words. "I used to be embarassed that it was only 30 words," Carol declares. Her boyfriend at the time, Robert Culp, solved that problem. "He said, 'You and Aynnie captured in 30 words an entire concept of a film. What are you complaining about?' And from that day on I have not been ashamed of those 30 words."

Three songwriters attended the first screening of the film, held at MGM Studios in Culver City, California, for an audience of 200 sophisticated industry bigwigs. "Men were standing on their seats and screaming and women were yelling," Carol recalls. "Bill, Aynnie and I slouched in our seats. Bill looked over at both of us and said, 'I think it's a hit.' We never knew."

- Fred Bronson, The Billboard Book of Number One Hits, Billboard, 1988.