"You Don't Have to Be a Star (To Be in My Show)"
Marilyn McCoo and Billy Davis Jr.
ABC 12208
Jan. 1977
Billboard: #1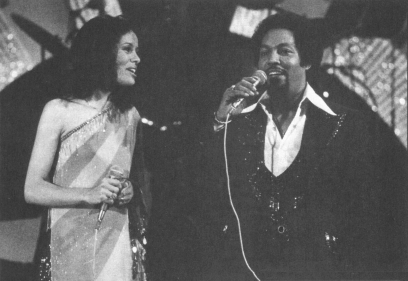 n November of 1975, the husband-and-wife team of Marilyn McCoo and Billy Davis, Jr., took a step they had been thinking about for several years -- they left the successful group they had been part of, the Fifth Dimension, for solo careers. it was a decision they were able to make after taking EST training. "...through EST I was able to strip away most of my negative feelings about myself and understand how I used them to keep me down or safe or inactive," McCoo told Alan Ebert in Essence magazine. "I began to understand me -- that I was unique and not part of a mold and that I had every right to seek my own fulfillment. That freed me to do what I really wanted -- to leave the group. Like Billy, I wanted to try new things."
| | |
| --- | --- |
| "You Don't Have to Be a Star (To Be in My Show)" was the second single from Marilyn McCoo and Billy Davis Jr.'s debut album, I Hope We Get to Love on Time. It hit the Billboard charts on Sept. 18, 1976, charting for 38 weeks and reaching number 30. | |
Billy had his own reasons for leaving: "Singing background parts is fun, and an occasional solo is fine, but I have certain goals for myself that I cannot expect three or four other members to have for themeselves. I also feel that I haven't had the chance to touch half the talent I've got."

The original intention was for Marilyn and Billy to have separate, solo careers. Otis Smith of ABC Records arranged for Marilyn to fly to Detroit and meet producer Don Davis, who had done important work at both Motown and Stax Records. Davis, who produced the number one "Disco Lady" for Johnnie Taylor, had recorded a half-dozen solo tracks with Marilyn when Billy decided their first projects should be an album of duets.

Davis had a demo from songwriters Dames Dean and John Glover that he thought would be perfect for Marilyn and BIlly. It wasn't written as a duet, but it was quickly rearranged for the two of them to sing. "It's one of the few songs in my career where I tried to emulate the Motown sound," Davis admits. "So I made sure I got the session musicians I needed, like James Jamerson. I knew there was no way I wanted to do this record without him."

Another priority was to produce a song that sounded contemporary. "I wanted to get away from any resemblance to the Fifth Dimension sound," Davis says. "I thought the Fifth Dimension had a great sound, but the needed something new and fresh." The record broke on black radio before it crossed over to pop, and although it was number one on the Hot 100, it won a Grammy in the category of Best R&B Vocal Performance by a Duo, Group or Chorus.

"You Don't Have to Be a Star" was the second McCoo and Davis single. The title track of their first album, "I Hope We Get to Love on Time," was released first, but only went to number 91. After "You Don't Have to Be a Star," the duo took "Your Love" to number 15. They only had one more chart single together, "Look What You've Done to My Heart," which peaked at 51.

Their success on the pop charts led to a summer variety series on CBS, The Marilyn McCoo and Billy Davis, Jr. Show. It ran for six weeks, beginning June 15, 1977. Marilyn hosted the second season of the television series, Solid Gold, and signed to RCA as a solo artist. She realeased several singles, including a duet with Billy, but none of them charted.

- Fred Bronson, The Billboard Book of Number One Hits, Billboard, 1988.