"Raindrops Keep Fallin' on My Head"
B.J. Thomas
Scepter 12265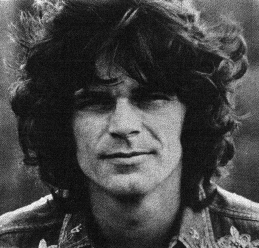 illy Joe Thomas started singing at the age of fourteen with a church choir in Houston. While in high school, he joined the Triumphs, a country-rock band that played dates all over the Southwest. On one Fourth of July weekend, they were heard performing in a state park by Charles Booth, the owner of a tiny label, Pacemaker. He put the group under contract and cut fifteen sides with them. Later, he sold that contract and the tapes to Scepter Records, which had national distribution. In the spring of 1966, one tune, a version of Hank Williams' "I'm So Lonesome I Could Cry," became a coast-to-coast Top 10 million-seller on Scepter. It looked like a great start for the Triumphs, as well as their engaging lead singer, B.J. Thomas.
However, the band refused to go on the road. They had school and other local interests, and did not want to leave the area. So, B.J. took off on his own, touring primarily with the Dick Clark Caravan of Stars. After two more 1966 hits, "Mama" and "Billy and Sue," B.J. was given a Cashbox award as the Most Promising Vocalist of the Year.
---

THE TOP FIVE
Week of January 3, 1970

1. Raindrops Keep Falling on my Head
B.J. Thomas

2. Leaving on a Jet Plane
Peter, Paul & Mary

3. Someday We'll Be Together
Diana Ross & the Supremes

4. Down on the Corner/ Fortunate Son
Creedence Clearwater Revival

5. Na Na Hey Hey Kiss Him Goodbye
Steam

---
There were no big hits in 1967, but in 1968 B.J. bounced back with "The Eyes of a New York Woman," and his second million-seller, "Hooked on a Feeling." A fellow Scepter artist, Dionne Warwick, was impressed enough to take a copy of the latter single to composer Burt Bacharach, who was then working on a score for the film Butch Cassidy and the Sundance Kid. She convinced him to pitch some songs to B.J., and with great reluctance, Burt finally asked Thomas to sing the main theme -- "Raindrops Keep Fallin' on My Head." He failed to mention that the song had already been turned down by two major artists, Bob Dylan and Ray Stevens.

B.J. had laryngitis at the time, but that didn't stop him from accepting Bacharach's offer. He went to a doctor, got loaded down with throat medications, and hopped a plane to Los Angeles. Once in the studio, it took five takes to get "Raindrops" down right for the soundtrack. "I don't think I could have made it through one more time," said B.J. Fortunately, the movie producers liked the gruffness in his throat.

A few weeks later, the pop version of the song was recorded in a different studio. That take was released by Scepter in October 1969. It broke nationally early in November, and within a month was certified gold. "Raindrops" peaked in January 1970, spending four weeks at the top of the charts. In all, it remained a best-seller for 22 weeks. It won the Oscar as Song of the Year, and a Grammy as the Best Original Score Written for a Motion Picture of TV Special.

B.J. had several other 1970 hits: "Everybody's Out of Town," "I Just Can't Help Believing," and "Most of All." "No Love At All" and "Mighty Clouds of Joy" came along in 1971, and in 1972, "Rock and Roll Lullaby."

By the age of 29, B.J. had become a superstar, having sold more than sixteen million records. But he was a drug addict, and had been since the age of fifteen. He estimated that he had spent between two and three million dollars on drugs during that time, with the worst years coming in the mid-seventies. Despite many attempts on four labels, only one tune became a hit for him then: "(Hey Won't You Play) Another Somebody Done Somebody Wrong Song," in 1975.

On January 28, 1976, B.J. became a born-again Christian, and quit drugs cold turkey. He began recording gospel and mainstream country songs, and soon amassed five Grammys for his efforts. In concert, he still performed the gold records, but added a little testimony to his act. Audiences didn't seem to mind, and in the summer of 1977 he racked up another pop hit, "Don't Worry Baby." His later C&W songs include two number one hits in 1983, "What Ever Happened to Old Fashioned Love" and "New Looks from an Old Lover," and a number ten hit in 1984, "The Whole World's in Love When You're Lonely."

B.J. went on to appear in the film Jory and Jake's Corner, pen his autobiography, Home Where I Belong, and sing the theme song for the TV sitcom Growing Pains. He died on May 29, 2021, at his home in Arlington, Tex., due to complications from stage four lung cancer. He was 78.

Reader's Comments
No comments so far, be the first to comment.