"Without You"
Nilsson
RCA 0604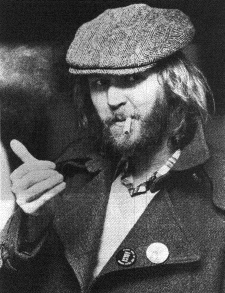 arry Edward Nilsson was born in Bushwick, a tough neighborhood in Brooklyn, New York. In the early fifties, his family moved to California, where Harry began to get into rock music. After high school, he started work as a computer supervisor at the First National Bank of Van Nuys. In his free time, he wrote songs, came up with commercial jingles, and sang demos for music publishers. Once his voice was heard, off camera, singing on an episode of the sixties television series "I Spy."
He got his first real break from producer Phil Spector, who had the Ronettes record two Nilsson songs. After that, other artists began to use his material, including the Turtles, the Yardbirds, Blood, Sweat and Tears, Rick Nelson, Lulu, Herb Alpert, Glen Campbell, the New Christy Minstrels, Jack Jones, and Harry Belafonte. One day, after hearing the Monkees sing his "Cuddly Toy" on the radio, Nilsson decided to make music his full-time occupation.
In 1967, he signed with RCA and put out the album Pandemonium Shadow Show. It used twenty voices, all his, and featured "You Can't Do That," an eleven-song montage of Beatles tunes. John Lennon heard it and immediately called Nilsson his "favorite American singer."
His second album was Aerial Ballet, titled after his grandparents' turn-of-the-century circus act. On it was "Everybody's Talkin'," which became his first hit in the fall of 1969. The song, written by Fred Neil, was used on the soundtrack of Midnight Cowboy. Nilsson had also written a tune for the movie, but it was rejected by the film's producers. Instead, Nilsson released it as a follow-up single, and "I Guess the Lord Must Be in New York City" became his second hit.
---

THE TOP FIVE
Week of February 19, 1972

1. Without You
Nilsson

2. Let's Stay Together
Al Green

3. Hurting Each Other
Carpenters

4. Precious and Few
Climax

5. Never Been To Spain
Three Dog Night

---
In 1971, Nilsson wrote the story and songs for an animated TV special, "The Point." It was the story of Oblio, a little boy banished to the Pointless Forest because his round head made him different. From that soundtrack came Nilsson's third hit, "Me and My Arrow," which was later rewritten into a TV commercial for Plymouth Arrow automobiles.

And then came the big time -- Nilsson's first number-one record. He ventured to England for a whole new tone and feel to his music, and met up with producer Richard Perry. The two began to map out an album, which came to be known as Nilsson Schmilsson. Almost immediately, Richard came up with the first song -- a tune he'd found on the Badfinger album No Dice. Group members Pete Ham and Tom Evans had written "Without You," and Richard was certain it would be an excellent tune for Nilsson to record. Harry wasn't quite so sure, and it wasn't until the middle of their sessions that he agreed to give it a try.

"It was a different record for its time," Richard recalled. "It was a big ballad with a heavy backbeat, and although many artists have cut songs like it since, no one was doing it then. It has a very romantic feel, and you know who was playing piano on that? It was Gary Wright, and that was years before he hit it big with 'Dream Weaver.'"

"Without You" was released as a single in December 1971 and spent four weeks at the top of the charts that February. In March, Nilsson received an RIAA Gold Disc Award, for sales surpassing one million copies. Soon after that, he also picked up a Grammy, for Best Male Pop Vocal Performance. "Without You" itself was nominated for Record of the Year and Nilsson Schmilsson for Album of the Year.

That album also produced Nilsson's next couple of hits, "Jump into the Fire," and "Coconut," both in 1972. Later in the year, Nilsson had another hit, "Spaceman," on which he was joined for the first time by Ringo Starr. In 1974, Ringo and Nilsson made a movie together, Son Of Dracula, which featured "Without You," "Jump into the Fire," and a new hit single, "Daybreak," and then Nilsson became John Lennon's companion during the ex-Beatle's separation from his wife, Yoko Ono. During this time the two recorded Pussy Cats, an album of old rock & roll songs. Nilsson faded from the recording scene during the eighties, straightened out, started a family, and pursued business interests, which included a Hollywood-based film distribution company. After Lennon's murder, Nilsson became a gun-control advocate, and made a low-key return to recording with 1988's A Touch More Schmilsson in the Night, on which he sang such pop standards as "Over the Rainbow" and "It's Only a Paper Moon."

In 1993, Nilsson suffered a heart attack, which inspired him to begin writing and recording again in earnest, even though he had no contract. Just a few days after finishing a new album, he died of heart disease at age 52, leaving behind a wife and seven children. The 1995 tribute album For the Love of Harry: Everybody Sings Nilsson featured Randy Newman, Brian Wilson, Adrian Belew, Joe Ely, and others.

With his three-octave vocal range, the late Harry Nilsson displayed an amazing studio wizardry and sang nearly all the parts on his records. The final effect would have been almost impossible to duplicate live, so Nilsson never tried. When asked when he would give a concert performance, Nilsson would just shrug and say, "I don't know."

comments powered by