"Me and Mrs. Jones"
Billy Paul
Philadelphia International 3521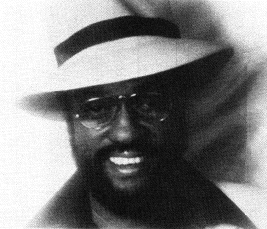 orn and raised in Philadelphia, Paul Williams began his singing career at the age of eleven, thanks to a neighborhood friend by the name of Bill Cosby. It was Cosby who helped the young man land a singing spot on WPEN, which led to a string of local appearances. Listening at home to his family's collection of 78's, Paul began to develop a vocal style that would eventually incorporate traces of jazz, R&B, and pop.
"That's how I really got indoctrinated into music," he recalled. "My mother was always buying and collecting records. She would buy everything from Jazz at the Philharmonic to Nat King Cole."
---

THE TOP FIVE
Week of December 16, 1972

1. Me and Mrs. Jones
Billy Paul

2. I Am Woman
Helen Reddy

3. If You Don't Know Me By Now
Harold Melvin & the Blue Notes

4. You Ought to be With Me
Al Green

5. It Never Rains in Southern California
Albert Hammond

---
As the young man grew, so did his interest in music. Seeking to increase his technical skills, he attended Temple University, West Philadelphia Music School, and Granoff Music School. Before too long, he was appearing in local clubs -- and discovered that he had to change his name, to avoid confusion with another Paul Williams, who was then singing lead with the Temptations.

As Billy Paul, he soon became an underground phenomenon in Philadelphia. Switching from rock to pop to soul ballads, he began getting national recognition and turned up in concert with Dinah Washington, Nina Simone, Miles Davis, the Impressions, Sammy Davis, Jr., and Roberta Flack.

Billy formed a trio and cut his first record, "Why Am I," for Jubilee Records, before being drafted into the armed services. After his release came a quick stop with the Flamingoes and a brief stand-in for one of the Blue Notes with Harold Melvin. (More than one reviewer described Billy's "saxophonic baritone" as resembling that of the Blue Notes' Teddy Pendergrass.)

His first album, Feelin' Good at the Cadillac Club, was a commercial flop but did mark the beginning of his relationship with the writing and production team of Kenny Gamble and Leon Huff. They put the album together and released it on their own Gamble label. They also assembled his second album, Ebony Woman, which bombed on their Neptune label. In the early seventies, Kenny and Leon formed another record company, Philadelphia International, and one of the first artists they signed was their old friend Billy Paul. His first album for the new firm was entitled Going East, and it, too, went right down the drain. By that time the year was 1972.

Billy's fourth album was designed to show him off as "an all-round entertainer." In fact, it was called 360 Degrees of Billy Paul. Among the tracks was a tune that Gamble and Huff had helped write -- a soul ballad about the touchy theme of adultery.

"I knew that, 'Me and Mrs. Jones' would be a hit even before it was released," said Billy. "It's a song that everybody can relate to."

Not everyone agreed with that philosophy -- in fact, a number of stations refused to play the record because it discussed an "immoral" theme without condemning it. Regardless, "Me and Mrs. Jones" became one of the largest-selling singles of the year, with sales topping four and a half million copies.

Billy Paul went on to win a Grammy Award for "Me and Mrs. Jones," for the Best Male Rhythm and Blues Performance. Later, it was voted Song of the Year at the Second Annual Soul and Blues Night in Los Angeles.

"Me and Mrs. Jones" peaked on the charts in December 1972, yet remained a strong seller for another two months. Then, in April, the next Billy Paul single was released, and it nearly killed his career. Radio program directors recoiled, fearing community reaction to the mere title alone. For that reason, "Am I Black Enough for You?" received almost no air play and faded in five weeks. It took until the spring of 1974 for Billy to score another Top 40 hit, and even then, only barely. Its ironic title: "Thanks for Saving My Life."

Reader's Comments
No comments so far, be the first to comment.