"Let's Get It On"
Marvin Gaye
Tamla 54234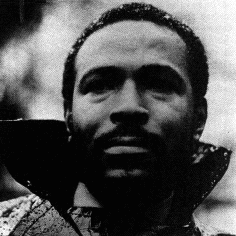 arvin Gaye, Jr. began singing in his father's church in Washington, D.C., taking his first solos at the age of three. His dad encouraged him to vocalize and play organ, and at Cardoza High, Marvin joined the band.
At seventeen, he enlisted in the air force. After his discharge, Marvin began his musical career in earnest, hoping to become a jazz singer in the mold of his idol, Nat King Cole. He joined a local group, the Rainbows, and later the Marquees, who were chosen by the leader of the Moonglows, Harvey Fuqua, to become the new Moonglows in 1958. Marvin played drums, piano, and sang with them for the next four years.
In 1962, the Moonglows were booked at a nightclub in Detroit. Marvin took the opportunity to entertain at a private party, and was observed by the president of Motown, Berry Gordy, Jr. Gordy persuaded Gaye to go solo, and offered him a contract as a session drummer. Marvin accepted, and was soon playing percussion behind the Miracles, Mary Wells, and others.
---

THE TOP FIVE
Week of September 8, 1973

1. Let's Get It On
Marvin Gaye

2. Brother Louie
Stories

3. Delta Dawn
Helen Reddy

4. Say, Has Anybody Seen my Sweet Gypsy Rose
Dawn featuring Tony Orlando

5. Touch Me in the Morning
Diana Ross

---
His fourth vocal single, "Stubborn Kind of Fellow," was a regional hit in November 1962. After that came "Hitchhike" (Top 30), "Pride and Joy" (Top 10) and "Can I Get A Witness," all in 1963. In 1964, there were "You're a Wonderful One," "Try It Baby," "Baby Don't You Do It" and "How Sweet It Is (to Be Loved by You)." He also hit with some duets: "What's the Matter with You Baby" and "Once Upon a Time," both with Mary Wells.

His streak continued into 1965 with "I'll Be Doggone," "Pretty Little Baby" and "Ain't That Peculiar." In 1966 there was "One More Heartache" and in '67 "Your Unchanging Love." The same year, he sang with Kim Weston and Tammi Terrell, who died of a brain tumor in 1970.

Marvin was devastated by Tammi's death and went into a self-imposed exile from live concerts. In the interim, more of their duets became major sellers: "If I Could Build My Whole World Around You," "Ain't Nothing Like the Real Thing," "You're All I Need to Get By," "Keep On Lovin' Me Honey" (all 1968) and "Good Lovin' Ain't Easy to Come By" (1969). Concurrently, Gaye hit the charts by himself with "You," "Chained," and his first number one, "I Heard It Through the Grapevine" (all 1968). In 1969 there were "Too Busy Thinking About My Baby" and "That's the Way Love Is"; in 1970, right after Tammi's passing, he sang "The End of Our Road."

In 1971, Marvin signed a new Motown contract. He immediately cut an album entitled What's Going On, a clear break from his previous three-minute dance-rock singles. Motown executives were skeptical of its commercial potential, but it turned out to be the best-selling album of Marvin's career to that point. Three gold singles came from it: the title track, "Mercy Mercy Me" and "Inner City Blues."

Gaye's next assignment was a soundtrack: Trouble Man. He had by then appeared in two motion pictures: The Ballad of Andy Crocker in 1969 and Chrome and Hot Leather in 1971. The title tune from Trouble Man became a Top 10 hit in January 1973.

And then came "Let's Get It On."

Reviewers were blown away by the work. "Perhaps the best overtly sensual music anyone in rock has ever made," wrote one critic. "The sexiest record Motown has ever produced." "Irresistible." "Pure eroticism," said others. "Another magnum opus." "One of the most joyous celebrations of sex ever recorded."

"Let's Get It On" was another complete departure for Marvin and one of the largest-selling singles in Motown history. It sold two million copies in six weeks and stayed on the charts for more than four months, selling in excess of three million copies.

Gaye also hit in 1973 with "Come Get to This" and "You're a Special Part of Me," the latter a duet with Diana Ross. In 1974, Gaye and Ross returned with "My Mistake." Marvin tried to repeat his erotic success that year with "You Sure Love to Ball," but it bombed.

Marvin Gaye dubbed himself "Mr. Perfectionist," and for a while would perform for no less than $100,000 a night. "The only thing between me and Beethoven is time," he said in the mid-seventies.

In the spring of 1981, under pressure from the Internal Revenue Service, Marvin left for London, where he planned to live. L.A. was "a psychological hellhole," he noted, complaining that he wanted "more love and more respect as an artist" than he was getting on this side of the Atlantic. He also planned to spend some time at a home he owned in Senegal, West Africa, and start a record label there. The next year, he left Motown for Columbia. His first album for the label, Midnight Love, sold two million copies and included the hit "Sexual Healing," which won a Grammy for Best R&B Performance, Male. In 1983, he appeared in one of the more memorable segments of Motown's 25th-anniversary television special, obviously somewhat disoriented but riveting nonetheless.

Despite his success, Gaye was depressed, and his cocaine abuse was escalating. He returned to the U.S. and moved into his parents' home -- where he often quarreled with his father, with whom he'd been at odds since his teenage years. On April 1, 1984, the day before Marvin's forty-fifth birthday, they quarreled over his father's treatment of his mother. Marvin lashed out at him, attacking him and beating him. His father calmly left the room, went down the hall to his own room, and returned with a gun. He shot Marvin twice in the chest, the second time at point-blank range. Marvin Gaye died instantly. In recent interviews Gaye's sister, Zeola, has described the shooting as a "mercy killing," claiming her despondent brother purposely pushed his father to the edge that day so he would kill him.

After his death Motown and Columbia collaborated to produce Dream of a Lifetime and Romantically Yours, both based on unfinished recordings from the Sexual Healing sessions; among the tracks of the first album were the ribald "Savage in the Sack" and "Masochistic Beauty," and some questioned whether Gaye had intended to release them at all. In 1987 Gaye was inducted into the Rock and Roll Hall of Fame.

comments powered by