"Come and Get Your Love"
Redbone
Epic 11035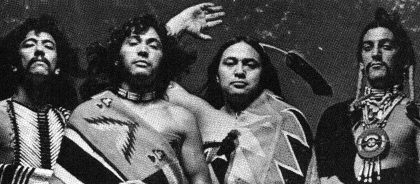 heir sound was rough and funky -- melodic chants set to a jerky Cajun beat. It was a mix of black and tribal influences, and many called their style "swamp music." They named themselves Redbone, and they were one of the very few rock groups to be fully staffed by genuine American Indians.
The key men behind Redbone were Pat and Lolly Vegas, brothers who grew up together near Fresno, California. Their grandparents, who were from Texarkana, turned the boys on to the southern sounds, as well as their own Yaqui Indian heritage. As children, the two developed a great liking for what they heard, and R&B in general.
---

THE TOP FIVE
Week of April 20, 1974

1. TSOP
MFSB and the Three Degrees

2. Bennie and the Jets
Elton John

3. Hooked on a Feeling
Blue Swede

4. Best Thing That Ever Happened to Me
Gladys Knight & the Pips

5. Come and Get Your Love
Redbone

---
In the early sixties, Pat and Lolly moved to L.A. to try their luck as musicians and songwriters. They wound up doing session work with Dr. John, Leon Russell, Glen Campbell, Johnny Rivers, and many others. They also recorded under their own names for Reprise, Apogee, Mercury, and Audio International.

Their biggest break came in 1964 when they became regulars on the ABC-TV series, "Shindig." Three years later, a Vegas Brothers song, "Niki Hoeky," became a hit single for P.J. Proby. Suddenly, their material became popular with other performers, such as Bobbie Gentry, Aretha Franklin, and the Righteous Brothers.

Pat and Lolly then formed their own group, called the Crazy Cajun Cakewalk Band. Soon after, they added Tony Bellamy, a flamenco guitarist. Rounding out the line-up was Peter De Poe, a drummer whose Cheyenne Indian name was Last Walking Bear. In 1968, these four decided to call themselves Redbone, after a derogatory Indian slang term meaning "half-breed." They chose to bear that name with pride -- and a touch of humor.

From the start, the band tried to capitalize on their unusual heritage. They wore buckskins and moccasins onstage, and promoted themselves as "the Injun band." It was a gimmick, but it seemed to work, and slowly their reputation grew on the west coast nightclub circuit. In 1970, they signed with Epic Records.

Their first single was "Maggie," "a song," said Lolly, "about the way some girls prostitute themselves in life." It became a regional hit in some parts of the country in September 1971. Then, in February 1972, along came "The Witch Queen of New Orleans." It reached number twenty-one in the States, and in England climbed to number two. The stage was set for the most successful record Redbone would ever release.

"Come and Get Your Love" was the most commercial -- and least Indian -- of all the Redbone recordings. Their strained vocals were perfectly suited to the song, which was cast in a Marvin Gaye mold. The single took off in January 1974, and on April 22 was certified a million-seller.

The group tried following that hit with a tune called "Suzie Girl," which got limited play at year's end but did not chart. Later releases reflected their Indian background even more strongly, but still the sales were not there. In 1978, a final comeback attempt fizzled on RCA Records.

By that time, only Pat and Lolly remained on the original quartet. They announced plans to slowly delete the Redbone name, and simply call themselves Pat and Lolly Vegas.

"Nobody ever took us seriously," said Lolly, in retrospect. "We were ignored."

Lolly Vegas died in Los Angeles on March 4, 2010, after battling cancer. He was 70.

comments powered by