"My Eyes Adored You"
Frankie Valli
Private Stock 45003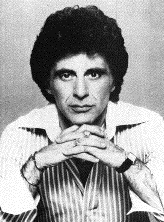 rankie Valli was twenty-eight before he scored his first success with "Sherry" in 1962. As lead singer of the Four Seasons, he'd helped that group sell more than eighty million records in the sixties.
In 1971, Frankie signed with Motown, with the understanding that he'd be getting the personal attention of label president Berry Gordy, Jr. That support, according to Valli, never came, due to Gordy's involvement with Diana Ross and her film, Lady Sings the Blues.
While with Motown, Frankie recorded a sentimental ballad, written by the group's long-time producer, Bob Crewe, and Kenny Nolan. It was inspired by Valli's relationship with his second wife, twenty-four-year-old Mary Ann. The first time she heard it, she knew "My Eyes Adored You" was a hit.
---

THE TOP FIVE
Week of March 22, 1975

1. My Eyes Adored You
Frankie Valli

2. Lady Marmalade
Labelle

3. Lovin' You
Minnie Ripperton

4. Black Water
Doobie Brothers

5. Have You Never Been Mellow
Olivia Newton-John

---
Motown sat on the track for a year and a half without issuing it. Finally, when Frankie's contract ran out in 1973, he bought back the master for $4,000.

Right about that time, Larry Uttal was organizing his new label, Private Stock. He needed a first release, and called Bob Crewe. At a dinner party, Crewe played the song, explaining that it would make a good B side for something else. Uttal disagreed; that tune was an A side all the way.

"My Eyes Adored You" was shipped to radio stations in October 1974. It started to get a little play in November, breaking out in various parts of the country. It wasn't until after Christmas, though, that the record broke wide open. By March 1975, it was the number-one song in the country.

In celebration, Mary Ann had a special gold record medallion made, which read "My Eyes Adored You," that Frankie often wore around his neck.

Subsequent Private Stock hits for Frankie the same year were "Swearin' to God" (#6) and a cover of Ruby and the Romantics' "Our Day Will Come" (#11). Frankie's old group, the Four Seasons, had almost ceased to exist, but in 1975 they made a comeback with one of their biggest-selling singles, "Who Loves You" (#3), followed the next year by "December 1963 (Oh What a Night)" (#1). Shortly before a 1977 tour, Frankie Valli announced -- with some bitterness -- that he would never work with the Four Seasons again, although he and Gaudio have retained co-ownership and its name. But despite Valli's solo success ("Grease" hit #1 and sold over seven million copies), the Four Seasons re-formed in 1980 with Gaudio, Valli, guitarist Don Ciccone, keyboardist Jerry Corbetta (ex-lead singer of Sugarloaf), guitarist Larry Lingle, and drummer Gerry Polci.

In 1984 Valli and Gaudio formed FBI Records, and the Four Seasons teamed with the Beach Boys for the single "East Meets West." More recent incarnations of the group boast six Four Seasons or more. In 1990 the original members were inducted into the Rock & Roll Hall of Fame. Thanks to the 1994 film Forrest Gump, the Four Seasons' "December 1963 (Oh What a Night)" reentered the Hot 100, becoming the longest-running single in the chart's history, with over 50 weeks total.

comments powered by