"Play That Funky Music"
Wild Cherry
Epic 50225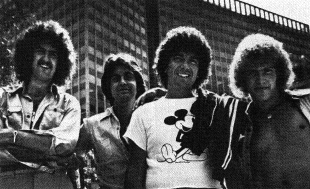 hat I wanted to do was cross R&B and pop music," said Rob Parissi, lead singer of Wild Cherry. "That's why I put a band together in 1970. Shortly after that, I wound up in the hospital for a few days, and the other guys came to see me. They brought me a bunch of stuff -- they were clowning around -- and one of those things was a box of cough drops. As they were getting ready to leave, one said, 'Hey, we don't have a name for our band.' So I held up the box of cough drops, as a joke, and said, 'You can call it this,' and pointed to the words 'Wild Cherry.' They liked it, and I hated it. I said, 'Are you serious?' It took me a long time to get used to that name.
"Anyway, we signed with Brown Bag Records -- Terry Knight's label -- but nothing really came of it. We went through some changes and broke up in 1975. I sold all my equipment and went to manage some Bonanza steakhouses. I listened to radio as we closed up each night and heard things like 'Fame' by David Bowie and 'You're No Good' by Linda Ronstadt. I started saying that the trend was changing -- that we were getting back to the roots of rock'n'roll.
---

THE TOP FIVE
Week of September 18, 1976

1. Play That Funky Music
Wild Cherry

2. (Shake, Shake, Shake) Shake Your Booty
K.C. & The Sunshine Band

3. I'd Really Love to See You Tonight
England Dan & John Ford Coley

4. A Fifth of Beethoven
Walter Murphy & the Big Apple Band

5. You'll Never Find Another Love Like Mine
Lou Rawls

---
"So I got out of the steakhouses, got another bunch of fellows together, and formed a second attempt at Wild Cherry. We started playing all the rock clubs, but then they started to disappear, and we wound up having to work in discos, including a place in Pittsburgh called the 2001. We played too much rock, I guess, because people came up to us and said, 'Play that funky music.'

"In the dressing room, I told the guys that we had to find a rock'n'roll way to play this disco stuff. Our drummer said, 'Well, I guess it's like they say -- "You gotta play that funky music, white boy."' I said, 'That's a great idea.' I grabbed a bar pad, the kind used to take down drink orders, and began to write.

"A couple of months later, the Commodores came out with a song called 'I Feel Sanctified,' which I thought would be a good A side for us. So we went into the studio and cut that, along with 'Funky Music' as a B side. While I was laying down my vocal part on 'Funky Music,' our engineer called up some friends across town and said, 'I think you ought to come in here -- I think we've got a hit.' So this guy came over and listened to it, and said, 'Yeah, when you get through with that, let me have it.'

"Well, I didn't take his opinion alone, so I took the song to New York and played it for a few labels, but nobody was really that much into dealing for it. I was pretty disgusted, and after a few weeks, I was ready to throw the thing away. Then that first guy called me back and said he'd played it for Epic Records.

"I knew enough about the record business to know that we had to capture the biggest cities. But to me, to get a breakout in Pittsburgh, our hometown, was something that we needed badly. When I first heard the song on the air in Pittsburgh, it was a real exciting thing. It just became everything I'd hoped it would be. And all the things that followed! Billboard called us the Best Pop Group of the Year; we got the American Music Award for the Top R&B Single of the Year; and there were two Grammy nominations, for Best New Vocal Group and Best R&B Performance by a Group or Duo. We got gold records from Canada and a lot of other foreign countries.

"After that, we started to overproduce our records, and that's probably why we never had another major hit. A lot of that was my fault, striving to sound different. We cut our last album in February 1979 and then just kind of fell apart.

"I grew up on Bo Diddley, Duane Eddy, the Animals, the Easybeats, the Yardbirds, the Ventures, Sly and the Family Stone -- all pure forms of their own kind. I'm a firm believer in cutting things in their purest form, with each guy playing something interesting, and complementary to the song. That's what happened with 'Play That Funky Music.' Every guy had a designated part, and it all came together, and sounded good."

comments powered by