"Kiss and Say Goodbye"
The Manhattans
Columbia 10310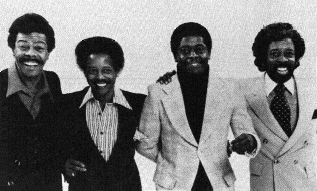 e went to high school together," said Winfred "Blue" Lovett. "Edward 'Sonny' Bivins, Kenneth 'Wally' Kelly, Richard 'Ricky' Taylor, and Gerald 'Smut' Alston. We loved sports -- baseball, preferably -- and singing. When we weren't playing ball in the daylight, we'd entertain ourselves just singing. I guess singing was our main thing.
"The Apollo Theater in New York had an amateur night, and we being from New Jersey, it was no problem for us to go there and audition. On this particular night, we came in third, and a gentleman by the name of Joe Evans was there. He signed us to his label, which was called Carnival Records.
"At that time, we were the Dulcets. It didn't sound that exciting; 'dulcets' means 'melodic tones' -- but how could you explain that to the public? We needed a catchy name that would last. So, with the cocktail theme in mind -- not the borough of Manhattan -- we picked the name Manhattans.
---

THE TOP FIVE
Week of July 24, 1976

1. Kiss and Say Goodbye
Manhattans

2. Afternoon Delight
Starland Vocal Band

3. I'll Be Good To You
Brothers Johnson

4. Moonlight Feels Right
Starbuck

5. Love is Alive
Gary Wright

---
"We spent four years with Carnival, four years with Starday-King Deluxe, and then signed with CBS (Columbia Records) in 1973. The years before we hit were not too easy. We were limited in the places we could play, and our sales were mediocre. To keep our families going, we all had to get part-time jobs.

"There were lots of songs I sat down and composed. I did big arrangements on 'em -- worked on 'em for a week -- and nothing happened. A lot of times I heard songs in my sleep, but I was too tired to get up and struggle in to where the piano was.

"But this particular night, I just couldn't lie there. I heard the melody. Everything was there. I got up about three o'clock in the morning and jotted down the things I wanted to say. I just put the words together on my tape recorder and little piano.

"I've always thought that when you write slow songs, they have to have meaning. In this case, it's the love triangle situation we've all been through. I figured anyone who's been in love could relate to it. And it seemed to touch home for a lot of folks.

"To me, 'Kiss and Say Goodbye' was a country tune. I didn't really mean it for the Manhattans. I wrote it for Glen Campbell, Charley Pride, one of those people. I didn't think the Manhattans were ready for it, being labeled rhythm and blues artists.

"I did the background parts; Bobby Martin did the arrangement. He and I sat together and I showed him how I wanted the rhythm to go. Then I talked to our lead singer, Gerald. He's a real soulful, gospel guy, and I told him I wanted it straight, with no rhythm. I heard this as a strictly country-type thing, sung by a black person.

"The record lay in the can for fourteen months before it was released. I was a hundred percent disappointed that they shot it out when they did, because disco was peaking at the time. Dorothy Moore had a song out then, ['Misty Blue'], and our record and Dorothy's creeped up very slowly on the charts. I watched it week by week just to see how it competed. Diana Ross and the Brothers Johnson also had stuff out then, and they zoomed past us like we were standing still. But we still made it up the chart, and reached number one.

"We were on tour when we heard it had gone gold, and we celebrated for a week. After eleven years, we had gotten our first gold! It didn't really hit us that it was as big as it was until it had gone platinum.

"We'd always thought kids had a lot to do with a song selling that well, but it isn't true. This wasn't a teenage-type record at all. And there were so many records before that we thought were going to be hits, and they weren't. It's funny, because before it made it, no one in the group had anything good to say about 'Kiss and Say Goodbye.' I was critical, a perfectionist in the studio, and there are still parts of it that make my skin crawl. For example, in one place, the background vocals go off pitch. Somehow, though, that didn't seem to bother anyone else. We wound up selling more than four million copies of 'Kiss and Say Goodbye.'"

The Manhattans made the charts again the next year with "I Kinda Miss You," followed by "It Feels So Good (to Be Loved So Bad)" in 1977, and scored a #5 hit with "Shining Star" in 1980. By then the Manhattans had been together nearly 20 years. Ricky Taylor left in 1977 to pursue his religious interests; he converted to Islam. Gerald Alston enjoyed a solo career but returned to the group for its 1993 reunion to commemorate its 30th anniversary.

Alston and Lovett recorded and performed together as the core of the group until Lovett's death in December 2014. Regina Belle, who has since gone on to a successful solo career, performed with the group in the mid-eighties.

comments powered by