"50 Ways to Leave Your Lover"
Paul Simon
Columbia 10270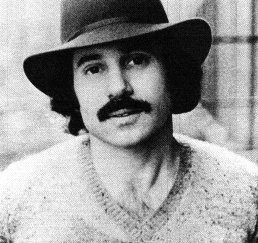 n the 1960s, no one spoke from the heart and from the head quite like Simon and Garfunkel. They truly were the spokesmen for a generation, and when they broke up many wondered if the two men could be as successful separately as they had been together.
Art went off hoping for an extensive career as a motion picture actor, but in eleven years made only three films: Catch 22 (1969), Carnal Knowledge (1971), and Bad Timing (1980). Of his eight chart singles during that period, two were "reunion" efforts with Paul, and only one solo song, "All I Know" (1973), managed to crawl into the national Top 10. For a while, Art even gave up show business altogether, and became a math teacher.
His former partner, however, had better luck, even though Simon's mother conceded that Garfunkel had the better voice. What Paul had on his side was songwriting ability, and while he had seen Simon and Garfunkel as a three-way partnership (with engineer and co-producer Roy Halee), musically they were just not a creative team. Paul wrote, played, vocalized and worked out in the studio, while Artie only sang. During the sessions for "Bridge over Troubled Water," Artie was not even there much of the time, and does not appear at all on some of the album tracks.
---

THE TOP FIVE
Week of February 7, 1976

1. 50 Ways to Leave Your Lover
Paul Simon

2. Love to Love You Baby
Donna Summer

3. You Sexy Thing
Hot Chocolate

4. I Write the Songs
Barry Manilow

5. Sing a Song
Earth, Wind & Fire

---
Dissolving Simon and Garfunkel relieved Paul of a lot of pressure, leaving him free to experiment with other kinds of music. He developed a taste for reggae, gospel, and unusual rhythms.

His first solo hit came along in the spring of 1972, and was inspired by the name of a chicken and egg dish Paul had in a Chinese restaurant. "Mother and Child Reunion" quickly became a gold record, and was followed later that year by "Me and Julio Down by the Schoolyard." In 1973, his album There Goes Rhymin' Simon included "Kodachrome" and "Loves Me Like a Rock" -- both million-sellers -- along with "American Tune."

In 1975, Paul recorded two duets: the first, "Gone at Last," with Phoebe Snow. He then took Garfunkel to Muscle Shoals, to show him where and with whom he'd cut Rhymin' Simon. The two friends then put together "My Little Town," a Top 10 tune and their first collaboration in more than five years.

But Paul's big project in 1975 was an autobiographical album, one that dealt with adjustment, a favorite theme in Simon songwriting. As he had in the sixties, Paul continued to document the trials and tribulations of his generation: the baby boom kids now facing the crisis of adulthood. They and he could still grin, sigh, and admit that they were "Still Crazy after All These Years."

Paul Simon's marriage had broken up by the mid-seventies. Rather than make it a negative experience, Paul decided to tackle the issue in a humorous vein, and in doing so, managed to come up with "50 Ways to Leave Your Lover." He gave his song a basic rhythm, and added one coloring instrument -- martial drums -- in order to avoid clutter. He recorded the song in a small studio in New York City, in the heart of Broadway's theater district.

"50 Ways to Leave Your Lover" broke nationally in late December 1975, and spent three weeks at number one in February 1976. It was certified gold on March 11, and remained a best-seller for nearly five months.

The title track from Still Crazy became a Top 40 hit later in 1976, while the album itself won a Grammy as Album of the Year. In 1977, Paul returned with "Slip Slidin' Away"; and in 1978, "(What a) Wonderful World" (sung with Garfunkel and James Taylor). Simon changed labels to Warner Brothers in time for the new decade, and hit with "Late in the Evening" and "One Trick Pony" in 1980. The latter tune was the title song from Paul's first starring motion picture. In it, the thirty-nine-year-old singer-songwriter played an aging rock star, trying to revive a sagging career. "It touches on the problem of prolonged adolescence," said Paul. "The movie had a lot to do with what happened to the sixties generation -- my generation -- in rock."

On September 19, 1981, Simon and Garfunkel gave a free concert for an estimated 500,000 fans in New York's Central Park, and in 1982, a double album, The Concert in Central Park, went platinum, peaking at number six. That same year, the pair toured together, intending to collaborate in the studio. When those plans fell through, Simon released Hearts and Bones, the least commercially and critically successful work of his career to date.

Seeking inspiration, Paul traveled to South Africa in 1985 to explore its indigenous music, which he had been studying. He emerged with Graceland, a dazzling collection influenced by South African dance music and featuring vocals from Ladysmith Black Mambazo, the Everly Brothers, and Los Lobos. Graceland was a Top 5 album in 1987, and a whimsical single pulled from it, "You Can Call Me Al," was a Top 40 single that same year. The album also won a 1986 Grammy for Album of the Year.

In 1990 The Rhythm of the Saints, incorporating strains of West African, Brazilian and zydeco music, was another Top 5 album for Paul, and he and his former partner were inducted into the Rock and Roll Hall of Fame. The next year, Simon hosted a free Central Park concert (this time Garfunkel was pointedly asked not to appear) that drew an estimated 750,000 people. In 1992 he wed Edie Brickell, then the lead singer of the New Bohemians, and coproduced her first solo album in 1994.

Over the years, Simon's charitable and social work has involved fund-raising for Amazonian rain forest preservation, New York's homeless, and South African children. For his humanitarian efforts, the United Negro College Fund accorded him its highest honor in 1989.

comments powered by