"Dancing Queen"
Abba
Atlantic 3372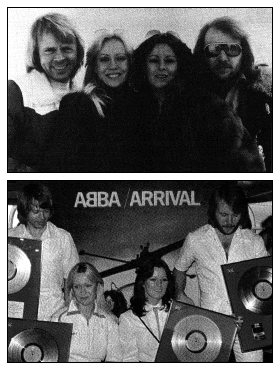 he Abba story began with Bjorn Ulvaeus, who was born in Göteborg, on the Baltic coast of Sweden. He and some friends, fans of the music of the Kingston Trio and the Brothers Four, formed their own folk group, the West Bay Singers. Later, they were to change their name to the Hootenanny Singers.
Meanwhile, there was a pop group knocking around Scandinavia known as the Hep Stars. They were the most popular band in Sweden, with more than a dozen hits, many of which had been written by one member, Benny Andersson.
In the summer of 1966, Bjorn and Benny met at a party and discovered that they had pretty much the same ideas on music. Over the next few years, they got together whenever they could, writing songs and placing them with other acts. After a while, they started performing their own material in nightclubs and cabarets. At one booking, the management insisted that they "brighten up the stage" with some female accompaniment. Bjorn called his girlfriend, a singer named Agnetha ("Anna") Fältskog, and Benny found Anni-Frid ("Frida") Synni-Lyngstad-Fredriksson. Together, they made their debut on November 1, 1970, as the Festfolk Quartet (festfolk could be translated as "party people" or "fianc&eacutes").
---

THE TOP FIVE
Week of April 9, 1977

1. Dancing Queen
Abba

2. Don't Give Up On Us
David Soul

3. Don't Leave Me This Way
Thelma Houston

4. Rich Girl
Hall & Oates

5. Southern Nights
Glen Campbell

---
On July 7, 1971, Bjorn and Anna were married, and on the same day, Bjorn was offered a job as staff producer at the Polar Recording Company. Bjorn insisted that Benny come along, too. The label explained that they had only enough money to hire one person, but Bjorn said that was all right; he'd just split his salary with Benny.

The pair wrote and produced a number of records in the early seventies, including several of which were credited to "Bjorn and Benny." The girls sang background vocals at first, but as time went on, they began to take over more and more of the leads. Eventually the labels credited all four singers' names. Their manager got tired of repeating all those names in interviews, so one day, as a joke, he strung the initials of their first names together to form the name Abba.

Abba first gained worldwide attention in 1974, when they performed "Waterloo" in the 19th Annual Eurovision Song Festival, an event televised to an estimated half-billion viewers in thirty-two countries. Abba won the festival, and their record became their first U.S. hit, selling more than five million copies around the globe. It was followed, in America, by "Honey Honey" (1974), "S.O.S." (1975), "I Do I Do I Do I Do" (1976), and "Fernando" (1976). In the summer of 1976, these songs were collected in the album Abba's Greatest Hits, which sold over seven million copies.

In early November 1976, "Dancing Queen," after weeks as the number-one record in England, throughout Europe, Australia, and the Far East, broke out as an "import" item on several U.S. radio stations. The undeniable new hit picked up steam as the stations began to play it right from Abba's brand-new album, Arrival, still unreleased in the U.S. at that point.

On November 18, Atlantic seized the initiative and rush-released "Dancing Queen" in North America, simultaneously issuing the tune as the latest entry in its limited-edition twelve-inch DiscoDisc series. By March, it was the number-one song in America, with sales ultimately topping six million. The Arrival album, certified gold one month later, sold in excess of nine million copies. In all, during 1977, Abba earned well over $10 million.

Abba went on to score other hits in the seventies, and they also made a film, Abba: The Movie, in 1978. Benny and Frida were wed the same year; they divorced in 1981. Two years earlier, Bjorn and Anna's marriage of eight years had also ended in divorce. Abba's public image, however, remained harmonious.

By the end of the decade, the group owned their own studio, film production works, a movie theater, and an art gallery, and were investing heavily in hotels and restaurants. Easily the most commercially successful successful group of the seventies, Abba's "aural candy," as one critic put it, had made them the largest single corporation in Sweden. Volvo was number two. Ironically, it was their massive financial success that, according to group members, led to the death and kidnapping threats that prompted their disbanding in 1982.

Later that year, Phil Collins produced Frida's post-Abba solo debut, Something's Going On, which featured "I Know There's Something Going On," a Top 20 hit. In 1985 her duet with B.A. Robertson, "Time," was a minor U.K. hit. Benny and Bjorn cowrote with British lyricist Time Rice the London and Broadway musical Chess, from which "One Night in Bangkok" became a number-three hit for Murray Head in 1985. Anna has also released solo albums and had several minor U.K. hits; her "Can't Shake Loose" hit #29 in 1983.

Abba became the focus of a revival in the early nineties, when their Abba Gold topped charts around the world. Their enduring appeal manifested in the Australian Abba impersonators Bjorn Again, Erasure's number-one U.K. cover EP Abba-esque, and Roxette's adding "Money Money Money" to their live set. U2 performed "Dancing Queen" on their Zoo Tour, with Bjorn and Benny joining them onstage in Stockholm in 1993.

comments powered by