"(Your Love Has Lifted Me) Higher and Higher"
Rita Coolidge
A&M 1922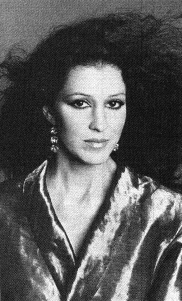 orn in Nashville and raised in East Tennessee, Rita Coolidge was the daughter of a minister at a small church outside of Lafayette. He positioned her at the center of his choir, and young Rita quickly learned to sing and perform.
Her first group was the Coolidge Sisters, which included siblings Priscilla and Linda. The trio won local state fairs and talent contests before eventually going their separate ways. Rita went to Florida State University to pursue a degree in art.
While still a student, Rita returned to music, mainly to help pay for art supplies. First she sang locally, then ventured into Memphis to work at a jingles company. Through that association, she recorded her first single, "Turn Around and Love You," for Pepper Records.
---

THE TOP FIVE
Week of August 20, 1977

1. Best of my Love
Emotions

2. I Just Want to be Your Everything
Andy Gibb

3. (Your Live Has Lifted Me) Higher and Higher
Rita Coolidge

4. I'm in You
Peter Frampton

5. Easy
Commodores

---
Memphis, meanwhile, was being rediscovered by a whole new crop of southern rockers like Leon Russell and Delaney and Bonnie. When the latter duo visited town, they were impressed by Rita's voice and took her back with them to Los Angeles to sing on one of their albums.

"When I got to L.A.," recounted Rita, "I just couldn't believe it. Everyone knew who I was." Sure enough, "Turn Around and Love You" had been a Top 10 hit, but only in L.A.

In 1969 Rita accepted a job singing on Joe Cocker's "Mad Dogs and Englishmen" tour. "It was a circus," she recalled. "It was an incredible time. We were always moving, always traveling. There was no time for anything." Rita, though, was a survivor, and in tribute, another tour member, Leon Russell, wrote a song about her -- "Delta Lady."

On November 9, 1970, in the Los Angeles airport, on the runway and waiting to board a flight for Memphis, Rita met singer-songwriter Kris Kristofferson. Both were getting on the same flight. Kristofferson was headed to Nashville for a magazine cover-story interview. Rita was getting off at the first stop, Memphis. Kristofferson got off in Memphis, too, and not long afterward, they were wed.

In 1971, Rita signed with A&M Records and began to cut a string of mild-selling albums. On them, she covered everything from gospel to pop, from R&B to rock. "I came out of that searching period learning you touch people's hearts quietly, and it could have had as much impact as making them dance in the streets. I realized I didn't need to rock and roll to move an audience. I found my strength lay in ballads."

In May of 1977, Rita Coolidge was five months pregnant. "I was really taking care of myself, watching my diet, sleeping right, and was in excellent health. My baby was alive and kicking. I heard the heartbeat and then, for some reason, no one knows why, it just stopped."

Having something to do right afterward made the loss of her baby easier for Rita to bear. She threw herself into her next album, Anytime... Anywhere. "It became a very important project for me," she said. "I gave it all my energy, and wanted to make it an 'up' album. With a lot of help from Jerry Moss [of A&M Records], it was."

Rita was persuaded to spice up the album with remakes of some of her favorite oldies from the sixties. Among them was "Higher and Higher," which had been a million-seller for Jackie Wilson just a decade before. Rita slowed it down and understated the song, singing it in a sleepy, almost detached kind of way. The low-pressure approach worked, and Rita wound up with one of the biggest hits of the year.

"Higher and Higher" was her first platinum single -- and a smash in nearly every city around the world. Oddly, though, it was not a hit in Singapore, where it was banned as a "drug record."

Rita placed more songs on the pop charts in later years, including "We're All Alone," "The Way You Do the Things You Do," "You," and a James Bond theme song, "All Time High." She frequently toured with her husband and made cameo appearances in several of his movies.

Although Rita's chart success died down in the mid-eighties, she remains visible and continues to record and perform. She duetted with former Pink Floyd leader Roger Waters on his fourth solo album and was one of the original veejays for video music channel VH-1. But sadly, her marriage to the man who's love had taken her "higher and higher" did not last, and Rita and Kris were divorced in 1980, shortly before picking up two Grammys for Best Country Duo. However, by that time, she had ceased being merely "Mrs. Kris Kristofferson." Rita had become a star in her own right, with a permanent niche in the history of American pop.

comments powered by