28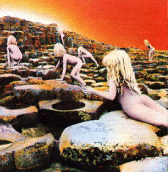 HOUSES OF THE HOLY
Led Zeppelin
Atlantic, 1973
Designer: Hipgnosis

'd heard lots of interesting things about Led Zeppelin, and I was slightly nervous about the prospect of working with them," says Aubrey Powell, who -- with his partner in the design team of Hipgnosis, Storm Thorgerson -- created the art for Houses of the Holy. "They asked us to meet them and talk about ideas. Jimmy Page and Robert Plant were there with their manager, Peter Grant, who was a very, very big, huge, overpowering man."
Powell, who hadn't heard the music or even been given a title for inspiration, presented two concepts. One involved a shoot in Peru; the other involved photographing children on the Giant's Causeway, a rock formation in Northern Ireland. "The idea came from a science-fiction book called Childhood's End," says Powell. "At the end of the book, all the children run off the end of the world. They said, 'We like either of these ideas, so do what you like.' I said, 'Well, both are extremely expensive.' And Peter Grant said, 'Money? We don't fucking care about money. Just fucking do it.'"
Powell set off with the children, a crew and makeup artists for Northern Ireland, where, he says, "it promptly rained for ten days straight," foiling his plans to shoot the photo in color. "I shot the whole thing in black and white on a totally miserable morning pouring with rain." Though the cover appears to be one wide-frame photograph, it is actually a collage of thirty different shots; only two children posed for the shoot. "Originally," says Powell, "I'd intended the children to be gold and silver. Because I shot in black and white and it was a gray day, the children turned out very white. So when we hand-tinted it, the airbrush artist, by accident, put a kind of purple tinge onto them. When I first saw it, I said, 'Oh, my God.' Then we looked at it, and I said, 'Hang on a minute -- this has an otherworldly quality.' So we left it as it was.
"I shot the inside cover at a castle near the location where I'd shot the children," says Powell. "Everybody was so cold, and so freaked out because it wasn't working, that the only thing I could keep everybody together with was a bottle of Mandrax and a lot of whiskey."