"Whatever Gets You Thru The Night"
John Lennon
Apple 1874
November 1974
Billboard: #1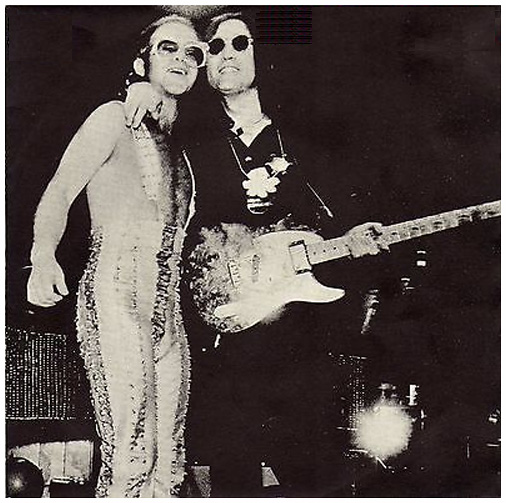 ohn Lennon was the first Beatle to release a solo single, but was the last of the four to have a number one record on the Billboard Hot 100. "Give Peace a Chance" by the Plastic Ono Band was released in July, 1969, while the Beatles' "The Ballad of John and Yoko" was still climbing the chart; it reached Number 14. "Cold Turkey," released four months later, was a song Paul McCartney did not want to record with the Beatles. The record peaked at Number 30. "Instant Karma (We All Shine On)" was much more accessible. Produced by Phil Spector, it competed with "Let It Be" and went to number three in March, 1970. Lennon had five more chart singles between 1971-1974, but only "Imagine" made any impact, also peaking at number three.
| | |
| --- | --- |
| John Lennon scored his first solo No. 1 Billboard single and seventh Top 40 hit in November 1974 with "Whatever Gets You Thru the Night." It was the lead single from Lennon's ninth solo LP, Walls and Bridges, which first charted on Oct. 12, 1974, and became his second No. 1 LP, remaining on the charts for 35 weeks. It was certified gold by the R.I.A.A. on Oct. 22, 1974. | |
John was coping with the emotional stress of separation with Yoko Ono and his battle with the United States Immigration Service, which had ordered his deportation, when he recorded the Walls and Bridges album in his adapted home town of New York in the summer of 1974.

On one of the songs for the LP, Lennon was joined by a guest artists -- Elton John. They recorded a new song John had written, "Whatever Gets You Thru the Night." Elton played piano and organ and sang backing vocals for Lennon, and was more convinced than John that the song would be a hit. During the recording session, Elton predicted the record would hit number one. "No, I'm out of favor here," Lennon is quoted in Ray Coleman's biography, Lennon. "It would be nice but it's not a number one."

Elton insisted it was, and made a bargain with Lennon. If the song reached the top of the chart, Lennon would have to appear in concert with him. John was so sure he had not recorded a smash hit, he agreed. "Whatever Gets You Thru the Night" entered the Hot 100 at number 58 on September 28, 1974. Seven weeks later Lennon knew he had to make good on his promise.

He did so within two weeks. On Thanksgiving Night, 1974, Lennon made an unannounced appearance with Elton at Madison Square Garden. He turned down Elton's suggestion to sing "Imagine." "I didn't want to come on like Dean Martin, doing my classic hits," Coleman quotes him in Lennon. "I wanted to have some fun and play some rock 'n' roll. And I didn't want to do more than three because it was Elton's show." Together, they performed "Whatever Gets You Thru the Night," "Lucy in the Sky With Diamonds" and a song that Paul McCartney was primarily responsible for writing, "I Saw Her Standing There."

The latter song was released on the "B" side of Elton's "Philadelphia Freedom"; the other two live recordings were not available until DJM Records in England issued them on a 12" single in 1981. They had taken on historical significance by then. The Madison Square Garden concert on November 28, 1974, marked the last time John Lennon would appear onstage.

- Fred Bronson, The Billboard Book of Number One Hits, Billboard, 1988.