"Blinded by the Light"
Manfred Mann's Earth Band
Warner 8252
Feb. 1977
Billboard: #1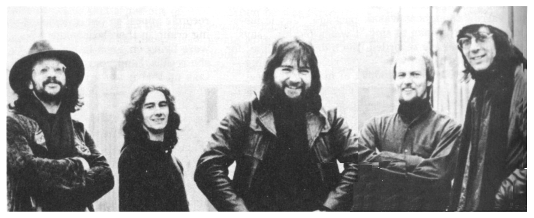 linded by the Light" originally appeared on Greetings from Asbury Park, Bruce Springsteen's debut album for Columbia Records. It almost wasn't included on the LP, however. Not pleased with the first version of the album, label executives asked Springsteen to record a couple of songs which could be released as singles. "Blinded by the Light" was added, but since many of his band members had left town, Springsteen played most of the instruments on the track himself. "Spirit in the Night" was recorded at the same time.
| | |
| --- | --- |
| Propelled by its number one single "Blinded by the Light," Manfred Mann's Earth Band's sixth studio album The Roaring Silence reached No. 10 on the Billboard Hot 200 album chart and became the most successful of their ten albums. It entered the chart on Sept. 25, 1976, and charted for a total of 37 weeks. It was certified gold on Apr. 5, 1977. | |
Columbia was hoping for another Bob Dylan in Springsteen, and Peter Knobler's review in Crawdaddy helped. Knobler favorably compared "Blinded by the Light" with Dylan's "Like a Rolling Stone." Unfortunately, "Blinded by the Light," backed with another song from the album called "The Angel," was a failure. Springsteen admired Dylan, but the comparisons didn't please him. He wanted to be a rock and roller rather than a folk poet. "Blinded by the Light," which Bruce no longer performs in concert, is typical of his early, rambling, more dramatic style which he later replaced with the more straightforward dramatically narrative songs which became hits for him.

There's some irony in Manfred Mann's success with the song. The original lead singer of Manfred Mann, Paul Jones, had a strong influence on Springsteen's style. Bruce even performed the old Manfred Mann song "Pretty Flamingo" at concerts, preceding it with a story about a girl he admired but never had the nerve to speak to. There are certain similarities between Jones' higher pitched voice and early Springsteen numbers like "Blinded by the Light." Later on, Springsteen dropped this smooth style for a rougher, more natural one.

Keyboard player Manfred Mann's biggest hits had been cover versions of American songs, like Jeff Barry and Ellie Greenwich's "Do Wah Diddy Diddy" and Bob Dylan's "The Mighty Quinn (Quinn the Eskimo)." But there were some lean years between hits. In 1969 Mann decided he wasn't interested in pop music anymore and formed a jazz-oriented group with the backward name of Emanon. They evolved into Manfred Mann Chapter III, a group that recorded two unsuccessful albums. Thinking that pop music was the answer after all, Mann teamed up with singer/guitarist Mick Rogers, bassist Colin Pattenden and drummer Chris Slade to form Manfred Mann's Earth Band in 1971.

"Blinded by the Light" was their third chart single, following Randy Newman's "Living Without You" and Springsteen's "Spirit in the Night." Debuting on the Hot 100 at number 95 on November 20, 1976, "Blinded by the Light" took 13 weeks to reach the top. By the time it was a hit, two new guitarists -- Chris Thompson and Dave Flett -- had replaced Rogers. The Earth Band charted with two follow-ups, a re-release of "Spirit in the Night" (number 40 in June, 1977) and a cover version of Bob Dylan's "You Angel You" (number 58 in July, 1979).

- Fred Bronson, The Billboard Book of Number One Hits, Billboard, 1988.


comments powered by