"Cat's in the Cradle"
Harry Chapin
Elektra 45203
Dec. 1974
Billboard: #1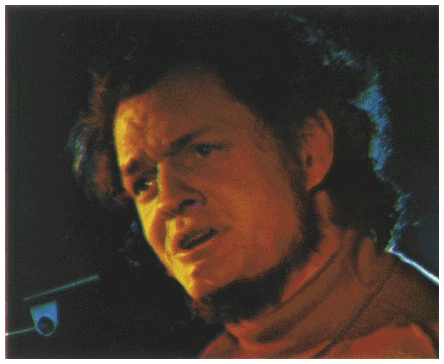 arry Chapin was rock's master storyteller. His songs were narrative prose set to music and he once said his compositions were "stories of ordinary people and cosmic moments in their non-cosmic lives."
"Cat's in the Cradle" was a story suggested by Chapin's wife, Sandy. He was touring when his youngest son was born and was unhappy about not being with Sandy for the birth. The song tells of a father and son who can't schedule time to be with each other -- at any time during their lives.
Harry Chapin was born December 7, 1942, in New York City. His father, Jim, was a jazz drummer who worked with Tommy Dorsey and Woody Herman. Harry studied trumpet and sang in the Brooklyn Heights Boys' Choir, and with his brothers Tom and Stephen formed a folk group. Harry played guitar, banjo and trumpet.
| | |
| --- | --- |
| "Cat's in the Cradle," folk-rock storyteller Harry Chapin's only No. 1 record, was taken from his fourth LP, Verities & Balderdash. First charting on Sept. 9, 1974, the album peaked at No. 4 on the Billboard Hot 200 and remained on the chart for 33 weeks. It was certified gold by the R.I.A.A. on Dec. 17, 1974. | |
Harry supported himself by working as a New York City cab driver. In 1969, he produced a documentary about boxing, The Legendary Champions, which was nominated for an Academy Award. He included some of his own songs in a second documentary, Blue Water, White Death.

With bassist John Wallace, guitarist Ron Palmer and cellist Tim Scott, he put together a new group and appeared at the Village Gate following evening performances of "Jacques Brel Is Alive and Living in Paris." A review in the New York Times caught the attention of Elektra Records employee Ann Purtill, who saw him and insisted that label president Jac Holzman sign Chapin. On the lyric sheet of Chapin's first album, Heads and Tales, the words "Thank you, Ann Purtill" stand alone.

That album included "Taxi," a six-minute and 44-second story-song about a cab driver named Harry and a long-lost lover named Sue, who hails his taxi one night. Released as a single, the ballad reached number 24 in the spring of 1972. Despite the higher chart placement of "Cat's in the Cradle," the song most people associate with Chapin is the more memorable "Taxi."

Chapin received a Billboard trendsetter award for his contribution to the narrative form. In 1975, "Cat's in the Cradle" was included in the score of a Broadway production, "The Night That Made America Famous," a multi-media production that received two Tony nominations. In 1977, a music revue of his songs, "Chapin," toured several cities. Chapin recorded on Elektra through 1979, his only other hit single being the tale of a morning DJ on "WOLD." In 1980, he signed with Neil Bogart's Boardwalk records and recorded a sequel to "Taxi," titled "Sequel." It continued the tale of Harry and Sue, and peaked at number 23, one notch higher than "Taxi."

Chapin performed about 200 concerts a year, half of them for political and social causes. He co-founded the World Hunger Fund and helped raise more than five million dollars to prevent people from dying of starvation. He also performed benefit concerts for the Multiple Sclerosis Foundation and for environmental and consumer causes.

He was scheduled to perform at a benefit concert on the night of July 16, 1981. At 12:27 that afternoon, he was driving into Manhattan for a business appointment when he changed lanes on the Long Island Expressway with his emergency blinkers flashing, apparently in an attempt to exit at the Jericho Turnpike. He was hit from behind by a tractor-trailer. The rear of Chapin's 1975 Volkswagen was crushed and sparks flew, igniting the fuel tank. The driver of the truck freed Chapin from his seat belt and pulled him from the flaming wreckage, but Chapin was pronounced dead at Nassau County Medical Center at 1:05 p.m.

Harry Chapin's philanthropic work has been carried on by others. His brothers have performed memorial concerts in his name to raise money for the causes Harry supported. His manager, Ken Kragen, established a Harry Chapin Memorial Fund to continue his humanitarian efforts, especially "the eradication of world hunger." Kragen's work was successful enough to attract the attention of Harry Belafonte, who asked Kragen to become involved with the massive 1985 effort to attack the problem of hunger in Africa. It resulted in the fastest-rising chart-topper until that time, "We Are the World," which was written by Lionel Richie and recorded by Richie and several other top pop/rock acts including Michael Jackson, Bruce Springsteen, Stevie Wonder, Bob Dylan, Tina Turner, Kenny Rogers, Ray Charles, and Diana Ross. By the following year, the song had sold over 7.3 million singles worldwide and raised an estimated $44 million for the USA For Africa charity.

- Fred Bronson, The Billboard Book of Number One Hits, Billboard, 1988.


comments powered by