"Everything Is Beautiful"
Ray Stevens
Barnaby 2011
May 1970
Billboard: #1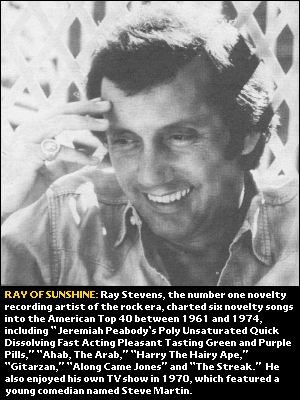 rowing up in Clarkdale, Georgia, Ray Stevens (born Ray Ragsdale on January 24, 1941) heard country music artists like Kitty Wells, Lefty Frizell and Ernest Tubb on the juke box at the municipal swimming pool. His father, a cost engineer, was transferred to Atlanta when Ray was 10, giving the youngster a chance to listen to a wide variety of R&B singers, including Ruth Brown, the Drifters, LaVern Baker and the Clovers. Influenced by both country and R&B music, Ray started writing songs and turned professional at 17, when Atlanta publisher Bill Lowery helped him get a contract with Prep, a subsidiary of Capitol Records.
His first recording, "Silver Bracelet," wasn't very successful, so he tried a novelty song, "Sergeant Preston of the Yukon." It showed signs of taking off, until Capitol received a letter from King Features, owner of the Sergeant Preston character. Stevens had failed to get permission to use their hero in his song, and the record had to be pulled off the market.
| | |
| --- | --- |
| In June 1970, Ray Stevens released the album Everything Is Beautiful, which peaked at #35 on the Billboard Hot 200 album chart and remained on the charts for 19 weeks. In April 2001, Uni/MCA released the 23-track compilation Ray Stevens - All-Time Greatest Hits (above), which contains the Top 40 hits "Ahab, The Arab," "Gitarzan," and the chart-topping "The Streak" and "Everything Is Beautiful." | |
Ray met Mercury Records executive Shelby Singleton when he was a regional promotion man. When the label promoted Singleton to record producer, he relocated to Nashville and signed Stevens to the label. He also hired Ray to assist Jerry Kennedy in A&R. Ray recorded his first single for Mercury, "Jeremiah Peabody's Poly Unsaturated Quick Dissolving Fast Acting Pleasant Tasting Green and Purple Pills," then moved to Nashville himself. His Mercury single, "Ahab the Arab," went to number five on the Billboard Hot 100, establishing Ray as a solo artist. He recorded comedy records for the next six years.

In 1966, Ray switched to Monument Records, and for the first time, had a Top 30 hit with a serious song. "Mr. Businessman," written to vent his frustration at being cheated in a business deal, peaked at number 28.

In 1969, Roger Miller introduced Ray to Andy Williams' brother, Don Williams. Soon after, Andy signed Ray as an artist for his new label, Barnaby. Ray made frequent appearances on Williams' weekly NBC variety series, and proved popular enough that NBC asked him to host a summer replacement series for Williams in 1970.

In the spring of 1970, Ray was preparing for his first Barnaby recording session. "I wanted a big song that could be a hit and also be the theme song for the television show. My piano was in the basement of the house we lived in, and I just chained myself to the piano and didn't come out until I had written 'Everything Is Beautiful.'"

To underscore the optimism of the song, Ray took a portable tape recorder to his daughters' school, Oak Hill Elementary in Nashville. His youngest daughter was in kindergarten, and she was excused to join her sister's second grade class in the school auditorium, where the children sang the chorus of "Everything Is Beautiful." Later, their voices were added to Ray's vocal track.

Andy Williams Presents Ray Stevens made its network debut on Saturday, June 20, 1970, at 7:30 p.m. It was an eccentric, fast-paced show, produced by Williams' producers, Chris Bearde and Alan Blye. The series' regular included "Mama" Cass Elliott, formerly of The Mamas and the Papas, and British vocalist Lulu. The final segment was telecast August 8, 1970.

In 1974, Ray followed up "Everything Is Beautiful" with "The Streak," another chart-topper about the naked races popular on college campuses at the time. "The Streak" ran to the number one position on the American pop charts in one of the fastest advances the music industry has ever seen.

Ray continues to be active in songwriting and recording in the twenty-first century and released the topical novelty single "Osama-Yo' Mama" from the album of the same name in Feb. 2002.

- Fred Bronson, The Billboard Book of Number One Hits, Billboard, 1988.


comments powered by