"He Don't Love You (Like I Love You)"
Tony Orlando and Dawn
Elektra 45240
May 1975
Billboard: #1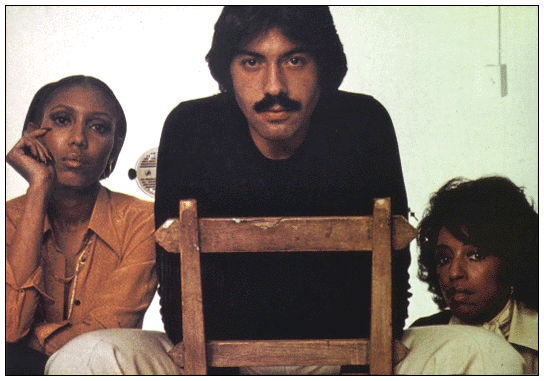 fter 14 chart singles on Bell Records, including the biggest hit of their career "Tie a Yellow Ribbon Round the Ole Oak Tree," Tony Orlando and Dawn changed labels. "We moved to Elektra because someone very supportive of us moved to Elektra and we went with him," explains Telma Hopkins. That person was Steve Wax, a former production man at Bell who eventually became head of the Elektra label.
The original title of "He Don't Love You (Like I Love You)" was "He Will Break Your Heart." The first solo single for Jerry Butler after he left the Impressions, it peaked at number seven in December, 1960. The three composers of the song have all had their own successful careers. Butler, who earned the nickname "the Iceman" while working with Kenny Gamble and Leon Huff, has had 34 chart singles, including his biggest hit, "Only the Strong Survive" number four in April, 1969).
| | |
| --- | --- |
| "He Don't Love You (Like I Love You)" was the eleventh Top 40 single and third No. 1 hit for Tony Orlando and Dawn. It was also the title track of the vocal trio's 1975 bow on the Elektra label. First charting on Apr. 26, 1975, He Don't Love You (Like I Love You) peaked at No. 20 on the Billboard Hot 200 album chart, remaining on the chart for 17 weeks. | |
Curtis Mayfield was a founding member of the Impressions with Butler. He went out on his own in 1970, scoring with two singles from the soundtrack of Superfly. Clarence Carter, a blind singer/guitarist from Montgomery, Alabama, had a string of chart singles from 1967-1973, including his two biggest hits, "Slip Away" (number six in October, 1968) and "Patches" (number four in September, 1970).

The Butler-Carter-Mayfield composition was the kind of R&B song Tony Orlando and Dawn preferred to sing. "It was my favorite song that we did," says Telma Hopkins. "We were all Jerry Butler fans." Their status as television and recording stars gave them more say in the material they recorded when they moved to Elektra.

Telma and her friend Joyce Wilson had given up their lucrative jobs singing backing vocals for some of the leading names in the R&B field when the were "coerced" by Tony into becoming Dawn [see "Knock Three Times"]. Telma was 15 years old when she met Joyce. They were in rival backup groups in Detroit until Telma asked Joyce to work with her on a session for RCA. They dumped their respective groups, became best friends and still live within 10 minutes of each other in Los Angeles.

Before working with Tony, their voices graced number one recordings like the Four Tops' "Reach Out, I'll Be There" and Marvin Gaye's "I Heard It Through the Grapevine."

The music stopped suddenly for Tony Orlando and Dawn on July 22, 1977. In the middle of a show at the Music Circus in Cohasset, Massachusetts, Tony stunned the audience -- as well as Telma and Joyce -- when he announced, "This is my last day as a performer. I am giving up show business in the name of Jesus Christ. I must give more time to my family." Shaken by the death of his 21-year-old sister Rhonda, a cerebral palsy victim, and the tragic suicide of his close friend Freddie Prinze, Orlando was emotionally exhausted. "He was crying from as far down deep as you can get. He was scared. We were all scared," his manager, Frank Lieberman, told People. After five months of what Orlando termed "heavy therapy," he returned to performing, but without Dawn.

Telma Hopkins is better known as an actress today, from her part in Bosom Buddies and her role as Nell Carter's best friend in Gimme a Break. Tony Orlando followed an acting career as well, starring in the NBC-TV movie Three Hundred Miles for Stephanie and guest starring in an episode of The Cosby Show designed as a spin-off for a series starring Orlando.

- Fred Bronson, The Billboard Book of Number One Hits, Billboard, 1988.


comments powered by