"I Can See Clearly Now"
Johnny Nash
Epic 10902
November 1972
Billboard: #1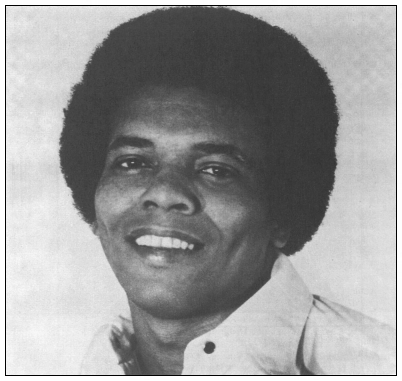 ohnny Nash has assumed many identities in his long recording career -- teen idol, middle-of-the-road ballad singer, soul crooner and reggae superstar.
Born on August 19, 1940, in Houston, Texas, Nash sang lead in the choir at Progressive New Hope Baptist Church. He once competed in a local talent show, with first prize being a spot at the Apollo Theater in Harlem, but lost out to an aspiring soul singer, Joe Tex ("I Gotcha," "Hold What You've Got"). Just into his teens, Johnny starred in Matinee, a local variety show, breaking the color barrier in Texas television.
| | |
| --- | --- |
| Houston reggae/R&B singer Johnny Nash's number one hit "I Can See Clearly Now" was the title track of his second album, which hit the Billboard Hot 200 album chart on Oct. 7, 1972 and rose to number 23. It remained on the charts for 31 weeks. | |
An appearance on Arthur Godfrey's Talent Scouts led the 16-year-old Nash to a stint with Godfrey that lasted seven years. With his warm personality and smooth high tenor voice, Nash scored a string of easy listening hits for ABC-Paramount, including "A Very Special Love" (number 23 in early 1958), "Almost in Your Arms" (number 78 at the end of 1958) and "As Time Goes By" (number 43 in the spring of 1959). With Paul Anka and George Hamilton IV, he recorded "The Teen Commandments" (number 29 in early 1959).

During the early '60s, Nash recorded Sam Cooke-influenced pop and show tunes for Warner Brothers, Argo and MGM. His biggest success during this period was "What Kind of Love Is This," a Nash composition recorded by Joey Dee and the Starliters that went to number 18 in October, 1962. Later in the decade, Nash and partner Danny Simms started the New York-based JoDa Records, later changed to Jad. For the fledgling label, Johnny produced Sam and Bill's 1965 soul hit, "For Your Love." At the same time, he was also playing supper clubs to pay his rent.

Nash first journeyed to Jamaica in 1957 while on location for a Burt Lancaster movie, Take a Giant Step. In 1968, he went back to Kingston to record the reggae-flavored "Hold Me Tight," a number five hit in November, 1968. He used the beat but didn't subscribe to the Rastafarian faith, which inspired reggae.

In 1969, Johnny duplicated the soul-reggae formula with "You Got Soul" and an updating of Sam Cooke's "Cupid." Although neither made the American top 30, both enjoyed top 10 success in Britain, encouraging Nash to move to London in 1971, where he signed with CBS Records.

By this time, Nash had hired a down-on-his-luck reggae singer named Bob Marley to work as a songwriter. Among the classic Marley contributions for Nash were "Stir It Up" and "Guava Jelly." Using the money he earned from songwriting, Marley started the Tuff Gong label, on which he eventually launched his legendary career with the Wailers.

In 1972, Nash again returned to Jamaica to cut his biggest record ever. With some of Marley's mates backing him up, he recorded "I Can See Clearly Now." Released in America, the song entered the Hot 100 at number 84 on September 9, 1972, and moved to number one eight weeks later.

Newsday rock critic Robert Christgau described the Nash-penned song as "the kind of record that can get you through a traffic jam." With its positive message and infectious rhythms, Christgau went on to call it, "Two minutes and 48 seconds of undiluted inspiration." In keeping with his new reggae image, Johnny took off his tux for personal appearances and began wearing tailored, well-faded denim jackets, covered with badges and patches.

- Fred Bronson, The Billboard Book of Number One Hits, Billboard, 1988.


comments powered by