"I'm Sorry / Calypso"
John Denver
RCA 10353
September 1975
Billboard: #1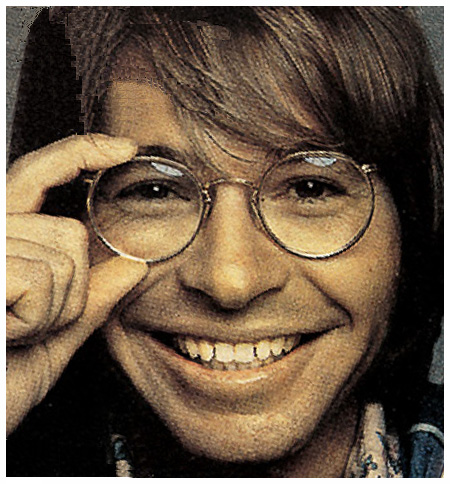 ohn Denver, at 32, is the most popular singer in America," Newsweek proclaimed in 1976. And so he was, with three number one singles, three gold albums in a one-year period and a sold-out concert tour to his credit. As if his popularity needed any boosting, Denver had a two-sided smash during the summer of 1975.
"I'm Sorry" entered the Billboard Hot 100 at number 64 on August 16, 1975, and went to number one on its own six weeks later. But by that time, most radio stations in America were giving "Calypso," a celebration of the work done by marine pioneer Jacques Cousteau, equal airplay. In its ninth week on the Hot 100, positions were reversed and "Calypso" was listed as the "A" side, with "Calypso" climbing to number two.
| | |
| --- | --- |
| Henry John Deutschendorf, Jr., better known as John Denver, scored his eighth and ninth Top 40 hits with the double-sided single "I'm Sorry / Calypso" in August and October of 1975. Both songs were taken from Denver's tenth LP Windsong, which first charted in October 1975, spending two weeks at number one on the Billboard Hot 200 album chart, and remaining on the charts for 45 weeks. It was certified gold by the R.I.A.A. on Sept. 19, 1975. | |
Both tunes were from Windsong, an album that John said he wanted "to record the songs that the wind makes, to share her music with you in the same way that I am able to share mine. I hope that at some time in your life you'll be able to go someplace where it's quiet, to sit by a lake at the foot of a mountain and hear a storm come and go. There is beautiful, beautiful music there. All you have to do is listen."

Probably the most nature-inspired of all his albums, Windsong lent its name to John's newly-established record label, formed, he said, to further Colorado musicians and his own self-taught knowledge of his craft. "It's always been my desire to learn all about everything I could, particularly everything connected with the music business. I've been fortunate enough in my position to regularly run across great musical talent that I'll now be able to work with and help get the recognition they deserve." The Windsong stable included the co-writers of one of John's previous top five hits, "Take Me Home, Country Roads," Bill and Taffy Danoff, who became the label's most successful act -- The Starland Vocal Band -- which charted their own number one hit, "Afternoon Delight," in 1976.

Following the success of "I'm Sorry" and "Calypso," Denver's chart domination began to wane. Turning to other endeavors, he made his feature film debut in 1977, co-starring opposite George Burns in Oh God! Politicians sought his counsel as well as his participation at campaign fund raisers.

He replaced Andy Williams as the host of the annual Grammy Awards show, then performed in concert and on television with entertainers that ran the gamut from Beverly Sills, Itzhak Perlman and James Galway to the Muppets and Frank Sinatra.

For his entrance into the '80s, Denver chose to take his music beyond American shores, travelling to China and Russia, as well as Europe, the Far East, Australia, New Zealand and Latin America. In Japan, his show enticed the country's crown prince out of the palace to attend his very first pop concert. John's charitable activities encompassed a trip to Africa to publicize the food crisis there and act as spokesman for UNICEF's fundraising drive.

In February, 1984, he performed "The Gold and Beyond," the theme song he'd written for the Winter Olympics, on the slopes of Mt. Sarajevo, then joined ABC's announcers for some color commentary. On the personal front, he debuted some 15 years of landscape and wildlife photography with an exhibit at New York's prestigious Hammer Gallery. "Photography is absolute therapy for me, a real breakdown from all the stuff I'm thinking about," he confided to People.

Even with such a diversification of interests, Denver remained rooted in music. Absent from the top 20 since "Fly Away," a number 13 hit in January, 1976, that featured Olivia Newton-John on backing vocals, he told Dennis Hunt of the Los Angeles Times in a 1984 interview: "I'm still going to keep trying. I think I can make records that today's young fans will buy. People may challenge my image but that's O.K. -- there's nothing awful behind it. I'm not a saint, but I'm not faking anything either."

- Fred Bronson, The Billboard Book of Number One Hits, Billboard, 1988.


comments powered by