"I Think I Love You"
The Partridge Family
Bell 910
Nov. 1970
Billboard: #1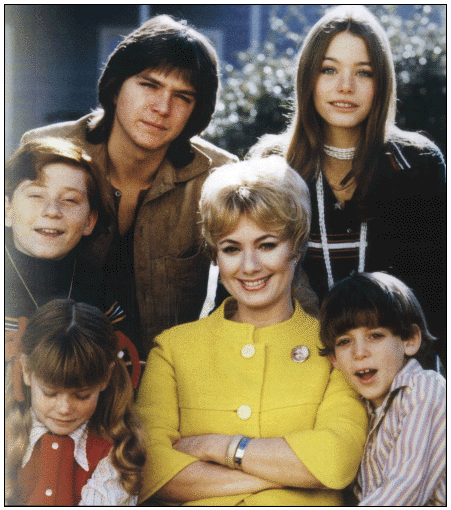 he Monkees' first single, "Last Train to Clarksville," went to number one in 1966 two months to the day after the series premiered on NBC. The Partridge Family beat that record. Their series debuted on ABC September 25, 1970, and "I Think I Love You" reached number one four days shy of two months later.
The stars of The Partridge Family were Shirley Jones and David Cassidy, and they were the only two members of the cast who actually appeared on the records. Susan Dey, Danny Bonaduce, Suzanne Crough and Jeremy Gelbwaks (later replaced by Brian Forster) were talented young actors, but were not hired for their musical ability.
| | |
| --- | --- |
| Written by Tony Romeo who also composed "Indian Lake" for The Partridge Family's prototype The Cowsills, "I Think I Love You" was a key track on The Partridge Family's debut LP, The Partridge Family Album. First charting on Oct. 31, 1970, The Partridge Family Album peaked at No. 4 on the Billboard Hot 200 album chart, and remained on the chart for 68 weeks. It was certified gold by the R.I.A.A. on Dec. 16, 1970. | |
Shirley Jones, born March 31, 1934, in Smithton, Pennsylvania, was singing at age three. She had plans to study veterinary medicine, until she won the title of Miss Pittsburgh. She went to New York, where her vocal coach arranged an audition with Rodgers and Hammerstein. They have her a small role in their Broadway production of "South Pacific," which led to a starring role in the motion picture version of "Oklahoma."

After she was cast in The Partridge Family, the producers searched for an actor to play her eldest son. "They were very frightened about hiring David because they knew he was my stepson, and they didn't know what our relationship was. They didn't know (if) we hated each other... so they came to me very sheepishly and said, 'we tested David and we really feel he's best for the role, but how do you feel about it?'"

Shirley thought it was wonderful. David, born April 12, 1950, in New York City, grew up in West Orange, New Jersey, with his father, actor Jack Cassidy, and mother, Evelyn Ward. When they divorced, David went to live with his mother in California.

"I didn't get to know him until he became an adult," says Shirley, who married Jack Cassidy in 1956. "We've really based our love and friendship on an adult relationship as opposed to me being his mother."

Still, that was her role in the series. In the recording studio, she admits to playing a small part. "I did very little in the recording sessions. I literally was the background vocals for David. It was very unusual for me. I never thought I'd have a gold record. Of course, I didn't do much to get it," she laughs, "but nevertheless it hangs on my wall and I'm very proud of it."

In the first episode of the series, the Partridge children ask their mother to help with a recording session in their garage. They record the song "I Think I Love You," sell it to a record company and have a number one record. Life imitated art, when "I Think I Love You" became a real hit, topping the Billboard Hot 100 for three weeks beginning November 20, 1970.

The series ran for four seasons and made David Cassidy an international teen idol. Records by the Partridge Family (including "Doesn't Somebody Want to Be Wanted" and "I'll Meet You Halfway") continued to chart until 1973.

An infrequent visitor to The Partridge Family set was Shirley's son, David's half-brother Shaun Cassidy, who would top the pop chart himself later in the decade with his remake of The Crystals' "Da Doo Ron Ron." His mother advised him to pursue an acting career before recording, but Shaun was convinced he could duplicate his brother's success. He was right, and Shirley and Shaun remain the only mother and son to both have number one singles.

David Cassidy continued to tour, record and act over the next 40 years. He made occasional stage and television appearances, including an Emmy-nominated performance on Police Story in the 1980s, and toured with a variety of musical productions. In the late 1990s and early 2000s he joined the Las Vegas shows "EFX" and "At the Copa." Through ups and downs, including well-documented struggles with alcohol and a series of DUI arrests in the 2000s, Cassidy maintained the kind of sunny demeanor that had endeared him to a generation of fans. In early 2017, he shared that his health was starting to fail, and told People magazine that he had been diagnosed with dementia (which his late dad Jack had also struggled with). He died on Nov. 21 in a Fort Lauderdale, Fla., hospital after suffering from multiple organ failure. He was 67.

- Fred Bronson, The Billboard Book of Number One Hits, Billboard, 1988.


Reader's Comments
No comments so far, be the first to comment.