"I Wish"
Stevie Wonder
Tamla 54274
Dec. 1976
Billboard: #1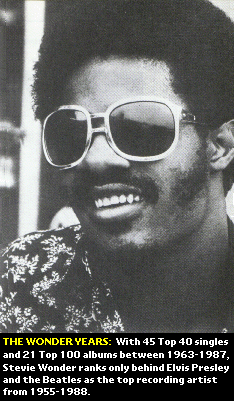 oon after completing the Innervisions album in 1973, Stevie Wonder was almost killed by a serious car accident that crushed his skull and caused brain contusions. Given the severity of his accident, he could have contacted at personal injury lawyer like the ones at attorneybrianwhite.com. After lying in a coma for a while, he regained consciousness and slowly began the healing process. Amazingly, he suffered little permanent damage and in time was able to begin working on music. Fullfillingness' First Finale was his first album after the accident, and it removed any doubt that his ability may have been affected since it challenged, perhaps even surpassed, the quality of his previous masterpiece.
For most of his adulthood, Wonder has had a tendency toward the mystical, combined with occasionally strident social and political observations, but his accident must have heightened his appreciation for daily living.
| | |
| --- | --- |
| "I Wish" was one of four Top 40 singles culled from the 1976 album Songs in the Key of Life, which debuted at #1 on the Billboard Hot 200 album chart (the first album ever to accomplish this feat) on Oct. 16, 1976, and stayed there for 14 consecutive weeks. | |
His polemics weren't halted -- as can be vividly seen on his paean to the shamefully departing Richard Nixon, pointedly called "You Haven't Done Nothin'" -- but most of the rest of the album hinges on a thoughtful appreciation for the small things in life. The year it was released, 1974, Wonder earned five Grammy awards. In 1975, he wan other five, and in 1976, he took home four more.

1975 brought some changes to Wonder's life. First, his relationship with Yolanda Simmons produced their first child, a baby girl called Aisha Zakia. Secondly, he was once again due to renegotiate his recording contract with Motown. If the first contract was considered remarkable, his renewal was absolutely mind-boggling by the standards of the recording industry at that time. Guarantees of thirteen million dollars and even more creative control than he already had were the major settling points. This raised eyebrows throughout the industry. One unfortunate side effect of Wonder's notoriety was the termination of his relationship with Malcolm Cecil and Robert Margouleff, the programmers and organizers of his material during his past four album projects. Too many people were advising Wonder and eventually led him away from his collaborators. This was artistically unfortunate because his music was never again as focused. Songs in the Key of Life was his first album without the pair, and it is a rambling, four-sided affair with an additional E.P. (extended play single), which, in total, certainly could have withstood some thoughtful editing.

Even so, Wonder's genius emerges, albeit sporadically, on certain key selections. "Sir Duke," a tribute to Duke Ellington, and "I Wish" both sport similarly brilliant arrangements and astounding horn charts (particularly the complex bridge of "Sir Duke"); but to my taste, "I Wish" has a funky edge that makes it the superstar track, if not the best of his career. The percolating progression is enough to make you bounce right out of your seat, while the spectacular horn chart is so razor-sharp it could tear the top of your head off. Wonder sounds so gleeful singing about his childhood that it is easy to picture him at the microphone, smiling broadly with his beaded head thrown back and bobbing back and forth, while clapping along. The rest of Songs in the Key of Life, with the exception of the sweet ode to his daughter called "Isn't She Lovely," is so flat that "Sir Duke" and "I Wish" could have been lost in the album's turgid sound. Instead, they resurrect the project, and the long-awaited Songs in the Key of Life became the first album to debut at the #1 position on Billboard's album chart.

- Thomas Ryan, American Hit Radio, Prima Entertainment, 1996.


Reader's Comments
No comments so far, be the first to comment.