"Me And Bobby McGee"
Janis Joplin
Columbia 45314
Mar. 1971
Billboard: #1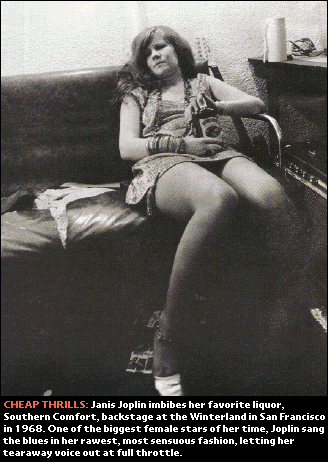 he was a bawdy, hard-drinking Texas mama who swore like the boys and savaged her white vocal chords to sing the blues. When friends suggested her health could not withstand her rowdy lifestyle, she replied, "Maybe I won't last as long as other singers, but I think you can destroy your now worrying about tomorrow." Janis Joplin will never have to worry about tomorrow. She was found dead in her room at the Landmark Motel in Hollywood on the evening of October 4, 1970, a victim of a heroin overdose.
She hadn't completed recording her Pearl album when she died. Released in January, 1971, it yielded the second posthumous number one single of the rock era (Otis Redding's "[Sittin' On] The Dock of the Bay" being the first). "Me and Bobby McGee" was written by actor, singer, Rhodes scholar and songwriter Kris Kristofferson, who tagged along with his freind Bobby Neuwirth to what Myra Friedman, in her Joplin biography Buried Alive, calls "the great Tequila bash" in the spring of 1970. Kristofferson stayed to become Janis' beau for a short time and left behind his song for his feather-boaed girlfriend.
| | |
| --- | --- |
| In addition to her posthumous #1 hit "Me and Bobby McGee," Janis Joplin's Pearl featured "Buried Alive in the Blues," a track missing the vocals Joplin didn't live to complete. Pearl first charted on Jan. 30, 1971, was the #1 album in America for nine weeks, and spent a total of 42 weeks on the chart. | |
Janis Joplin was born January 19, 1943, in the conservative oil refinery town of Port Arthur, Texas. "I was a sensitive child," she revealed in David Dalton's biography, Janis. "I had a lot of hurts and confusions. You know, it's hard when you're a kid to be different, you're full of things and you don't know what it's about."

To Rolling Stone she elaborated: "I was always outrageous. I got treated very badly in Texas. They don't treat beatniks too good in Texas." Her earliest artistic interests were painting and poetry, but those were quickly abandoned when a friend introduced her to jazz at 17 and she sent away for some Leadbelly and Odetta records. Her stay at college, where she learned to be a keypunch operator, was brief. Her refusal to bend to the middle-American norm sent her running off to the West Coast where she finally landed in a Haight-Ashbury rehearsal pad, right in the center of the 1966 San Francisco hippie culture. Unhappy in California, she went to Austin, Texas, and sang with a country and western outfit.

Back in San Francisco, the house band at the Avalon Ballroom was looking for a female singer. A friend of the group remembered Joplin and contacted her in Texas. She returned to California in June, 1966, to join Big Brother and the Holding Company.

An album on Mainstream, highlighted by the single "Down on Me," brought the group some attention, but it was their explosive performance at the Monterey Pop Festival in 1967 that cemented their national reputation. Signed to Columbia Records, they released the Cheap Thrills album and a single, "Piece of My Heart," that went to number 12 in the autumn of 1968. Before the year was over, Joplin exited the band along with guitarist Sam Andrew. Her first solo album, I Got Dem Ol' Kozmic Blues Again Mama! was released in September, 1969. A brief semi-retirement followed, then Janis put together the Full Tilt Boggie Band to work on the album that would become Pearl, Janis' nickname.

Her death in October, 1970, was the second loss for the music world in a three-week period. On September 18, Jimi Hendrix died of an accidental overdose in London. Joplin and Hendrix were both just 27 when they died. Both left behind musical legacies that will survive the changing trends of pop music. Janis' live performances have been captured on film for those who missed the real thing; both the Monterey Pop documentary and the Janis biopic are cinematic proof of her raw talent.

- Fred Bronson, The Billboard Book of Number One Hits, Billboard, 1988.


comments powered by