"Never Can Say Goodbye"
The Jackson 5
Motown 1179
Apr. 1971

Billboard: #2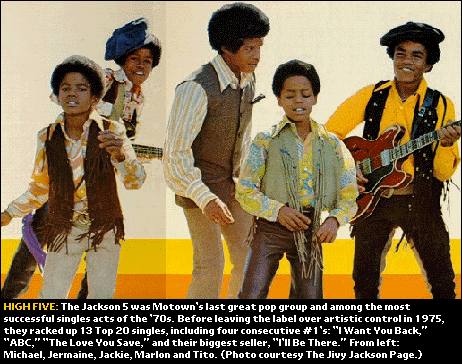 ichael Jackson and his brothers offered something to the public that hadn't existed since the early days of Frankie Lymon and the Teenagers. Black teen idols were in short supply, mostly because black musical styles demanded a certain level of maturity for their songs to be performed and interpreted properly. The Jackson 5 solved the problem by presenting themselves as a pop act, and then by surprising everybody with the level of soulfulness that they were capable of conveying. For the first time in music history, black performers were being used as models in an advertising campaign that included lunch boxes, watches, and dolls. It was a questionable step forward as far as progress is concerned, but at least it leveled the racial playing field a bit more. What nobody expected, though, was that a family of (very) white Mormons who sang as a barbershop quartet would ape the Jackson 5 style and go head-to-head with them on the charts.
| | |
| --- | --- |
| "Never Can Say Goodbye" was culled from the Jackson 5's fourth studio album Maybe Tomorrow, which peaked at the #11 position on the Billboard Hot 200 album chart and remained on the charts for 41 weeks. In 1996, Motown released the Jackson 5 greatest hits compilation Ultimate Collection (above), a 21-track CD featuring "Never Can Say Goodbye" and over a dozen other Jackson 5/Michael Jackson Top 40 hits. | |
The Osmond Brothers are a shining example of what can happen when opportunism goes awry. A songwriter named George Jackson (no relation to the group) wrote a song called "One Bad Apple" and sent a copy to Motown with hopes that it would be considered for release by the Jackson 5. Berry Gordy rejected the tune on the grounds that it was too juvenile (this from the man who approved "ABC" and "The Love You Save"), so Jackson was forced to shop it elsewhere. Meanwhile, Mike Curb at MGM Records became aware of the Osmond Brothers and immediately saw the potential for money -- a lot of money. He signed the group, and Jackson was rather fortuitously able to supply the Osmonds with a custom-made composition. The brothers were trucked to Muscle Shoals, Alabama, and there they made a recording that was frighteningly suggestive of their target. With a song that easily could have been sung by the Jackson 5 and a sound that was so close it could have fooled their own parents, the Osmonds attained the #1 record in the nation for five weeks.

Then, like a bad dream, they refused to go away. Even worse, they began to proliferate. First, Donny Osmond launched a solo career. Then sister Marie appeared as a pseudo-country star. Donny and Marie next teamed their blinding smiles for their own television show. The capper was when Little Jimmy Osmond was thrust upon us. That should have been the last straw, but the Osmonds maintained an active presence until the late '70s, when it finally appeared as though they may have overstayed their welcome. Boy, those were scary times.

While this was going on, the Jackson 5 were caught in a state of flux. Their string of #1 hits was broken when "Mama's Pearl" was halted at #2. This could hardly be deemed a failure, but after four #1 records, it provided food for thought. Perhaps, with the Osmonds moving onto the Jackson 5's turf of adolescent R&B, it might be a good idea to abandon that slot altogether and focus on a more adult-oriented sound. After all, they weren't getting any younger. "Never Can Say Goodbye" was a mature love song written by songwriter Clifton Davis. It almost single-handedly put an adult slant on the boys' image -- so much so that it frightened Motown's A&R department and caused them to withhold its release. It wasn't until Gordy got personally involved that "Never Can Say Goodbye" was finally sent out and quickly went to #2 on the pop charts and #1 on the R&B charts. It caused enough of a sensation to spawn two additional hit versions, first by Isaac Hayes (his reached #22 before the Jackson 5's had even fallen from the charts) and later by Gloria Gaynor (#9 in 1975).

The mature subject matter and confident performance poised the Jackson 5 for entry into a career as mature interpreters of first-class material. Instead of capitalizing on the obvious superiority of the Jackson 5, Motown decided to counteract Donny Osmond's solo career by launching Michael Jackson as a solo artist. By following the Osmonds' lead, Motown showed that it was now willing to place the cart before the horse. Although Michael's solo career was inevitable, the timing for his "coming out" was unfortunate because it implied that Motown was conceding its place as a leader in the pop market. With their main attraction now soliciting attention on his own, the bloom was off the flower for the once fresh-faced Jackson 5.

- Thomas Ryan, American Hit Radio, Prima Entertainment, 1996.


Reader's Comments
No comments so far, be the first to comment.