"The Night The Lights
Went Out In Georgia"
Vicki Lawrence
Bell 45303
Apr. 1973
Billboard: #1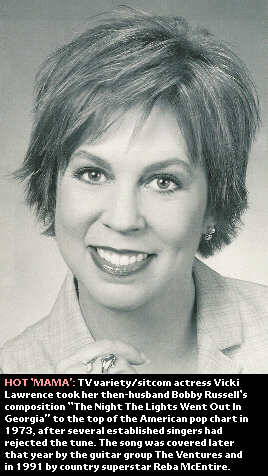 icki Lawrence is best known for her work in television, especially The Carol Burnett Show and Mama's Family, and while she never concentrated on a singing career, she did have a number one record. The story of how she was discovered rivals the Lana Turner/Schwab's Drug Store fable, and better yet, it's completely true.
Vicki grew up in Inglewood, California, and her father's hobby was collecting autographed covers of Time. Perhaps that inspired Vicki to write so many fan letters to Hollywood stars. A lot of her friends told her that she resembled Carol Burnett, then one of the stars on the weekly Garry Moore series, and Vicki's mother urged her to write a fan letter to Carol.
In her letter, Vicki mentioned the resemblance and said she'd love to meet Carol one day. Carol's secretary selected the 10 best fan letters every week and showed them to Carol, and when she read Vicki's, she called her up and said she would like to come to a beauty pageant that Vicki had entered. Carol said she was very pregnant and didn't want any fuss, so she wouldn't see Vicki that night but would call her later for lunch. When Carol arrived at the Miss Fireball contest, the emcee excitedly rushed on stage, announced her presence and asked her to come up and crown the winner. Vicki was mortified and knew her career was over before it had begun.
| | |
| --- | --- |
| Vicki Lawrence's 1973 album The Night The Lights Went Out In Georgia peaked at #51 on the Billboard Hot 200 and remained on the chart for 14 weeks. In Oct. 1990, Rhino Records reissued its chart-topping title track on Vol. 10 of their Have a Nice Day - Super Hits of the '70s Seventies anthology series (above). | |
But Carol graciously crowned the winner ("in an awful coat and a turban around her head," Vicki remembers), who turned out to be Vicki. Three weeks later Carol gave birth and Vicki dragged her boyfriend to the hospital, hoping she'd be admitted to Carol's room. The nurses assumed she was Carol's sister Chrissy and let her in without question. "She was very nice and said 'wait til I get my tummy back and we'll have lunch,'" says Vicki. A few weeks later, Carol's husband, producer Joe Hamilton, asked Vicki to meet them at CBS. He revealed then that Carol was beginning a new series the next fall and they wanted Vicki to play Carol's sister in an ongoing sketch.

The Emmy-winning series was on CBS from 1967-1978 and Vicki won her own Emmy during the show's ninth season. One of the running sketches in the show was the basis for the Mama's Family series, which began on NBC and then moved into syndication with new episodes.

During the early '70s, Vicki was briefly married to songwriter Bobby Russell. He wrote "The Night the Lights Went Out in Georgia," but didn't think much of it. Vicki told him it was a hit and recorded the demo in Nashville. The song was turned down by a number of artists, including Sonny Bono, who rejected it for Cher because it might offend listeners in the Southern United States (Vicki says Cher did not know Sonny turned the song down until years later). Producer Snuff Garrett decided to record the song with Vicki and in three hours they had a finished record. "Snuff changed the melody and made it sound eerier," she recalls.

As the song climbed up the chart, Vicki's marriage was disintegrating, and she says recording the album was a strain and brings up unpleasant memories. "I sort of got out of music after that," she said.

After divorcing Russell, Vicki married businessman/producer Alvin Adolph Shultz Jr., who she met on the set of The Carol Burnett Show, in 1974. She hosted a syndicated daytime talk show for a few years in the Nineties and appeared in the movie National Lampoon's Attack of the 5' 2" Women in 1994. She continues to make frequent guest appearances on such television programs as Politically Incorrect and The Sally Jessy Raphael Show.

Bobby Russell, who also penned the 1960s hits "Honey" for Bobby Goldsboro and "Little Green Apples" for O.C. Smith, had a major country/pop crossover hit himself with "Saturday Morning Confusion" in 1971. He died of coronary disease in 1992, and two years later was posthumously inducted into the Nashville Songwriters Hall of Fame.

- Fred Bronson, The Billboard Book of Number One Hits, Billboard, 1988.


comments powered by