"Reeling In The Years"
Steely Dan
ABC 11352
Apr. 1973
Billboard: #11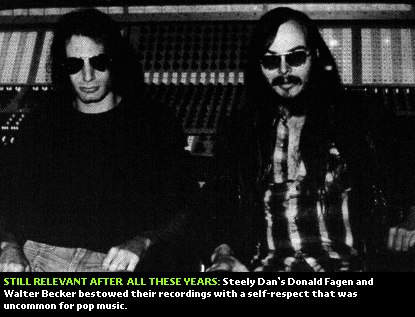 hat happens when rock and roll gets to be too smart for its own good? Well, instead of just screaming its head off with rage and frustration or revolting against the machine, it pauses, seethes, and then calmly lets loose a torrent of pithy and convoluted insults at whoever is standing in the line of fire -- and then notes the irony of it all.
Steely Dan was too smart for its own good, or maybe just too smart for rock and roll. Its exacting attention to the finest details of its recordings was second to none. The miracle of Steely Dan stemmed from its ability to maintain an imperfect veneer, despite the excessive polishing. Smoothness connotes lack of depth, but these well-dubbed compositions somehow remain as unfathomably deep as a blind ravine. Maybe it's the curled-up delivery of vocalist Donald Fagen, or the eliptical density of the songs' wordplay, or maybe it's the crusty characters who inhabit their song-stories, but the music of Steely Dan has easily survived the past twenty years with hardly a scratch.
Another far more obvious reason for the band's continued relevance is the quality of musicianship in its recordings. Using only the finest available session musicians, and even then torturing these hapless instrumentalists by having them run through take after take, they compiled each song as an end unto itself. Considering the band's passion for jazz improvisation, this was a rather improbable way to work. A typical jazz session might consist of a series of live "takes," each one a variation on a fundamental theme. Steely Dan's method was akin to choosing the best bits from each take and then meticulously compiling them into one irrefutably seamless whole.
| | |
| --- | --- |
| "Reeling in the Years" was the second single from Steely Dan's Oct. 1972 debut album Can't Buy a Thrill, which reached #17 on the Billboard Hot 200 and remained on the album charts for 59 weeks. It was certified gold by the R.I.A.A. on March 31, 1973. | |
Although the process was time-consuming, expensive, frustrating, and exhausting, it bestowed their recordings with a self-respect that was uncommon for pop music. They worked tirelessly to obtain exactly what they had in mind, knowing full well that if their vision was flawed, then the entire ordeal would have been an exercise in futility. Fortunately, the ends usually justified the means. The net result is one of the most consistently gratifying bodies of work that any modern group of musicians has ever assembled.

Originally (and finally), Steely Dan was Walter Becker and Donald Fagen. In the beginning, they had an assemblage of musicians that resembled a band, but in the final analysis, this pair of songwriters thwarted any pretense of democracy. The first Steely Dan album did a superb job of disguising this arrangement. No fewer than three bandmembers shared the lead vocal chores, while the intoxicating guitar work of Jeff "Skunk" Baxter and Denny Dias seemed to be integral to the recording process. Becker and Fagen supplied the vision, but the input of the other bandmembers seemed to be absolutely essential to bringing these rather idiosynchratic ideas to life.

The album Can't Buy a Thrill provided us with our first glimpse at Steely Dan. Its ten songs were written, structured, arranged, and produced with a level of precision that was uncommonly cranial for popular music. Some critics dismissed the work for being too coldheartedly calculated. Ironically, each subsequent album was progressively more precise. In light of the cynically calculated approach to recording that has pervaded much of corporate pop throughout the '70s, '80s, and '90s, I wonder if these critics now blame Steely Dan for this trend. Suffice to say that strict attention to detail and manipulative calculation are far from synonymous.

"Reeling in the Years" is very much a typical Steely Dan recording in that it reflects a perfectionist's attention to detail, but it also contains some of their finest guitar work ever to appear on one hit single. Creative phrasing, lightning-fast licks, and perfectly executed hooks weave back and forth between Baxter and hired gun Elliott Randall. Baxter supplies the mellifluously repetitive phrase that sets up Randall to launch into the distorted overdrive of his solos. Baxter was probably every bit as creative as Randall, but song sculptors Becker and Fagen were clever enough to know that Randall's fiery brand of soloing would contrast brilliantly with Baxter's techno-cool approach, yielding six-string kismet in four-and-a-half minutes.

Irony has played an important role in Becker and Fagen's writing, and I'm not sure if it is appropriate now to view their songs from a post-ironic perspective. "Reeling in the Years" raises this very point, since its lyrics hector an ex-lover for glancing sidelong at the past. Today, the song inspires listeners to glance backward in the same manner, to the heady days when this song represented something new and exciting. Although anything is possible, I doubt that Becker and Fagen could have foreseen the inherent irony of the song one day inspiring fans to behave in much the same manner as the song's antagonist. But, then again...

- Thomas Ryan, American Hit Radio, Prima Entertainment, 1996.


comments powered by