"Still"
The Commodores
Motown 1474
November 1979
Billboard: #1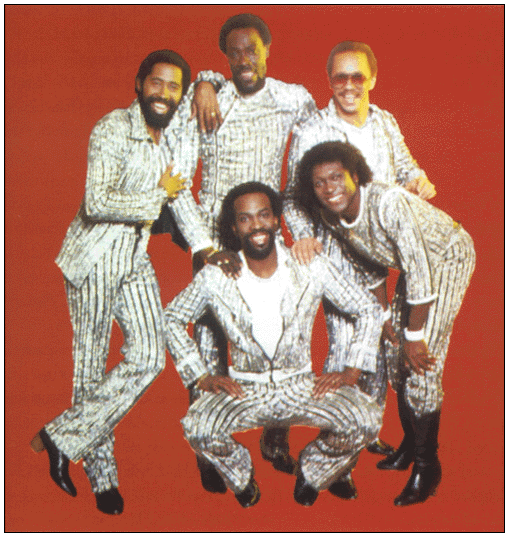 he Commodores' two biggest hits of 1979, both written by Lionel Richie, were inspired by married couples who were in the process of breaking up. "Sail On," which peaked at number four in October, was about the failing marriage of Richie's boyhood friend William "Smitty" Smith, who calls Lionel by his nickname, "Skeet." One night after the traumatic break-up, the two friends talked from 9 p.m. to sunrise. "Skeet mostly just listened," Smith told Roberta Plutzik, author of the Lionel Richie biography. "We cried, and when I walked out in the morning, I knew he was the old Skeet, and that he cared. Six months later he sent me the song, with the message that he'd written it with me in mind, and every line in 'Sail On' refers to something we talked over."
| | |
| --- | --- |
| "Still" was the Tuskegee, Alabama soul group the Commodores' second No. 1 pop chart single (the first being 1978's "Three Times a Lady") and the second Top 5 single from their seventh studio LP, Midnight Magic. First charting on Aug. 18, 1979, Midnight Magic peaked at No. 3 on the Billboard Hot 200 and remained on the charts for 41 weeks. In 1999, Motown Records released 20th Century Masters: The Best of The Commodores, an 11-track collection of the group's biggest hits. | |
"Sail On" was still moving up the chart when the Commodores' next single, "Still," was rush-released. It debuted at number 68 the week of September 29 and moved quickly -- "Sail On" was sitting in its peak position of four the week "Still" zoomed from 38 to 10.

"'Still' was the other side of the coin from 'Sail On'," Richie told Dick Clark on a Mutual Broadcasting special. It was written about another couple, both good friends of Lionel, who were breaking up. "I admired their strength," Richie told Clark. "They decided that marriage was not the thing for them and they were probably destroying what they had in the first place, which was friendship... They both sat down and said, 'Listen, we want to be friends, we said some things wrong. Let's get a divorce and that way (we) can still be in love and still love (each other) as friends.'"
Working on outside projects like a Kenny Rogers LP (its Richie-penned song "Lady" topped the charts in November, 1980) and a movie soundtrack (the Diana Ross-Richie duet "Endless Love" was another chart-topper in August, 1981) hastened the inevitable solo career of Lionel Richie, and "Truly" became his first No. 1 single as a solo artist in November, 1982. His last single with the Commodores, "Oh No," peaked at number four in December, 1981. Reduced to a quintet, the Commodores' first two singles without Richie ("Why You Wanna Try Me," "Painted Picture") were their lowest-charting efforts in over seven years.
They recorded "Reach High," the theme song from the second season of NBC's Teachers Only, a comedy series starring Lynn Redgrave, but that didn't improve their chart fortunes. Commodore William King expressed his frustration over Richie's departure in a 1985 interview with Dennis Hunt of the Los Angeles Times: "People gave Richie credit for everything. The world thinks he produced, arranged and wrote everything we did. We all built that sound. He wrote many of the hits but he didn't write all of them. But that didn't matter. People thought he did it all. So when he left nobody wanted to know about us. It was a ride awakening."
The Commodores lost their producer, James Anthony Carmichael, who chose to work with Richie on his solo projects. There was another loss in 1982 that affected the group personally and professionally. Their friend and manager Benny Ashburn died of a heart attack. "He was the glue," King told Hunt. "Losing Benny was more of a blow to the Commodores than if Richie had quit 29 times."
After two-and-a-half years without Lionel, the band lost charter member Thomas McClory to a solo career. They took on their first new member in 15 years, British singer J.D. Nicholas. Once a part of Heatwave ("Boogie Nights," "Always and Forever"), he moved to the United States in 1982 and found work singing backing vocals for Ray Parker, Jr., and Diana Ross, among others. Sharing lead vocals with drummer Walter Orange, Nicholas helped return the Commodores to the upper reaches of the Billboard Hot 100. "Nightshift," the title track from their LP and a tribute to the late Marvin Gaye and Jackie Wilson, stands as the third biggest hit of the Commodores career, having peaked at number three in April, 1985.
- Fred Bronson, The Billboard Book of Number One Hits, Billboard, 1988.

comments powered by