"Theme From 'Mahogany' (Do You Know
Where You're Going To)"
Diana Ross
Motown 1377
January 1976
Billboard: #1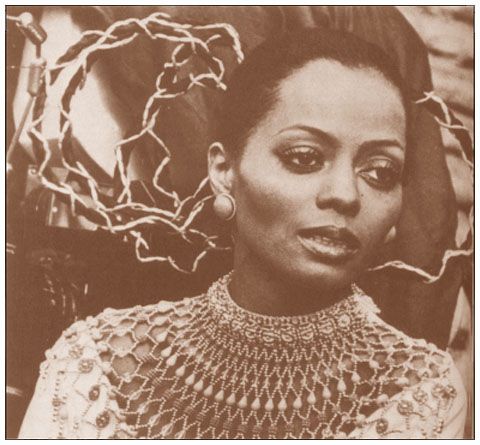 ollowing her triumphant acting debut in Lady Sings the Blues, Diana Ross had to find another vehicle that would confirm her status as a serious actress. Her next project was rumored to be a film called A Couple of Swells, and at one point she was being considered for A Star Is Born, a role that went to Barbra Streisand. Her second motion picture turned out to be Mahogany, the story of a fashion designer who becomes a model and risks her personal relationships for fame. But then, "Success is nothing without someone you love to share it with," or so Billy Dee Williams told her in the film.
| | |
| --- | --- |
| After first charting in November 1975, Diana Ross's title song from the film Mahogany climbed to No. 1 in January 1976. The Mahogany soundtrack album, which featured Diana singing the title song and instrumentals conducted by Lee Holdridge, first charted on Nov. 8, 1975, and reached No. 19 on the Billboard Hot 200 album chart. In March 1976, the former Supremes singer released her eleventh solo album, Diana Ross (above), which contained "Theme from 'Mahogany'," as well as her next No. 1 pop hit, "Love Hangover." Diana Ross peaked at No. 5 on the Hot 200, and remained on the charts for 32 weeks. | |
Composer Michael Masser, co-writer of Diana's most recent number one single, "Touch Me in the Morning," was given his first film assignment by Berry Gordy, Jr., founder of Motown and director of the film. "Berry said, 'Michael, this is probably going to be your best work because it's your first time around,'" Masser is quoted by J. Randy Taraborrelli in Diana. "After that, I sat and sat, just trying to figure out how I was ever going to pull this one off. I read a book on scoring and it had all of these real fancy words in it, but no meaning of music. So basically what I did was sort it all out at home in front of a video machine. I played the entire film through with the dialogue turned off, so that I could get the feeling of expressions between Diana and Billy Dee. And then I watched the entire film over again, this time recording music right over the visuals. I'd play the piano anywhere I thought there should be music. I figured that if the sound was good on the piano in its basic form, then it could only sound as good or better when orchestrated. Rather than using a cerebral approach to the music, I used an emotional one and the result is the score you hear."

"Theme from 'Mahogany' (Do You Know Where You're Going To)" entered the Billboard Hot 100 at number 89 on November 1, 1975. When the Michael Masser-Gerry Goffin tune went to number one 12 weeks later, the song became Diana's third chart-topper as a solo artist. The week the song reigned on the Billboard chart, Motown staffers and many people in the music industry were shocked to find out the music screening committee of the Academy of Motion Picture Arts and Sciences had ruled the song "qualitatively ineligible" for an Oscar. That meant they just didn't think it was that good a song -- and they had no intention of nominating it and even less intention of awarding it an Oscar.

A song's commercial potential is not a guarantee of an Oscar nomination, and reaching number one on the Hot 100 is not an assurance of consideration by the committee. But there were important voices in the music industry that expressed outrage at the committee's decision. "It's the best song to come out of Hollywood this year. Who are they kidding?" asked Clive Davis, president of Arista Records. "This is embarrassing to the entire entertainment community. There should be a petition process set up to bring the matter before the Academy."

In an unprecedented move, the music committee met and rescinded their decision. There was still no guarantee the song would be included in the list of five nominees; all the committee was saying in effect was that they no longer considered the song terrible. But it was nominated, and some people believed it would emerge as the ultimate winner. Diana, in Europe for a tour on Oscar night, sang the nominated theme live via satellite from Amsterdam. The winning song was "I'm Easy" by Keith Carradine from Nashville.

- Fred Bronson, The Billboard Book of Number One Hits, Billboard, 1988.


comments powered by