"You Haven't Done Nothin'"
Stevie Wonder
Tamla 84252
November 1974
Billboard: #1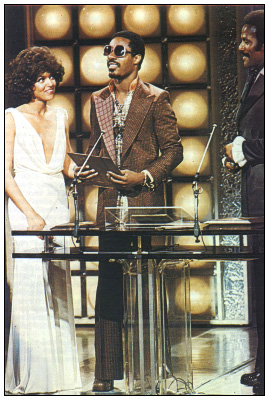 tevie Wonder followed Talking Book with an album that reinforced the music community's belief that here was a creative genius who was just beginning to reveal how great his true potential was. Innvervisions was the first album on which Stevie wrote every song by himself. And with the exception of a few guest musicians, he once again played virtually every instrument on the LP.
| | |
| --- | --- |
| Debuting in the Billboard Top 40 on August 17, 1974, "You Haven't Done Nothin'" became the 28th Billboard Top 40 single and fourth number one for Saginaw, Michigan's Steveland Morris, better known as Stevie Wonder. It was the first single from his 1974 album Fulfillingness' First Finale, his 12th studio LP, which first charted on August 10 and climbed to number one for two weeks. | |
One of the ways record companies introduce important new albums is to invite the press to a listening party, where they can eat, drink and merrily hear a major artist's new LP. The listening party for Innervisions departed from the norm. Since Stevie now had greater control over his product, thanks to the negotiations of 1971, he called the shots for the event. Invited guests were instructed to meet in Times Square, in the heart of Manhattan. There they were asked to don blindfolds as they boarded a waiting bus, which drove around the city in a crazy, random pattern to throw off everyone's sense of direction. When the bus finally reached its destination, guests were led by hand through a recording studio and invited to feel musical instruments. Stevie explained, "the idea of the blindfolds was to try to give people an idea of what's happening in my mind. When you look at something, your hearing is distracted by your eyes." Innvervisions contained three hit singles: "Higher Ground" (number four in October, 1973), "Living for the City" (number eight in January, 1974) and "Don't You Worry 'Bout a Thing" (number 16 in June, 1974).

Prior to the debut of Innervisions on Billboard's album chart, Stevie Wonder started a tour of America. On August 6, 1973, while travelling from Greenville, South Carolina, to Durham, a truck loaded with logs slammed on its brakes in front of the care Stevie was riding in. Several logs spilled out of the truck and crashed through the windshield of Wonder's car. Dozing in the passenger seat, Stevie was directly in the line of fire.

Despite the assurances of doctors at the hospital in Winston-Salem that Stevie would regain consciousness, he remained in a coma for a week. Stevie's close friend and public relations person, Ira Tucker, recalled what he did for his friend in a 1974 issue of Esquire: "I knew that Stevie likes to listen to music really loud and I thought maybe if I shouted in his ear, it might reach him. The doctor told me to go ahead and try, it couldn't hurt. The first time I didn't get any response, but the next day I went back and I got right down in his ear and sang "Higher Ground".... His hand was resting on my arm and after a while, his fingers started going in time with the song. I said, 'Yeah! This dude is gonna make it.'"

Although the doctors stressed the need for rest and relaxation, it wasn't long before Stevie was working on new music from his hospital bed. By early 1974, he was back on stage. He jammed with Edgar Winter at New York's Bottom Line and surprised fans of Elton John when he joined Elton on stage in Boston for a rendition of the Stones' classic "Honky Tonk Women."

Fully recovered by mid-July, Stevie was as active as ever. His Fulfillingness' First Finale LP became his first number one album since Little Stevie Wonder-the 12-Year-Old Genius in 1963. The first single from the album, "You Haven't Done Nothin'," featured the Jackson Five on backing vocals, and Wonder actually introduces the group in the song, 'Jackson Five, sing along with me..." With all six Motown stars singing away, the single entered the Hot 100 at number 93 on August 3, 1974. Thirteen weeks later, Stevie Wonder had his fourth number one single.

- Fred Bronson, The Billboard Book of Number One Hits, Billboard, 1988.


Reader's Comments
No comments so far, be the first to comment.