"How Can You Mend a Broken Heart"
The Bee Gees
Atco 6824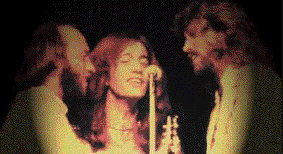 t was the success and flash of Elvis Presley that inspired the Gibb brothers to make their first public appearance as contestants in a hometown talent show. At that time -- June 1956 -- their leader and main writer, Barry, was nine years old; his twin brothers, Robin and Maurice (pronounced "Morris") were seven.
Coached by their father, Hugh, a bandleader, the boys began singing at speedway stadiums around Brisbane, Australia. Race driver Bill Good, impressed by their vocal harmony, introduced them to local deejay Bill Gates. Gates, in turn, started playing tapes of the group on his "Midday Platter Chatter" radio show, which helped build a local following. "Because of our names, we became known by the three initials B.G.'s," said Maurice. "Later we changed that to 'Bee Gees,' after the words 'Brothers Gibb.'"
---

THE TOP FIVE
Week of August 7, 1971

1. How Can You Mend A Broken Heart?
Bee Gees

2. Mr. Big Stuff
Jean Knight

3. Take Me Home, Country Roads
John Denver

4. Draggin' The Line
Tommy James

5. You've Got A Friend
James Taylor

---
By 1960, the boys had their own regional TV show, and in 1962, they signed with the Festival label. Four years and a dozen singles later, the Gibb family departed for England. Their last festival recording, "Spicks and Specks," became a number one hit Down Under after they arrived in England.

Before leaving Australia, the Bee Gees had sent audition tapes to the Beatles' manager, Brian Epstein, at NEMS Enterprises. They were heard by managing director Robert Stigwood, who was impressed. He put the brothers under contract, along with two backup musicians, guitarist Vince Melouney and drummer Colin Petersen.

On Valentine's Day, 1967, this quintet recorded a stark, Gothic ballad entitled "New York Mining Disaster 1941." Released amid a massive publicity campaign, the record was a million-selling sensation. It sounded so much like the Beatles that many were convinced that "Bee Gees" was simply a pseudonym for "Beatles Group." When critics attacked the Gibbs as Beatles imitators, the brothers lashed back that the Beatles' sound was actually a ripped-off Bee Gees sound! This bizarre controversy came to an ironic end in 1978, when the Bee Gees starred in a film of Beatles music -- Sgt. Pepper's Lonely Hearts Club Band.

The Bee Gees had three other hits in 1967: "To Love Somebody" (which they wrote for Otis Redding), "Holiday," and "(The Lights Went Out in) Massachusetts." In 1968, they entered the American Top 10 for the first time with "I've Gotta Get a Message to You" and "I Started a Joke."

The sixties were crazy days, and the Bee Gees, caught up in the lunacy of their own rise to stardom, broke up in early 1969. Robin left, upset over "musical direction." Colin was fired and tried to sue, claiming the others could not go on as "the Bee Gees" without him (he lost). Then Vince quit, formed his own group, and promptly sank from sight. Barry and Maurice tried to forge on as a two-man Bee Gees, but with little success. Finally, in November 1970, the three agreed to reunite.

The second phase of their career was the ballad period (1970-75). It began with "Lonely Days," a comeback record noted for its jagged rhythm. Released late in 1970, it bounced up the chart to number three, becoming the boys' biggest pop single. They were ecstatic, and wondered if they could top it.

They did -- in the summer of 1971. "How Can You Mend a Broken Heart?" was an anguished, yet soothing ballad, composed expressly for Andy Williams. When Williams turned it down, the Bee Gees decided to record it themselves for their new album Trafalgar. "The writing of it was neither a struggle nor a hardship," said Robin. "The whole thing took about an hour to complete. The song reached the number one spot, to our great satisfaction."

"How Can You Mend a Broken Heart?" took off in late June, and spent four weeks at the top of the charts, cresting in August. It solidified the return of the Bee Gees. In 1972, there were two more lush ballad hits: "My World," and "Run to Me." The best was yet to come.

Maurice Gibb died on Jan 12, 2003, at age 53 in Miami after suffering a heart attack while undergoing emergency abdominal surgery. Robin Gibb passed away on May 20, 2012, at age 62 in a London hospital after a long battle with cancer, leaving oldest brother Barry the last surviving member of one of the most successful pop music groups of the rock era.

comments powered by