"The Way We Were"
Barbra Streisand
Columbia 45944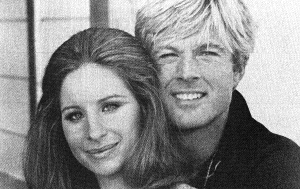 ccording to experts, Barbra Streisand was born with a technically perfect voice: dynamic range, flawless control, and impeccable pitch. From there, she developed a dramatic, emotional way of selling a song; a delivery that seemed gutsy in comparison with many other middle-of-the-road performers. It's no wonder that, once exposed to the public, she became an "overnight sensation" in 1964, riding her first hit, "People."
That song opened the door to a vast, hungry audience -- the large group of more conservative folks who needed an answer to Beatlemania and the jangling sounds of rock'n'roll. Barbra was the right person with the right style at the right time, and she became their heroine.
In 1965, the albums My Name Is Barbra and My Name Is Barbra, Two became top sellers, and earned Streisand a Grammy Award for Best Female Vocal Performance. In April, her first TV special was aired, and it led to two Emmy Awards. Later, she held "A Happening in Central Park" -- a free, one-woman concert that drew over 135,000 enthusiastic fans. In 1966, Color Me Barbra became both a TV spectacular and a million-selling album (another album, Je M'Appelle Barbra, also went gold). The next year, she starred in a musical made for television, The Belle of Fourteenth Street.
---

THE TOP FIVE
Week of February 2, 1974

1. The Way We Were
Barbra Streisand

2. You're Sixteen
Ringo Starr

3. Love's Theme
Love Unlimited Orchestra

4. Show and Tell
Al Wilson

5. Americans
Byron MacGregor

---
Streisand's film career took off in 1968 with Funny Girl, for which she won an Oscar (in the picture, she performed "People"). Her next film project was Hello, Dolly! She made two movies in 1970, The Owl and the Pussycat and On A Clear Day You Can See Forever.

Despite the quality of Streisand's films, many appeared dated, as if they'd been made for an earlier time. The market for "Broadway and Hollywood"-type material went into sharp decline during the sixties, as entertainment in general underwent a rapid metamorphosis. Barbra, immersed in show tunes and "period" motion pictures, insisted on recording the works of her friends -- sadly, few of whom were in vogue. She lost touch with her own generation, and by mid-1970, her record sales had fallen to less than one-third their former strength.

Columbia chief Clive Davis then hired producer Richard Perry, who managed to coax Barbra back onto the contemporary music scene. With great reluctance, she cut an album of current tunes, including a version of Laura Nyro's "Stoney End." In 1970, that song became Barbra's biggest hit since "People," and led to more experiments with Billy Preston and the all-girl group, Fanny.

Barbra was still uneasy with rock material, and longed for the security of standards and melodramatic show tunes. Finally, in 1973, she was cast opposite Robert Redford in The Way We Were. Much to her relief, the title theme turned out to be a shivery ballad of love gone awry -- exactly the kind of song she'd been waiting for.

Marvin Hamlisch came up with the melody; he was asked to write in the minor mode, but instead wrote in the major. "If I'd written in a minor mode, it might have told you too much in advance," he said, "that Streisand and Redford were never going to get together. So, I wrote a melody that was sad, but also had a great deal of hope in it." The tune was completed by a husband-and-wife songwriting team, Marilyn and Alan Bergman.

Streisand's single broke in late November 1973, and reached number one in mid-February 1974. It was her first number one hit, and first single to stay on the charts for more than five months. It earned an Academy Award as the Best Film Song of 1973, Billboard 's award as the Top Pop Single of 1974, and a Grammy as Song of the Year.

As for the film, it re-established the "Streisand character" -- a brassy young girl who chases her "golden boy." Frazzled, earnest, and slightly ridiculous, she's also touching; a woman who doesn't quite understand her own feelings of loneliness. The screenplay was written by Arthur Laurents, who adapted it from his novel, which was set during Hollywood's "Blacklist Era."

comments powered by