| | |
| --- | --- |
| Hendrix's Final Trip | |

A new Hendrix album hits stores on April 9, with 10 never before released songs.
By Eric Renner Brown in Entertainment Weekly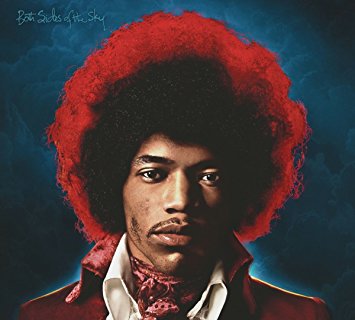 new collection, Both Sides of the Sky, exhumes studio work that Jimi Hendrix recorded before his death in 1970 at age 27. Longtime engineer Eddie Kramer and Hendrix's step-sister Janie walk us through the highlights.
A WHO'S WHO OF MUSICAL TALENT
With contributions from Stephen Stills, Johnny Winter, Lonnie Youngblood, and more, Both Sides of the Sky reflects Hendrix's "ringmaster" role in New York's late-'60s music scene. "He was the magnet that drew everybody to him," Kramer says. "Jimi had his special friends that he wanted to jam with, and that's how the music was created."
A RETURN TO HIS SIDEMAN ROOTS


Hendrix started his career as a hired gun on the chitlin circuit for artists like the Isley Brothers and Little Richard. On Both Sides, he plays backup on lead vocals from Youngblood and Stills. "He played well with others," notes Janie, CEO of Experience Hendrix. "It takes a lot for someone that is a star in their own right to be in a humbling position."


HENDRIX CONTINUED TO PUSH SONIC BOUNDARIES
Invigorated by the rhythm team of bassist Billy Cox and drummer Buddy Miles, Hendrix delves into funk, blues, and R&B. "This was a transitional time for Jimi," Kramer says. "The year of '69... is this year of change and Jimi searching for this new musical direction." Adds Janie: "People didn't get to see what he really did have planned. Jimi kept saying, 'I'm working on a new sound, you'll see.' He was trying to do something bigger."
YOU'LL HEAR "WOODSTOCK" LIKE NEVER BEFORE
Months before Crosby, Stills, Nash & Young released their iconic take on the Joni Mitchell cut, Hendrix recorded it himself. Kramer recalls a spirited Stills bursting into the control room of Manhattan's Record Plant studios with the tune and Hendrix immediately agreeing to play bass. "It's remarkable how similar the tone and the direction of where the guitars are going [is]," Kramer says of the two versions. "Obviously, Jimi had quite a bit of influence."
YES, THAT'S A SITAR
"He didn't use the electric sitar very much, but when he did, it was absolutely spectacular," says Kramer. Both Sides of the Sky ends with the far-out seven-minute jam "Cherokee Mist," which Kramer describes as "visceral.. [with an] American Indian feel" and feedback that "sounds like a trapped animal."
HENDRIX'S FUNNY SIDE SHINES THROUGH
Even at 27, Hendrix was still "just a kid," says Janie. "There was a very playful side to him," she adds, citing silly flourishes like his allusion to the Batman theme on "Lover Man." "I'm glad that it comes out in this album." Kramer agrees, stating that Jimi had an "acerbic, pointed, winds-you-up kind of humor. He'd take the piss out of all of us."



| | |
| --- | --- |
| Byrning Down the House | |

David Byrne gets back to his Talking Heads roots on his first solo LP in 14 years.
By Leah Greenblatt in Entertainment Weekly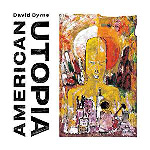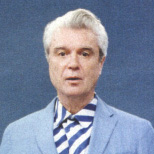 he most interesting rock stars don't retire, they diversify. In the decades since he cemented his bona fides as the frontman of art-punk heroes Talking Heads, David Byrne has set his compass to all points west, Renaissance-manning his way through theater and film project, multimedia collaborations -- even a disco-opera song cycle with Fatboy Slim based on the life of former First Lady of the Philippines (and legendary shoe fiend) Imelda Marcos.
So it makes some sense that he has waited nearly 14 years between solo releases following 2004's relatively muted Grown Backwards. His new American Utopia feels very much like the sum of Byrne's essential Heads DNA and everything that's passed since then, from the two-faced opener "I Dance Like This," which swings between plinking piano pop and jittery, paranoid synths, to "Gasoline and Dirty Sheets," with its thrumming echoes of the Clash's "Straight to Hell," and the languid near-bossa nova of the sinuous "It's Not Dark Up Here." The title of a tropical midtempo shuffle called "Every Day Is a Miracle" suggests something far more anodyne than what it delivers, with its surreal couplets about Mona Lisa, the kisses of chickens, and cockroaches in the cosmos.
The breezy, meandering "Bullet" traces the path of a cartridge through a body with unhurried candor, while "Everybody's Coming to My House" swells with jaunty horns and falsetto yelps -- though its busy musicality can't help recalling some of his more serrated earlier work and falling short. "Here is an alien that needs attention," Byrne, now 65, croons on the spacious, ruminative closer "Here" -- unsettled, unsettling, and just a little bit extraterrestrial till the end. B+