presents
| | |
| --- | --- |
| Eric Clapton - In His Own Words | |

In the Yardbirds, Cream, Derek and the Dominos, and his own bands, guitarist extraordinaire Eric Clapton has continually redefined his own version of the blues. He discusses his epic career and how he coped with drug and alcohol problems to become one of the most revered guitarists and dependable hitmakers of the past thirty years.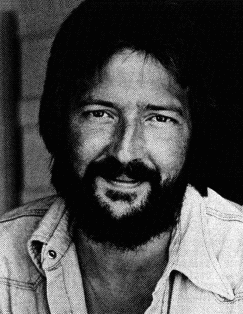 t a certain point the Yardbirds started getting package tours, with the Ronettes, Billy J. Kramer, the Kinks, the Small Faces, lots of others, and we lost our following in the clubs. We decided to get suits, and I actually designed suits for us all. Then we did the Beatles' Christmas show, and at that point we really began to feel the lack of a hit. We'd be on for twenty minutes or half an hour, and either you were very entertaining or you did your hits. A lot of times the raveup bit got us through, and a lot of times it didn't. It became very clear that if the group was going to survive and make money, it would have to be on a popular basis. We couldn't go back to the clubs, because everyone had got that taste and seen what fun it would be to be famous.
So a lot of songs were bandied about, and we came up with a song by Otis Redding. I thought that would make a great single, because it was still R&B and soul, and we could do it really funky. Then Paul [Samwell-Smith, bassist] got the "For Your Love" demo, and so we went into the studio to do both songs, but we did "For Your Love" first. Everyone was so bowled over by the obvious commerciality of it that we didn't even get to do the Otis Redding song, and I was very disappointed, disillusioned by that. So my attitude within the group got really sour, and it was kind of hinted that it would be better for me to leave. 'Cause they'd already been to see Jeff Beck play, and at the time he was far more adaptable than I was. I was withdrawing into myself, becoming intolerable, really, dogmatic. So they kind of asked me to leave, and I left and felt a lot better.


---

Eric Clapton's Seventies
Billboard Top 40 Singles

"After Midnight" 11/70 #18
"I Shot The Sheriff" 8/74 #1
"Willie And The Hand Jive" 11/74 #26
"Hello Old Friend" 11/76 #24
"Lay Down Sally" 2/78 #3
"Wonderful Tonight" 6/78 #16
"Promises" 11/78 #9
"Watch Out For Lucy" 3/79 #40

---
All during Cream I was riding high on the "Clapton is God" myth that had been started up. I was flying high on an ego trip; I was sure I was the best thing happening that was popular. Then we got our first kind of bad review, which was in Rolling Stone. The magazine ran an interview with us in which we were really praising ourselves, and it was followed by a review that said how boring and repetitious our performance had been. And it was true! The ring of truth had just knocked me backward; I was in a restaurant, and I fainted. And after I woke up, I immediately decided that that was the end of the band.
There toward the end, we'd been flying with blinkers for so long, we weren't aware of the changes that were taking place musically. New people were coming up and growing, and we were repeating ourselves, living on a legend, a year or two years out of date.
We didn't really have a band with Cream. We rarely payed as an ensemble; we were three virtuosos, all of us soloing all the time. We did a lot of acid, took a lot of trips in our spare time. And we did play on acid a couple of times.
I met John Lennon and would see him a lot around the London clubs. I got the impression that he was very shy, slightly bitter but also a very sweet young man. There seemed to be a sort of game between John and George [Harrison], partly because John was a pretty good guitar player himself. When I was with Cream, George became interested in my playing, and I think he might have told John that he liked my work. So John assumed that if George liked me, I was probably better than George. So we got into the "While My Guitar Gently Weeps" sessions.
A few years later John called me one Saturday morning and said, "Do you want to go to Toronto?" I said, "Sure. When?" And he said, "In a couple of hours." I happened to have my equipment at home, so I met them at the airport, with [bassist] Klaus Voorman and [drummer] Alan White. We all got first-class seats on the plane and I learned the repertoire on the way.


| | |
| --- | --- |
| | "The idea of dying from drugs didn't bother me... But as I grow older, as I live more, death becomes more of a reality, something I don't choose to step toward too soon." |
I got slightly disillusioned when we landed at the other end and John and Yoko were whisked off in a limousine and all the band was left standing in the rain. We didn't know how we were going to get to the gig or anything, but that wasn't their problem. Then before the gig, we did so much coke that I actually threw up and passed out. They had to take me out and lay me on the ground. And at the last minute we realized that we were going on between... I think it was Jerry Lee Lewis and Chuck Berry, and we were terrified. We were shaking. But it turned out to be a great experience.
There was a lack of direction in Blind Faith, or a reticence to actually declare among ourselves where we were going. Because it seemed to be enough just to be making the money, and that wasn't good; the record company and the management had taken over. I felt that it wasn't good; the record company and the management had taken over. I felt that it was too soon for Steve [Winwood]. He was feeling uncomfortable, and since it had originally been my idea, I was uncomfortable. I started looking for somewhere else to go, an alternative, and I found that Delaney and Bonnie [Bramlett] were a godsend. After the Blind Faith tour, I lived with Delaney for a while.
After the Dominos' Layla album, the band did a very big tour of America. We copped a lot of dope in Miami -- a lot of dope -- and that went with us.


By the end of the tour, the band was getting very, very loaded, doing way too much. Then we went back to England, tried to make a second album, and it broke down halfway through because of the paranoia and the tension. And the band just dissolved. I remember to this day being in my house, feeling totally lost and hearing Bobby Whitlock pull up in the driveway and scream for me to come out. He sat in his car outside all day, and I hid. And that's when I went on my journey into smack. I basically stayed in the house with my girlfriend for about two and a half years, and although we weren't using any needles, we got very strung out. All that time, though, I was running a cassette machine and playing; I had that to hold on to. At the end of that period I found I had boxes full of playing, as if there was something struggling to survive.


I had no care for the consequences; the idea of dying didn't bother me. Dying from drugs didn't seem to be a terrible thing. When Jimi Hendrix died, I cried all day because he'd left me behind. But as I grow older, as I live more, death becomes more of a reality, something I don't choose to step toward too soon.
I did the Rainbow Concert in January 1973 very much against my will. I wasn't even really there. It was Pete Townshend's idea, and I didn't know what I'd done to earn it. It's simply that he's a great humanitarian and cannot stand to see people throw their lives away. It didn't matter to him if I was willing or unwilling; he was making the effort so that I would realize, someday, that somebody cared. I'm always indebted to him for that.
The thing that finally drew me out was when Carle Radle, the Dominos' bassist, sent me a tape of him playing with Dick Sims and Jamie Oldaker. I listened to it and played along with it, and it was great. So I sent him a telegram saying, "Maintain loose posture, stay in touch." And at some point after that I started to get straight.


Reader's Comments
Topazthecat
It's really great that Eric Clapton recognized that George Harrison and John Lennon were pretty good guitar players and coming from him, who is widely considered to be one of the best guitar players ever, that's a big compliment.