"Half-Breed"
Cher
MCA 40102
Oct. 1973
Billboard: #1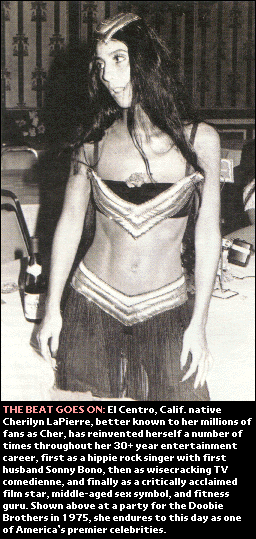 fter reviving the recording fortunes of Cher with "Gypsys, Tramps & Thieves" in late 1971, producer Snuff Garrett was invited by Kapp Records head Johnny Musso to produce an album for Sonny and Cher. The result was their first Top 10 single since 1967's "The Beat Goes On" -- "All I Ever Need Is You" went to number seven in November 1971. The follow-up, "A Cowboy's Work Is Never Done," went to eight in March the next year. Garrett gave Cher another Top 10 hit that February, "The Way of Love," but disagreed with Sonny on the kind of material his wife should be recording. After Sonny turned down a Bobby Russell song that Snuff thought would be number one, "The Night The Lights Went Out In Georgia," Snuff quit as producer.
Lyricist Mary Dean didn't know that when she brought "Half-Breed" to Garrett. She had written the tale of the daughter of a Cherokee mother and a white father especially for Cher. "I said from the lyrics it's a smash for Cher and for nobody else," Garrett told Jay Grossman for a 1973 Rolling Stone story.
| | |
| --- | --- |
| Cher's #1 hit "Half-Breed" was taken from her 1973 album of the same name, which peaked at #28 on the Billboard Hot 200 and remained on the album charts for 25 weeks. Cher - Essential Collection (above), a 23-track compilation of her greatest hits from 1965 through 1979 both as a solo artist and as half of Sonny & Cher, was released by Uni/Hip-O Records in 2001. | |
"And I didn't even have Cher at the time. To me, nobody else could do that song but Cher -- that was Cher's story. So I held the song and then it worked out that we got Cher back, but the song sat in my desk for about three, four months."

"Half-Breed" entered the Billboard Hot 100 at number 89 on August 4, 1973. Nine weeks later it became the second number one single for the new corporate entity MCA Records, which had absorbed its own subsidiary labels, Decca, Kapp and Uni.

The years 1971-1972 were prosperous for Sonny and Cher. Not only were they having hit records, but their CBS-TV series, The Sonny and Cher Comedy Hour, was performing well, even when the network switched it form Monday nights at 10 p.m. to Friday nights at 8. They had successfully matured their image from their "hippy" days in the mid-sixties. It was a conscious effort begun in 1967 to appeal to adults as well as teenagers, and it worked.

By the time "Half-Breed" hit the charts, the recording career of Sonny and Cher as a duo was over. Their last chart single, "Mama Was a Rock and Roll Singer, Papa Used to Write All Her Songs," struggled to number 77 in the spring of 1973.

"Cher wanted to be a solo act at every level," Sonny said in 1985. "I think all along she did. (Sonny and Cher) was a stepping stone to a goal she was seeking. I wanted to hang on to it and she wanted to end it. And it ended."

She had come a long way since Sonny had met her in a Hollywood coffee shop and brought her along to sing background on Phil Spector sessions. She was born Cherilyn Sakisian LaPierre on May 20, 1946, in El Centro, California. She grew up in Hollywood, where her mother was an actress. Cher sang in high school, and her mother enrolled her in acting classes with teacher Jeff Corey. Those classes would one day pay off with an Academy Award, for the 1987 film Moonstruck. That same year, Cher returned to recording and struck gold once again with her Cher album, which featured the Top 20 singles "I Found Someone" and "We All Sleep Alone." Several Top 10 hits ("After All," "If I Could Turn Back Time," "Just Like Jesse James") would follow and in 1998, she scored her biggest international solo hit ever with "Believe." When former husband, recording partner and manager Sonny Bono died in a tragic skiing accident in January 1998, Cher delivered a poignant and tearful eulogy at his funeral, calling him "the most unforgettable character I have ever known." In 2002, Cher announced her retirement from live performing and embarked on a worldwide farewell tour behind her Living Proof album.

- Fred Bronson, The Billboard Book of Number One Hits, Billboard, 1988.


Reader's Comments
No comments so far, be the first to comment.