"What a Fool Believes"
The Doobie Brothers
Warner Bros. 8725
Feb. 1979
Billboard: #1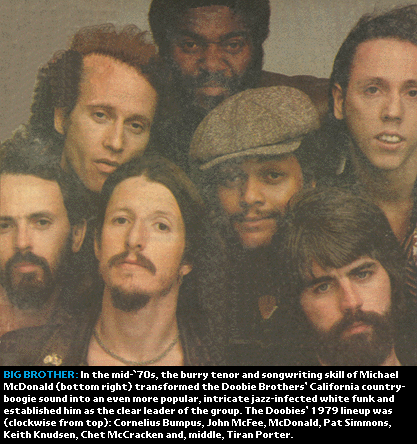 ome of the best and most consistent ear candy of the early '70s came from the pen of Tom Johnston. Johnston relied on solidly rocking guitar riffs to structure his songwriting, resulting in some of the most irresistible singles of the era. "Listen to the Music" (#11), "Long Train Runnin'" (#8), "China Grove" (#1), and "Another Park, Another Sunday" (#32) were typical examples of Johnston's trade. Although Iyrically vacuous, they were undeniably catchy and probably would have held up reasonably well if the AOR (album oriented radio) hit radio stations weren't constantly torturing us with them. Patrick Simmons was the Doobie Brothers second-string songwriter and proved himself to be almost as adept as Johnston was at penning memorable rockers. He also had a mellow side, as was evidenced by his surprise #1 hit, "BIack Water" (originally released on the B side of "Another Park, Another Sunday") and gorgeous album tracks such as "South City Midnight Lady."
Outwardly, the Doobie Brothers displayed the healthy (and somewhat rare) talent of maintaining a career as album-oriented artists and pop performers with Johnston taking lead on seven of the band's eight Top 40 singles. Inwardly, though, all was not well in Doobie-land. Johnston was suffering from the most typical side effects of excessive rock-and-roll stardom (addictions, exhaustion, etc.) and lost his sense of direction. His creativity floundered at the same time the rest of the band craved a clean break from anything so crass as juvenile pop. Instead of being appreciated for lining their pockets with gold, Johnston became expendable. To be fair, the band could hardly be expected to wait around indefinitely while their careers melted away. Since Johnston's health was unreliable and his brand of energetic riff-rock was becoming dated anyway, they grew impatient and devised a plan that, once in effect, would force him into the background. Guitarist Jeff "Skunk" Baxter was the most recent addition to the Doobie Brothers, taking up permanent residence with the band because his other employer, Steely Dan, was much too unreliable to provide him with steady work. Baxter suggested that another Steely Dan alumnus, Michael McDonald, come on as a vocalist/keyboardist/songwriter. When Johnston had to abandon the band in the midst of a two-month tour, McDonald was brought in to reinvigorate them.
The change, as evidenced by their next album Takin' It to the Streets, was immediate and astonishing. The band that just one album ago was a guitar-driven boogie band with unlimited pop potential, had suddenly transformed into a funky blue-eyed soul outfit. McDonald practically took over the songwriting chores while Johnston was allocated one mediocre composition. Fans of the old Doobie Brothers may have resented the sudden change, but there was no denying that this McDonald guy was a damn good songwriter/vocalist. The album's title song became McDonald's first single with the band, and it announced their radical departure in style. Except for the occasional Simmons composition that would harken back to the old days, the Doobie Brothers were the same band in name only.
Soon, McDonald's distinctive and soulful vocals became commonplace on the charts, whether as lead for the Doobie Bothers or as a session vocalist for any of a score of different artists. For the most part, guitar boogie was replaced with well-paced and funky polyrhythms, which suggested the sophisticated work of talented bands like Little Feat or Steely Dan. Because of the sudden change in style, the Doobie Brothers were granted a new lease on life and extended their stardom for an additional five years.
| | |
| --- | --- |
| "What a Fool Believes" was the first of three Top 40 singles off the Doobies' eighth gold album of the Seventies, Minute By Minute. Released on Dec. 23, 1978, Minute By Minute was the #1 LP in America for five weeks and spent a total of 87 weeks on the Billboard Hot 200 album chart. | |
The high point of McDonald's influential years came in 1979 with "What a Fool Believes." At that time, the music industry was in the midst of another tremendously volatile state of flux, but McDonald's vocal style lulled the conservative element of the business into believing that everything would be just fine. Nothing could have been further from the truth. Pop music was experiencing a crisis unlike anything since the birth of rock and roll, and had managed to isolate just about anybody who considered quality to be a good thing. "My Sharona," "Pop Muzik," "Do Ya Think I'm Sexy," "Ring My Bell," and "Heartache Tonight" all reached #1 in that year. Meanwhile, the best and most invigorating music was not coming anywhere near the pop charts. In England, the Sex Pistols destroyed all preconceptions of what a pop band should be (and then promptly destroyed themselves), and in America, the Patti Smith Group was combining artful poetry with provocative confrontation. Such New York bands as Blondie, Television, the Talking Heads, and the Dead Boys were playing regularly around the city, and Londoners like the Clash, Generation X, and Elvis Costello were preparing for international stardom while being gobbed on by appreciative fans. Meanwhile, the Doobie Brothers were a salve for a confused industry in a state of disarray. That same year, McDonald crooned his band to four Grammy awards.

The Doobie Brothers were quite obviously miles away from the cutting edge of contemporary trends, but that doesn't lessen the fact that "What a Fool Believes," the lead single from their new album Minute by Minute, was one of the best pop songs of 1979. McDonald paints a comically pathetic portrait of a chance meeting between two former lovers, each of whom has a completely different recollection of their relationship. While the male character charges ahead with the conviction of a man who believes that their love affair was the highlight of their lives, it becomes uncomfortably obvious that the female character does not share his enthusiasm. Sweet and sour, bittersweet and painfully romantic, "What a Fool Believes" focuses unflinchingly on an anticlimactic scene that could have fallen right out of a movie script.

Kenny Loggins, another holdout from the mid-'70s (you must remember Loggins and Messina) who only increased his stardom into the next two decades, assisted McDonald with the songwriting. The two had not met previously, but were brought together at the suggestion of Doobie Brothers bassist Tiran Porter, who thought Loggins would be a clever foil for McDonald's songwriting. As the story goes, Loggins heard McDonald running through the song from the driveway, and before he even knocked on the door, had imagined a continuation from where McDonald had left off. The serendipitous partners quickly finished writing "What a Fool Believes," and thus wrapped up a song that went on to spawn the above-mentioned four Grammy awards. Because of their increasingly obvious obsolescence, or maybe because of McDonald's interest in his solo projects, the Doobie Brothers disbanded after a few more albums, although they remained together for one final "farewell" tour. Like pining lovers, the group seemed to find it impossible to remain apart, and for the next five years kept reuniting at the drop of a hat. Eventually, McDonald decided to retain his career as a solo artist, while Johnston was reactivated as a permanent member.

- Thomas Ryan, American Hit Radio, Prima Entertainment, 1996.


comments powered by