"You Make Me Feel Like Dancing"
Leo Sayer
Warner 8283
Jan. 1977
Billboard: #1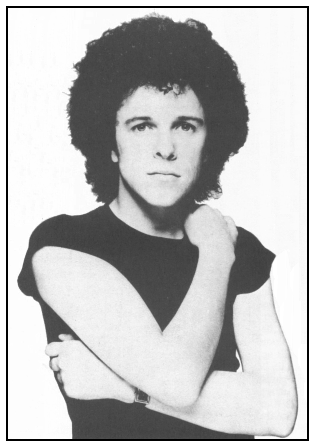 hen Leo Sayer began working with producer Richard Perry, they spent some time rehearsing in the studio. "I just started singing that line, 'You got a cute way of talking,' and Richard immediately ran to the recorder, pushed the button and said, 'Look, let's take it." Sayer told Ben Fong-Torres of Rolling Stone. "Two months later I came back to Los Angeles and he played me back some stuff and said, 'That's number one!' I didn't even remember it."
Perry, who had already produced chart-toppers for Nilsson ("Without You") and Carly Simon ("You're So Vain"), described "You Make Me Feel Like Dancing" for Fong-Torres: "It's full of syncopation, more like (Betty Wright's) "Clean Up Woman" (than disco). I hate disco music."
Sayer first gained recognition in America as a lyricist with a song he had taken to number two on the British chart. "The Show Must Go On," covered by Three Dog Night, was a number four hit in the States in May, 1974. Sayer had been involved in the English music scene for several years prior to the release of his first hit. Born Gerard Hugh Sayer on May 21, 1948, in Shoreham-by-the-Sea, England, he experienced a short career as a commercial artist, a nervous breakdown, a stint as a London street busker and being a substitute for singers who fell ill while performing in soul bands on United States Army bases.
| | |
| --- | --- |
| "You Make Me Feel Like Dancing" was the first of two number one singles from Leo Sayer's third album, Endless Flight. First charting on the Billboard Hot 200 album chart on Nov. 27, 1976, the album peaked at No. 10 and spent a total of 51 weeks on the chart. It was certified gold on Apr. 26, 1977, and in September of that year reached platinum status. | |
His first band, while still in art college, was Terraplane Blues. In London he sang and played harmonica for a group called Patches. Influenced by Bob Dylan and blues artists Sonny Terry and Brownie McGhee, Sayer was more comfortable as a lyricist than a performer. In 1970, Patches entered a local contest, auditioning for David Courtney, former drummer for British singer Adam Faith ("It's Alright"). Courtney was impressed enough with Sayer to beome his songwriting partner, creating melodies for his lyrics.

Courtney convinced Adam Faith to try his hand at artists' management and Sayer became his first client. Faith's wife thought Sayer looked like a little lion, prompting a change of first names from Gerard to Leo.

Sayer recorded his first album at the studio owned by Roger Daltrey of the Who. Daltrey kept dropping in to listen to Sayer and Courtney's songs, then sat in on a couple of sessions and engineered part of the album. Daltrey was about to record his first solo album, Daltrey, and asked Sayer if he had written any material that would be appropriate. The LP, produced by Courtney and Faith, had nine out of 11 cuts written by Courtney and Sayer.

After Sayer completed his autobiographical Silverbird album in 1973, he toured with Roxy Music to promote the LP and the single, "The Show Must Go On." His gimmick was appearing in a sad-faced clown costume and make-up inspired by the French film Children of Paradise. Critical reaction was favorable, but the image was not received well in America. He abandoned it for the next album, Just a Boy, which yielded his first American hit; "Long Tall Glasses (I Can Dance)" peaked at number nine in May 1975. The third album, Another Year, was more somber, and Sayer told Newsweek in 1977 that the journals he wrote after his nervous breakdown provided the material for his first three albums.

Album number four, Endless Flight, was a departure in many ways. Recorded at Studio 55 in Los Angeles under the guidance of Perry, Sakyer felt comfortable enough to break away from his own material for the first time. The title cut was written by Andrew Gold, and a cover versio of Diana Ross and the Supremes' "Reflections" was featured (a cover of the Miracles "The Tears of a Clown" was recorded but not included on the album). Sayer teamed up with new writing partners, including Barry Mann ("You've Lost That Lovin' Feelin'") on "How Much Love" and Vini Poncia ("Do I Love You" by the Ronettes) on his number one single, "You Make Me Feel Like Dancing." One of the most important songs on the album, "When I Need You," was written by Albert Hammond and Carole Bayer Sager, and it would be released as the follow-up to "You Make Me Feel Like Dancing."

- Fred Bronson, The Billboard Book of Number One Hits, Billboard, 1988.


comments powered by