"You've Got A Friend"
James Taylor
Warner Bros. 7498
Jul. 1971
Billboard: #1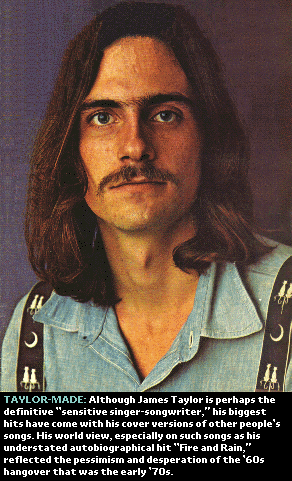 wo weeks after her double-sided hit of "It's Too Late" and "I Feel the Earth Move" was number one, songwriter Carole King was back on top of the chart with "You've Got a Friend," one of the songs included on her multi-million selling LP Tapestry. But Carole didn't release "You've Got a Friend" as a single. Her close friend James Taylor did, and it is his only number one song.
Taylor and his producer Peter Asher recorded the album Sweet Baby James just a few blocks away from the studio where Carole and her producer, Lou Adler, were recording Tapestry. Carole and James were long-time friends; they met through Danny Kortchmar, a boyhood friend of James' who was in a group called the City with Carole. In the spring of 1971, James did a 27-city tour of America with Carole as his opening act.
| | |
| --- | --- |
| "You've Got a Friend" was one of only two songs on James Taylor's 1971 album Mud Slide Slim and the Blue Horizon that wasn't composed by Taylor himself. Taylor's fourth album, Mud Slide Slim was released in May 1971, peaking at #2 on the Billboard Hot 200 and remaining on the charts for 45 weeks. It was certified as a platinum seller by the R.I.A.A. in Oct. 1986. | |
James was born March 12, 1948, in Boston. His father Isaac became dean of the medical school of the University of North Carolina, and his mother Trudy, who devoted time to raising her children, was a lyric soprano. James' brothers Alex and Livingston and his sister Kate were interested in music, and all went on to record their own albums.

The family spent their summers at Martha's Vineyard, where James, at 15, met Kortchmar. With Danny on harmonica and James on guitar, they won a local hootenanny contest. Back in North Carolina at boarding school, James formed a group with Alex called the Fabulous Corsairs. At 17 he became severely depressed and had himself committed to the McLean Psychiatric Hospital in Belmont, Massachusetts. During his 10-month stay he began to write songs.

Then he went to New York and joined Kortchmar's group, the Flying Machine. They played Greenwich Village clubs until their break-up, caused in part by Taylor's addiction to heroin. Attempting to break his drug habit, James moved to London in 1968. Kortchmar had once played in a band called the Kingbees who had backed up Peter and Gordon, and Danny told James to call Peter, now head of A&R for the Beatles' Apple label. Taylor brought Asher a demo tape.

"I liked the tape a lot," Asher recalls. "He was the first person I signed." James recorded on album for Apple, with Paul McCartney and George Harrison sitting in on one track. But James could not kick his heroin habit, and he returned to America and entered Austin Riggs, a mental hospital in Stockbridge, Massachusetts. Asher left Apple and came to the States, where he signed James to Warner Brothers Records.

"Fire and Rain," written about his drug habit and a friend who committed suicide, broke from the album. A cover story in the March 1, 1971, issue of Time and the release of "You've Got a Friend" from the Mudslide Slim and the Blue Horizon album helped establish James as a star. "You've Got a Friend" won two Grammys -- one for James (Best Pop Male Vocal Performance) and one for Carole (Song of the Year).

James married Carly Simon on November 3, 1972. With Carly, he had two chart singles" cover versions of Charlie and Inez Foxx' "Mockingbird" and the Everly Brothers' "Devoted to You." In 1982, Carly filed for divorce.

James continued to make and sell albums, however except for a few benefit concerts for George McGovern's 1972 presidential campaign, he didn't perform live from 1972 until 1974, when he embarked on a month-long tour. After charting Top 5 hits with "How Sweet It Is (To Be Loved By You)" and "Handy Man" in the mid-Seventies, he signed a lucrative contract with Columbia Records and his subsequent albums have sold consistently over the years. He continues to tour extensively between albums, and married for the third time in 2000.

- Fred Bronson, The Billboard Book of Number One Hits, Billboard, 1988.


comments powered by