"December, 1963 (Oh, What a Night)"
The Four Seasons
Warner/Curb 8168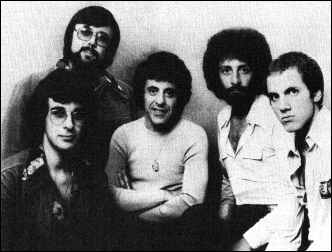 aking a remarkable comeback in 1975 was Frankie Valli and the Four Seasons. Mainstays of the sixties, the Seasons, led by Valli, had done a slow fade at the end of the decade. By 1970, original members Nick Massi and Tommy DeVito had quit, and Bob Gaudio had retired from the road. Gaudio and Valli remained business partners, though, owning all rights to the group name, and all of their old masters as well.
Frankie kicked off the resurgence with "My Eyes Adored You" in the spring of 1975. That number one was followed by a second Top 10 hit, "Swearin' to God." Then, in August, a disco single, "Who Loves You," introduced us to the new Four Seasons: John Paiva (guitar), Don Ciccone (bass), Lee Shapiro (keyboards), and Gerry Polci (drums). Over them, Valli sang lead, backed by two ex-Seasons, Gaudio and Joe Long.
The record reached number three nationally, and inspired an album of the same name. From that album came "December, 1963 (Oh, What a Night)."
---

THE TOP FIVE
Week of March 13, 1976

1. December 1963 (Oh What a Night)
Four Seasons

2. All By Myself
Eric Carmen

3. Love Machine (Part 1)
Miracles

4. Take It to the Limit
Eagles

5. Dream Weaver
Gary Wright

---
That song was written by Bob Gaudio, along with a lady friend, Judy Parker. At first it was about the repeal of Prohibition, and was called "December 5th, 1933." Judy wasn't pleased with that concept, though, and said that the words were a little "too cute." New lyrics were written, and the melody reworked. The result was a tune that everyone seemed to like -- except for one man. "Me," said John Paiva. "I'm the guy who predicted 'December '63' would be a bomb."

Fans, already shocked by the group's turn to disco, were in for another surprise. Frankie Valli gave up most of his lead vocal to Gerry and Don. "That was intentional," explained Gaudio. "We wanted to mix up the voices so the group could broaden its identity. It was a specially-designed piece of material."

In the words of one reviewer, "December, 1963" was "catchy, semi-erotic car radio fare." It broke right around Christmas of '75, and slowly climbed to number one by mid-March. The song spent six months on the charts, and sold more than three million copies. Ironically, that made it the Four Seasons' best-selling single ever. In 1994, thanks to the interest in Baby Boomer hits generated by the film Forrest Gump and its hit oldies soundtrack album, a remixed dance version of the song reentered the Billboard Top 100, peaking at number 14 and becoming the longest-running single in the chart's history, with over 50 weeks total.

"It's been almost like a double life for me," Valli said in a 1977 interview. "What we're hoping for is to get the group to a point where it can exist completely on its own, without me at all. That way, I'll be able to put more emphasis on my solo career."

Frankie must have been serious about striking out on his own, as later that year he announced he was leaving the group and would never work with the Four Seasons again (although he and Gaudio would retain co-ownership of the group and its name). But despite his solo success ("Grease" went to number one in 1977 and sold over seven million copies), the Four Seasons re-formed in 1980 with Gaudio, Valli, Ciccone, Polci, guitarist Larry Lingle and keyboardist Jerry Corbetta (ex-lead singer of Sugarloaf). In 1984 Valli and Gaudio formed FBI Records, and the Four Seasons teamed with their old sixties rivals the Beach Boys for the single "East Meets West." More recent incarnations of the group boast six Seasons or more. In 1990 the original members were inducted into the Rock & Roll Hall of Fame. In 2005, a successful Broadway musical featuring the music of the group, "Jersey Boys," opened on Broadway, and in 2014 a Clint Eastwood-directed movie adaptation of the play of the same name hit theaters.

comments powered by