| | |
| --- | --- |
| Whatever Happened to Saturday Night? | |

Saturday night TV is 'a wasteland' today, but a strong CBS
lineup of comedy & variety shows reigned in the Seventies.
by Bill Keveney in USA Today



aturday night's all right for fightin', going to dinner or watching a video, but it's hardly a party night for broadcast television.
With young-adult viewership declining on what already was the lowest-rated night for the major networks, all but CBS have abandoned scripted series on Saturday. NBC has taken an even bolder departure with the XFL, a sports programming experiment that has so far been a ratings dud after a promising debut.
"We have to look for a different way to do business," NBC Entertainment president Jeff Zucker says. "We've been closed for business on Saturday night for a few years. The economics of Saturday night are such that it makes expensive shows very difficult propositions."
Some network programmers agree, saying sitcoms and dramas, the mainstays of prime-time TV, are too expensive for a night with such a small audience, especially considering the small number of 18-to-49-year-olds (the heart of advertising sales) who are watching.
WB and UPN, newer networks unburdened by a history of Saturday programming, take the night off. The big four networks -- ABC, CBS, NBC and Fox -- don't plan to drop Saturday, but some say they must find a new way to approach the evening.
Alternative programming has been the watchword for a few years at Fox, where reality-based Cops and America's Most Wanted offer lower costs and loyal audiences.
With such low ratings and weak young-adult demographics "there's a sense among networks that the ability to create successful series on Saturday is extremely limited," says Preston Beckman, Fox's vice president of programming. "I don't think a network will ever put a high-priced show on that night."
CBS, with three dramas, is the only network to offer a traditional series lineup on Saturday, the first time that has happened since TV's infancy. Sitcoms, once the lifeblood of the evening, haven't been seen on a major network fall schedule since 1996.
"Saturday has turned into this wasteland," says Tom Nunan, UPN's entertainment president. "I can't imagine it being worse than this."
It wasn't always that way. Over the years, Saturday has been the home of many popular shows, including The Golden Girls, which was the fourth-highest-rated network show only a little more than a decade ago. Going back to the mid-'70s, CBS' Saturday was one of TV's greatest nights, drawing large audiences and critical acclaim. From 1972 to 1975, All in the Family, The Mary Tyler Moore Show, The Bob Newhart Show and The Carol Burnett Show were neighbors, with M*A*S*H in the lineup for the 1973 season. All in the Family was TV's top-rated show during those years, with Moore's sitcom often in the top 10.
"That was a killer lineup," says Tim Brooks, co-author of The Complete Directory to Prime Time Network and Cable TV Shows.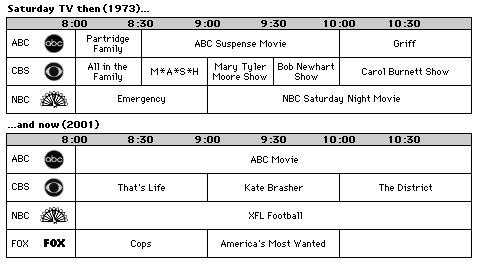 In recent years, networks haven't put their strongest shows on Saturday, because the night has a smaller audience and less profit potential. That wasn't the case for the classic CBS comedy shows.
"No question, they were very good shows, but it wasn't unusual to be surrounded by the best," says Moore, whose namesake company also produced Newhart's show.
"We were very different," she remembers. "Carol was doing variety and sketch comedy, which is the broadest of all. Then there was me, doing very real comedy. As much as people think of me as being a funny woman, I was basically playing straight to everyone around me. And then there was Bob, who had yet another level of comedy."
Neither Moore nor Burnett had qualms about Saturday scheduling. In an era of fewer channels and less audience fragmentation, they had audiences of varying ages.
"Occasionally, I go out and do an evening of Q&A, and I inevitably get people saying, 'When I was growing up, this was a time I could be with my mother, my father or my grandfather,'" Burnett says.
"The whole family could watch," says Burnett, whose current project is a family endeavor. She and her daughter, Carrie, have written a stage adaptation of Burnett's memoir of her youth and early years in show business, Hollywood Arms. Hal Prince will direct its premiere in Chicago next year.
If Saturday has diminished, so has prime-time variety. Burnett says. She thinks it could succeed if certain stars, such as Bette Midler or Martin Short, were given a shot.
"But what we did would be cost-prohibitive now," says Burnett, whose show had 28 musicians and extensive costuming and sets.
Moore acknowledges losing some viewers to Saturday night activities but says other fans told her they stayed home to watch.
"I've heard throughout the years from people who say they made a point never to go on a date on Saturday night, so they could" see the show, says Moore, whose Mary Richards will be immortalized this year with a statue in Minneapolis, the setting for the series. (Newhart received a tribute in March at the U.S. Comedy Arts Festival.)
Moore says her comedy, which followed a woman in her 30s, attracted others in that demographic, one of the toughest groups to attract to Saturday prime time today.
"A lot of women who didn't have a date were thrilled, because they felt normal, that they were with Mary and Rhoda, who didn't have dates, either," says Moore, who stars in an upcoming CBS movie about a mother-son criminal duo.
Jean Stapleton of All in the Family plays "the poor woman we do in."
"I sent her a bouquet of flowers upon her arrival" at the set in Australia, Moore says. "It said, 'Dear neighbor from the past, forgive me for what I'm about to do to you.'"