| | |
| --- | --- |
| The Oscars: 25 Years Ago | |

In 1978, Oscar turned 50, popular faves ('Star Wars') lost out to brainier fare ('Annie
Hall'), and the ceremony was marked by rabble-rousing -- on stage and off.
by Steve Wulf in Entertainment Weekly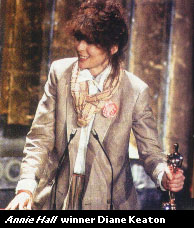 t was April 3, 1978, and the star system was swirling around the Dorothy Chandler Pavilion for the 50th anniversary of the Academy Awards. Janet Gaynor, the very first Oscar winner for Best Actress (1927-28, for three films), was there, as were some 40 past winners, wrangled by Allan Carr, the executive creative consultant. But the previous year's Best Actress, Faye Dunaway, couldn't make it because of a car crash. That turned out to be a harbinger for an evening that became something of a wreck -- witnessed by the largest television audience in the history of the awards.
As you might expect of someone turning 50, Oscar was undergoing a midlife crisis. Hollywood produced two of the most enduring and successful films of all time that year, namely Star Wars and Close Encounters of the Third Kind, yet all the prestigious awards would go to films that appealed to New York sensibilities: Julia, The Goodbye Girl, and Annie Hall. Even though everyone was discoing to the Bee Gees-driven sounds of Saturday Night Fever, that film couldn't buy a nomination in the Best Song category.
One thing was for certain, though. With Alec Guiness, Jason Robards, Maximillian Schell, Richard Burton, Marcello Mastrianni, Vanessa Redgrave, Jane Fonda, Anne Bancroft, and Shirley MacLaine all nominated for their performances, this was a vintage year for acting.
Not to mention a vintage year for acting out. Columbia Pictures chief David Begelman was placed on leave for embezzling thousands of dollars from, among others, Cliff Robertson. Nick Nolte was sued for palimony, Linda Blair was arrested for trying to buy cocaine, and Roman Polanski was convicted of statutory rape. Even in death, Joan Crawford took center stage by leaving two of her children out of her will "for reasons which are well known to them." And Farrah Fawcett-Majors' camp tested her stardom by reportedly demanding that either Cary Grant or Sir Laurence Olivier be her copresenter for film editing.
It was against this backdrop of conflict that Howard W. Koch, Academy president and the show's producer, had decided to bring Bob Hope out of mothballs to host the festivities. "We will attempt to bring back the old Hollywood," said Koch. He also beseeched outspoken Vanessa Redgrave, a Palestinian sympathizer, to just say "Thank you" should she win a Best Supporting Actress for Julia. In short, the evening was an accident waiting to happen.
Bitter Herb
The most preoccupied man in Hollywood that night was director Herbert Ross. He had two movies nominated for Best Picture, The Goodbye Girl and The Turning Point; he was up for Best Director for the latter, and his goddaughter, Leslie Browne, was a candidate for Best Supporting Actress. But Ross had something else to think about: He was filming Michael Caine and Maggie Smith as they came up the red carpet for his upcoming California Suite, and the Redgrave protesters -- pro and con -- complicated the shot.
Debbie Does Hollywood
Dressed in a sequined tuxedo, Debbie Reynolds sang the opening number, "Look How Far We've Come." Apparently, not very. Out came a horde of past Oscar winners -- Ernest Borgnine, Louise Fletcher, Burl Ives, Dorothy Malone, et al. -- without any introduction. (The TV audience just saw a rapid-fire succession of names on the screen.) The congregation all stood around as Bette Davis and Gregory Peck explained the voting procedures. And then the Oscar alums were gone, never to be seen or heard from again.
Hope Zings Eternal
After referring to past winners as "the road company of the Hollywood Wax Museum," the 74-year-old Hope launched into his monologue. Actually, it wasn't bad as far as those things go -- "Liz Taylor's back on her farm in Virginia, still trying to milk a chicken" -- but some of the laughter was clearly nervous. The first award of the evening was Best Supporting Actress.
Code Redgrave
Even before Saturday Night Fever star John Travolta opened the envelope, the winner was pretty obvious: Redgrave was competing with Quinn Cummings, Tuesday Weld, Melinda Dillon, and Leslie Browne. Wearing a simple black dress, Vanessa regally climbed up on stage and graciously thanked her Julia colleagues, costar Jane Fonda and director Fred Zinnemann. But just when it looked as though Koch might get off Palestinian-free... "I think you should be very proud that in the last few weeks you've stood firm and you have refused to be intimidated by the threats of a small bunch of Zionist hoodlums...." There were gasps and boos and a smattering of applause. Outside, protesters burned an effigy of the actress. Inside, many Academy members were seething.
M-I-C...K-E-Y
The mood of the proceedings was somewhat lifted by the appearance of C-3P0 in a black bow tie, along with R2-D2 and Mark Hamill. They gave out two Special Achievement awards. Next came 15-year-old Jodie Foster, diminutive songwriter Paul Williams, and Mickey Mouse to hand out the Oscar for animated short film. As it happened, Mickey was also celebrating his 50th birthday, and after the orchestra played the theme from the Mickey Mouse Club, Williams told the rodent, "Know what we're gonna get you for your birthday? Two more fingers."
Golden Oldies
Amid the gaffes and political statements came one genuinely touching moment. After William Holden and Barbara Stanwyck walked on to present the award for sound, Holden departed from the script to thank Stanwyck for intervening on his behalf 39 years before when he was about to be fired from Golden Boy: "Due to this lovely human being and her interest and understanding and her professional integrity and her encouragement and, above all, her generosity, I'm here tonight," Stanwyck could only say, "Oh, Bill," as the two old friends embraced.
Grand Slam
When Jason Robards won Best Supporting Actor in absentia for his role as Dashiell Hammett in Julia, Hope cracked, "I think he's playing bridge with Marlon Brando and George Scott." As it happened, Robards was appearing on Broadway in Eugene O'Neill's A Touch of the Poet, and he didn't appreciate the joke: "I sent [a note] weeks ago, saying sorry I can't be there... Bob Hope knew it... Tasteless s----, anyway." Left unsaid were the facts that Robards had become the fourth actor to win consecutive Oscars (Luise Rainer, Spencer Tracy, and Katharine Hepburn were the others) and that Julia achieved a rare double by sweeping both supporting categories.
Majors Disappointment
Alas, Farrah did not get her wish. Neither Olivier nor Grant was there, so she had to walk to the podium with Marcello Mastroianni, a Best Actor nominee for A Special Day. They gave the Oscar for film editing to a Star Wars threesome that included Marcia Lucas, wife of nominated director George Lucas. It was one of six Oscars for Star Wars, but the only one the family could take home.
Woody or Won't He
The most conspicuous no-show at the awards was Woody Allen. Annie Hall had made him the first person nominated for Best Director, Best Actor, and Best Screenplay since Orson Welles for Citizen Kane in 1942. Allen was back in New York, observing his Monday-night custom of playing clarinet in his jazz band at Michael's Pub. When Cicely Tyson and veteran director King Vidor announced the Best Director winner as Allen, they were left hanging because Allen had not designated anyone to pick it up for him.
Mad as Hell
Allen would also win the Oscar for original screenplay, which was accepted by co-writer Marshall Brickman. But not before presenter Paddy Chayefsky took it upon himself to chide Redgrave. In part, he said, "I'm sick and tired of people exploiting the occasion of the Academy Awards for the propagation of their own political propaganda... A simple 'Thank You' would have sufficed." The audience punctuated Chayefsky's rebuke with thundering applause.
Fad as Hall
The sentiment for Annie Hall carried over into the Best Actress category: Janet Gaynor and Walter Matthau gave the Oscar to Diane Keaton, dressed in her trademark rummage-sale style. The actress giggled as she accepted the award, but managed to mention all her fellow nominees -- Anne Bancroft and Shirley MacLaine for The Turning Point, Jane Fonda for Julia, Marsha Mason for The Goodbye Girl. And just before leaving the podium, she added, "I just would like to say thanks to Woody."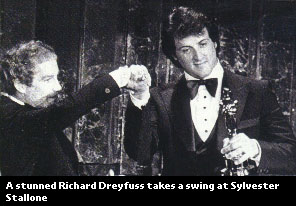 Poor Richard
One of the Best Actor nominees was Richard Burton for Equus. Because he had been nominated seven times without a win, and because he'd gone out of his way to promote the movie, Burton was the sentimental favorite -- so much so that Elizabeth Taylor stayed away so as not to upstage her ex. When Sylvester Stallone, subbing for Faye Dunaway, announced, the "new heavyweight champ... Richard..." Unfortunately for Burton, the champ was Richard Dreyfuss for The Goodbye Girl. "I didn't prepare anything," said the unshaven Dreyfuss, who was, at 30, the youngest ever to win Best Actor. "Wait a second... am I here?" Dreyfuss would later say, "The night was a complete fuzz-out."
Duke Out
As always, the ceremonies ended in a rush, with Hope sending a message to John Wayne, who was in the hospital for heart surgery, and Jack Nicholson announcing the Best Picture as Annie Hall -- the first comedy to win the award since Tom Jones in 1964. Hope closed with the offer: "If the Academy wants me back here in another half century, I'm available."
Going Solo
After the telecast, even though she had disrupted the show, Howard Koch said he felt sorry for Redgrave: "At the [Governors Ball], she was sitting all alone with just her two bodyguards. No one else would sit with her, and here it was her big night."



| | |
| --- | --- |
| Prime Marvin | |

Motown releases back-to-basics versions of Gaye's early '70s soul masterpieces.
by Gavin Edwards in Rolling Stone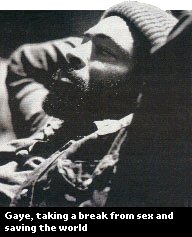 n 1970, after spending a decade as Motown's smoothest soulman, Marvin Gaye found he had things to say that he couldn't express in the confines of a three-minute pop single. He wrote a suite of songs from the viewpoint of a returning Vietnam vet, lamenting everything from the environment to drug addiction. Motown refused to release it for a year, relenting only because Gaye wouldn't record anything else; What's Going On was the label's first concept album.
The title track rightly became a standard, but the highlight was "Inner City Blues (Make Me Wanna Holler)," a heartbreaking lullaby about life in the ghetto. Gaye's political lyrics grabbed people's attention, but the music was equally revolutionary, wedding David Van De Pitte's orchestral arrangements with the unsurpassed rhythms of the Motown house band: the birth of the Quiet Storm format.
Although What's Going On? is customarily anointed as the pinnacle of Gaye's career, it suffers from inconsistency; singles such as "Mercy Mercy Me (The Ecology)" were far superior to album tracks like "Save the Children." But Gaye's next album, 1973's Let's Get It On, was even better. Gaye laid out his manifesto in the liner notes: "Have your sex, it can be very exciting if you're lucky. I hope the music that I present here makes you lucky." He then made a perfect seduction-groove record; it's a rare couple who won't end up in bed by the beginning of the second song, "Please Don't Stay (Once You Go Away)."
These albums are single-disc versions of the lavish deluxe editions Motown released in 2001 (which are still available, at about twice the price of these releases). The excellent liner notes remain, but in each case the extra disc and a half of outtakes has been pared down to two bonus tracks. Whichever editions you choose, the two discs taken together starkly dramatize what Gaye saw as the central conflict of his own life: Was he the preacher's son who wanted to be a force for good in the world, or a sinful servant of the devil? What's Going On * * * * Let's Get It On * * * * *

comments powered by