| | |
| --- | --- |
| Reissue Roundup | |

Sabbath and Priest's metal, Jackson Browne's California folk rock, and
the Supremes' Motown gold highlight recent Classic Rock reissues.
Black Sabbath / Black Box: The Complete Original Black Sabbath (Rhino) * * * *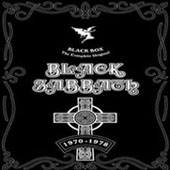 obody has ever wallowed in pure, unadulterated, overdriven guitar with the orgiastic abandon of Black Sabbath. They didn't have a lot of choice in the matter. Tony Iommi had maybe a third of the pyrotechnic ability of contemporaries such as Jeff Beck and Eric Clapton. In an era when guitar virtuosity was the measure of everything, Iommi pioneered metal mostly with his astounding sense of riff and the courage to reassert one of rock's eternal verities: "If it sounds good, I'm going to play it again and again and again."
That's what Black Sabbath did, and it sounds even better again and again and again in this eight-CD/one-DVD set than it did on vinyl. With these remastered discs, some of the most devastating hooks in rock history get the sonic punch they deserve. Since this is the entire original Black Sabbath catalog, there's also a certain amount of crap. In general, the first four albums (Black Sabbath through Vol. 4) are indispensable, and the last four (Sabbath Bloody Sabbath through Never Say Die) aren't. Most of Iommi's great riffs come early ("Black Sabbath," "Paranoid," "Iron Man" and a bunch more). In later years, he's rolling a higher percentage of gutter balls, although "Sabbath Bloody Sabbath," one of the great rants against the music biz, holds up nicely. Bassist Geezer Butler and drummer Bill Ward were masters of the ominous thud. Under the influence of cocaine, bad FM-radio bands of the Seventies and horrendous legal problems, the band gradually lost the spark, but the great stuff is so great that the bad stuff is at least interesting.
Listeners are advised to suspend all thoughts of Spinal Tap, for whom Black Sabbath were a role model, and Ozzy Osbourne's addled forays into reality television. Remember only what it is like to be in your late teens facing a hostile, mysterious, dishonest, exploitative, savagely violent adult world that is demanding obedience for money. Black Sabbath spoke to that alienation as well as anyone before or after punk. - Charles M. Young


Judas Priest / Metalogy (Columbia/Legacy) * * * *

When Ozzy Osbourne left Black Sabbath in 1979, the way was clear for a new heavy-weight champ of metal. Enter Judas Priest (like Sabbath, from Birmingham, Engalnd), a quintet that had up to then released four anemically produced albums. That all changed with 1979's Hell Bent for Leather, a record that effectively removed metal's Seventies-era prog-rock flab. Songs such as the title track were compact, radio-ready blasts of fury that set the stage for every Eighties band from Mötley Crüe to Metallica. 1980's British Steel was Priest's pinnacle. With "Breaking the Law" and "Living After Midnight," Rob Halford -- perhaps metal's best singer ever -- delivered lessons on how to make hard-rock fans thrill unwittingly to the fantasies of a closeted gay man. What followed -- forays into pop- and thrash-metal, Halford roars onstage astride a Harley -- advance publicity for Priest's reunion at this summer's Olympics. - Bob Kemp


Jackson Browne / The Very Best of Jackson Browne (Rhino/Elektra) * * * * *

During the 1970s, Jackson Browne was it -- a boyishly handsome SoCal icon whose critically admired hit albums spoke to listeners with unparelleled intimacy. The first half of this two-disc retrospective, drawing on Browne's five 1970s LPs and paced by stunning personal narratives such as "These Days," "Fountain of Sorrow" and "The Pretender," is unflaggingly luminous and heart-rending. The second disc, which focuses on the eight albums Browne released between 1980 and 2002, testifies to the consistency of his vision, displaying an acute observer who looked into himself ("I'm Alive") and at the world around him ("Looking East") with candor and eloquence. The politically charged "Lives in the Balance," from 1986, sounds strikingly relevant today, and Browne's biggest hit, 1982's "Somebody's Baby," is ear candy at its most bittersweet. Very Best makes a compelling case for Browne as rock's greatest confessional singer-songwriter. - Bud Scoppa


Diana Ross and the Supremes / The No. 1's (Motown/UTV) * * * * *

In the spirit of recent collections by the Beatles and Elvis, the folks entrusted with the Motown catalog have remixed and remastered the biggest hits by the ultimate girl group, the Supremes. Both a primer for young listeners and motivations for old fans to buy beloved classics one more time, The No. 1's includes not only the threesome's fourteen chart-toppers, eight Ross solo smashes and a sophisticatedly funky post-Ross Supremes jam ("Stoned Love") but also a few extra seconds of unheard music at the tail end of many hits. Some of the differences may shock: "Stop! In the Name of Love" now comes to a full, sudden stop.
A new audio clarity sharpens the details -- the instrumental precision and swing, the vigor of the background cries -- behind the booming Motown sound. Regardless of the changes, milestones such as "You Keep Me Hangin' On" and "Love Child" remain some of R&B's richest pop symphonies. - Barry Walters



| | |
| --- | --- |
| Q & A with Neil Sedaka | |

by Lorraine Ali in Newsweek


eil Sedaka wrote some of the most indelible hits of the '60s and '70s -- from "Calendar Girl" to "Love Will Keep Us Together." Now he's back on the charts thanks to American Idol Clay Aiken's covering his "Solitaire," and back onstage with his own tribute to Yiddish song.
How does it feel to be competing on the charts with people like Usher?
Very exciting. "Solitaire's" been a No. 1 record on SoundScan for the last eight weeks.
When you hear covers of your songs, do you ever think, "I could've done a better job?"
As long as they honor the melody and lyrics, I'm happy. I've had some of the great performers cover my songs: Elvis, Karen Carpenter, Johnny Mathis, Peggy Lee. I don't love them all, but it's very flattering.
Do you sometimes get tired of hearing them?
Never. I still love turning on the car radio and hearing one of my songs. It's one of the greatest thrills. And the royalties aren't bad either.

You play Carnegie Hall on June 3.
Yes. I recorded a CD called Brighton Beach Memories: Neil Sedaka Sings Yiddish, and I'll sing those songs as a benefit for the Jewish theater in New York. I'll be working with the Klezmatics. Isn't that name cute? The songs come to me from my childhood. Mom used to play the records and we would sing at picnics, weddings, bar mitzvahs.
I'm Arab-American, and we always claimed you as one of our own. We thought you were Lebanese.
That's funny. Sedaka's a Turkish name from my father's side, and my mother's family are Ashkenazi Jews. My name has been very helpful to me because it has an international ring. They thought I was Italian, Spanish, Japanese. When I toured Japan in the '50s, there was a big poster of me with Asian eyes.
Have you thought of translating your hits into Yiddish?
Um, no. I've never tried. It would take a bit of doing. I don't even speak Yiddish.

comments powered by