| | |
| --- | --- |
| Real Peachy | |

The first Allman Brothers Band retrospective to span their entire
35-year career is loaded with early classics and more recent gems.

hirty-five years after their recording debut, there is still no other group like the Allman Brothers Band -- authors of an indispensable style of American music that became known as Southern Rock, they grew into a musical icon culminating with their 1994 induction into the Rock and Roll Hall of Fame. Now the Brothers have a retrospective like none other in their lengthy history.

The two-CD Stand Back: The Anthology (Hip-O/UMe) is the first collection to feature tracks spanning The Allman Brothers Band's entire 35 years (1969-2003), from their groundbreaking work on Capricorn until moving on to Arista in the early '80s followed by Sony in the '90s and their current Sanctuary-distributed, self-owned Peach Records. These 32 recordings, each newly digitally remastered, include at least one from each of their 13 studio albums plus the quintessential Live At Fillmore East. The package also boasts a deluxe 24-page color booklet containing numerous photos, an essay and detailed credits.

Brothers Gregg (vocals, keyboards) and Duane Allman (guitars), Dickey Betts (guitars, vocals), Berry Oakley (bass), and Butch Trucks and Jai Johanny Johanson (later known as Jaimoe) (drums) formed the band in Jacksonville, Florida, in March of 1969 before moving north to Macon, Georgia and quickly debuting with the Allman Brothers Band and its "Whipping Post," "Dreams," "It's Not My Cross To Bear," "Trouble No More" and "Don't Want You No More." 1970's Idlewild South followed with "Midnight Rider," "Revival" and "Hoochie Coochie Man."

A mix of triumph and tragedy ensued. Live At Fillmore East (1971) went Top 15 with "Statesboro Blues" and "In Memory Of Elizabeth Reed," contrasted by Duane's motorcycle accident death weeks after the two-record set's release. Then Eat A Peach (1972), Top 10, highlighted "Melissa," "Stand Back," "Blue Sky," "Ain't Wastin' Time No More," "Little Martha" and a live "One Way Out." But then Oakley died in a motorcycle crash near the site of Duane's accident.

Brothers And Sisters (1973) followed, spawning the #2 pop hit "Ramblin' Man." This album also featured "Come And Go Blues," "Jessica," "Wasted Words" and "Southbound," and promptly went to #1. From 1975's Top 10 Win, Lose Or Draw the title track and "Can't Lose What You Never Had" are included.

After a reformation in 1979, Enlightened Rogues, with "Crazy Love" and "Just Ain't Easy," again went Top 10. 1980's Reach For The Sky included "Hell & High Water" and 1981's Brothers Of The Road "Never Knew How Much (I Needed You)." With a second reformation, they headed back into the studio in 1990 to record Seven Turns, producing radio airplay favorites "Good Clean Fun" and "Seven Turns."

They followed with relentless annual touring and successively well-received live and studio recordings, among the latter are Shades Of Two Worlds (1991) with "End Of The Line," the gold-certified Where It All Begins (1994) with "No One To Run With" and most recently Hittin' The Note (2003) with "High Cost Of Low Living." Concert appearances at Woodstock '94, the Rock and Roll Hall of Fame inaugural, Bonnaroo, and the H.O.R.D.E. Festival; numerous television appearances, and being awarded a Grammy are among the many highlights of the past 15 years.

Today, the Allman Brothers Band's current incarnation has been embraced by both their original fans, who have been with them for 35 years, as well as a new, young audience weaned on jam acts who draw inspiration from the Brothers' vintage recordings, cornerstones in the American rock pantheon.



| | |
| --- | --- |
| Tribute to a Super Freak | |

Rick James made some of the greatest funk hits and later faced hard times.
by Raymond Fiore in Entertainment Weekly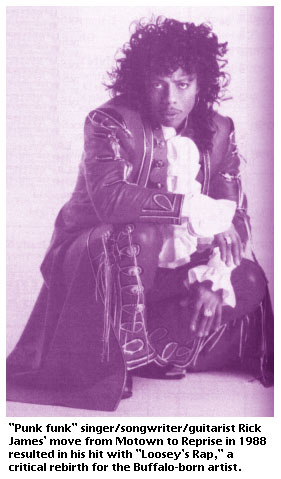 f George Clinton is funk's intergalactic architect, and Prince its crossover musical prodigy, then Rick James, who died Aug. 6 of heart failure in his L.A. home at age 56, was the genre's flashy, carnal embodiment of rock & roll excess. A formidable talent who wrote and produced a string of indelible post-disco R&B classics like "Super Freak" and "Give It to Me Baby," James enjoyed a brilliant moment of success in the late '70s and early '80s before being swallowed by a cocaine addiction that all but ruined his life and career. "Rick was a troubled soul but an amazing talent," says his former Motown labelmate Lionel Richie. "I will miss him."

When he debuted on the scene back in 1978, James (born James Johnson Jr.) invoked the cross-pollination of rock and soul that Sly Stone had pioneered a decade earlier, fusing his lascivious lyrics and rebellious spirit to craft a style that came to be known as punk-funk. With glittery braids and ostentatious leather duds, he seemed an unlikely candidate for mainstream success. But by positioning himself between genres, the R&B Bacchus was able to sell his electro-rock jams to a wider audience than most of his funky brethren. "Rick acheived what at the time P-Funk could not, and that was to cross over to the white audience and get major airplay and video play," says Bootsy Collins, the Parliament Funkadelic bassist. "So it can be said that Rick took funk into the unfunky homes of white America."

James' early-'80s success made him a rich man, but it also magnified his demons. "You smoke a joint and write a song and next thing you know you've got a check in the mail," he said in 1981.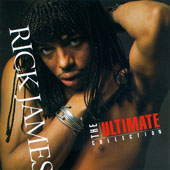 "Rick and I were very good friends at one time," says Chic guitarist and famed producer Nile Rodgers. "And hanging out with him was the same as hanging out with Joey Ramone. He lived the punk-funk life." Before long, James was squandering his wealth to support an $8,000-a-week cocaine habit. By the end of the decade, he was practically a recluse, consumed in a dark underworld of debauchery where parties lasted weeks at a time. It got worse: In 1991, he and future wife Tanya Hijazi (now divorced) were charged with assaulting and falsely imprisoning two women in separate incidents, with James being found guilty of assault and spending nearly three years in jail (Hijazi copped a plea and served 18 months).

The newly sober James attempted a comeback with a 1997 album (derailed by a 1998 stroke and hip replacement surgery), but it wasn't until recently that he reclaimed cultural relevance, thanks to Dave Chappelle, whose over-the-top impersonation of the '70s James on his top-rated Comedy Central show hatched the undisputed catchphrase of the year: "I'm Rick James, bitch!" A party companion of Chapelle's Show regular Charlie Murphy (Eddie's brother) back in the day, James gamely appeared in the sketches, offering amused, rambling accounts of his once wicked, wicked ways: "Cocaine is a helluva drug!"

Despite his prolonged absence from pop music, James' impact lives on in the magnetic swagger of 21st-century soul rocker Andre 3000 and scores of sample-happy hip-hop artists tapping his juicy tracks for surefire hits (J. Lo, Jay-Z, Mary J. Blige). "He's got the thing that makes all the hair stand up on the back of your neck," says Blige. And his upcoming memoir, Memoirs of a Super Freak, should keep him alive for fans. The front-runner to play him in the screen version? Dave Chappelle.

comments powered by