| | |
| --- | --- |
| Back In Black | |

Johnny Cash, hot again thanks to the biopic 'Walk the Line,' influenced
a generation of musicians with his rockin' 1969-71 TV show.
by Steve Pond in TV Guide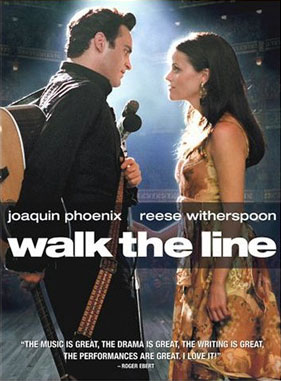 ohnny Cash's rich life story hit the big screen last month in Walk the Line, but the Man in Black made his mark on the small screen a long time ago. In 1969, a weely TV series cemented Cash's comeback from the personal and professional troubles depicted in the film. The Johnny Cash Show turned him from a country-music rebel into one of the most beloved entertainers in the nation, outselling even the Beatles.
The music series ran for three seasons on ABC, starting as a replacement show in the summer of '69 and then continuing when unexpectedly strong ratings prompted the network to bring Cash back for two more seasons. U2's Bono has said he first became a Cash fan watching the show as a 9-year-old in Dublin, and he wasn't alone. "That show brought a respect to country music that country hadn't had, and it brought a whole new audience," says singer, songwriter and actor Kris Kristofferson, who appeared on the show.
"It was a significant show, because there wasn't a lot of country on television at the time," says Allen Glover, a Museum of Television & Radio curator who assembled a retrospective of the show for a 2003 exhibition series. "There was Hee Haw and there was The Glen Campbell Goodtime Hour, but those were different. Glen Campbell was a good boy. Johnny Cash had a reputation as a hell-raiser, and he was coming back from a very dark place."
Cash insisted on filming in Nashville at the Ryman Auditorium, then home of the Grand Ole Opry. (He'd been banned from the place four years earlier after one crazed, amphetamine-fueled night, but by this point all was forgiven.) The facilities were primitive -- the editing room was a garage in the alley behind the Ryman -- but friends and admirers rallied around the singer, who attracted the most eclectic, varied and impressive slate of guest stars on any musical program of the day. On his first show, Bob Dylan and Joni Mitchell sang duets with Cash. Guests over the ensuing 57 shows included Linda Ronstadt, Merle Haggard, Louis Armstrong, Roy Orbison, Neil Diamond and Ray Charles.
The crew and all the guests stayed at a Ramada Inn in a dodgy part of town, where Kristofferson and fellow songwriter Mickey Newbury got a room and went to work. "People who came to Nashville came in for that show, and we pitched our songs to all of them," says Kristofferson, who says his career got an immeasurable boost from his exposure on the series.
Before the strong-willed Cash began to chafe at network interference, The Johnny Cash Show rehabilitated its star's ragged reputation, won new fans for country music and showcased country, folk, blues and gospel performers who would not otherwise have been seen on network TV.
"That show was really the first of its kind," says talent executive Danette Herman, who worked as a producer's assistant on The Johnny Cash Show. "And the reason it worked is that everybody wanted to be there for John."



| | |
| --- | --- |
| '70s Holiday Gift Ideas | |

These recently released DVD and CD sets are sure to please the '70s fans
on your holiday shopping list this season.


DALLAS (The Complete Third Season)
Warner Bros.

The feuding Ewing clan is back in a five-DVD set that contains the entire third season of Dallas the classic '70s/'80s TV series. Season three was Dallas at its hottest, fading out with one doozy of a cliffhanger, an episode that ranked among the most-watched of any TV show in history. Who can forget when the dastardly J.R. got his come-uppance at the end of a gun, creating the burning question that lingered for months: "Who shot J.R.?" The DVD set also features an all-new documentary, which catches up with Larry Hagman (J.R.), Patrick Duffy (Bobby), Linda Gray (Sue Ellen) and show creator David Jacobs as that look back 20 years to dig up some Dallas dirt. One caveat: If you don't remember who did shoot J.R., this collection won't answer the question for you. You'll have to wait for a fourth-season box set to rediscover who pulled the trigger.


BILLY JOEL - My Lives

Joel personally assembled this four-CD set, which includes 23 unreleased tracks and a bonus DVD shot during 1994's River of Dreams tour. The Piano Man digs deep on unreleased covers of "All Shook Up" and "Highway 61 Revisited." In fact, Ol' Doe Eyes' early fumbling attempts at rock glory with old bands the Lost Souls (Nuggets rock) and Attila (ELP-esque prog-rock) are the best bits. As far as his more familiar Tin Pan back-alley approach, there are lots of barren demos of tunes like "Piano Man," never-released songs, and live covers of Brian Wilson, Bob Dylan, and Leonard Cohen numbers. If you love him, you need this; if you like him, there's always iTunes.



PATTI SMITH - Horses 30th Anniversary Legacy Edition

The Punk Grandmother's 1975 debut gets a serious sound upgrade. Disc Two features a complete performance of the album at London's Royal Festival Hall from earlier this year. The London show's encore of "My Generation" (which Smith originally covered as the B-side to "Gloria") has her fronting a slick band featuring Flea and Tom Verlaine.





THE BAND - A Musical History

"The passion for the unreleased material hasn't suprised me, because when I heard it I got very excited myself," says Robbie Robertson of the 37 previously unavailable tracks on the Band's critically acclaimed new box set. The five-CD (plus DVD) career-spanning collection includes early Levon and the Hawks tunes, live tracks from a 1971 Royal Albert Hall gig and alternate takes from the Music From Big Pink sessions -- in addition to most of the music Robertson, Levon Helm, Garth Hudson, Rick Danko and Richard Manuel officiallly released.




JOHNNY CASH - The Legend
Columbia/Legacy
Two years after Johnny Cash died at 71, the American icon's legacy continues to grow. Walk the Line, starring Joaquin Phoenix, opened in November; Rick Rubin is prepping the final installment of the American Recording series; and yet another box set has hit the shore shelves. This four-disc set comprises two CDs of Cash classics culled from both his Sun sessions ("I Walk the Line," "Hey Porter") and his Columbia years ("Ring of Fire," "Folsom Prison Blues"); a standards disc (including a previously unreleased version of "I've Been Working on the Railroad"); and a CD of duets ("The Wanderer," with U2). This is a feast of Cash.



TALKING HEADS - Brick

Every studio album -- from Talking Heads: '77 to 1988's Naked -- gets the DualDisc treatment, with bonus tracks, rare video and 5:1 surround sound. Also included is early live footage of the rarity "I Feel It in My Heart," taped at the New York performance space the Kitchen in 1976.





CREAM - Farewell Concert
Image Entertainment
With Cream now reunited, the time is nigh for the release of 1968's concert film from London's Royal Albert Hall. The three virtuosos, determined to reinvent popular music, deliver raucous improvisations on "Crossroads." Still, their instrumental indulgence foreshadows the worst wank rock of the 1970s. While interviews feature a fusty elder interrogating Messrs. Bruce, Clapton and Baker about their techical acumen, Ginger demonstrates triplet paradiddles and a young E.C. reveals how he achieves his guitar's "woman tone."




LIVE 8
Capitol

Memorable moments in this July 2, 2005, concert to alert the world to global poverty include Ricky Gervals boogieing to Snoop, Mariah Carey dressed like that around African children and Roger Waters' announcement, "We're doing this for everyone who's not here -- particularly, of course, for Syd."




MONTY PYTHON: And Now for Something Completely Hilarious! Collection (1971-89)

Ignore your astrologer: It's not the year of the rooster, it's the year of the Pythons. The And Now for Something Completely Hilarious! Collection bundles Monty Python and the Holy Grail, And Now For Something Completely Different and Terry Gilliam's flawed but dazzling fantasy The Adventures of Baron Munchausen. Also available: The Complete Monty Python's Flying Circus 16-ton Megaset.

comments powered by