| | |
| --- | --- |
| Candid Carly | |

With the release of her new CD of pop standards, Carly Simon
talks about music, marriage and surviving the tough times.
by Ileane Rudolph in TV Guide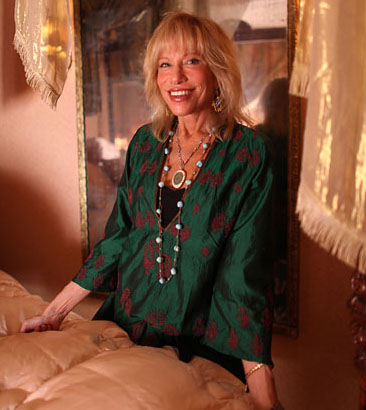 he's chronicled her romantic angst in song since the 1970s, but Carly Simon has always left a piece of her heart in the '30s and '40s.
As proof, the 60-year-old singer and songwriter released her fourth CD of standards, Moonlight Serenade, on July 19. Shortly before the album's release, we visited the Oscar and Grammy winner at her Greenwich Village duplex in a historic town house.
---
Moonlight Serenade has a very intimate, mellow feel.
Our intention is an album that you could make out to. [Laughs]
To promote it, you'll be performing on TV. What about your fabled stage fright?
I'm not going to empower that negativity anymore.
Would you consider a small tour?
Yes, but never for long, because I love my home in Martha's Vineyard too much. The kids [Ben and Sally, her children with ex-husband James Taylor] have their homes on the property.
Ben had a recurring role on American Dreams. [Both he and Sally are singers and songwriters.] Does he want to act more?
Ben was so cute in it! I'm sure if the right acting part came forward, he wouldn't ignore it.
Moonlight Serenade
Columbia

Compared with the general loveliness of Torch, Simon's 1981 set of standards, this generic collection, a reunion with "You're So Vain" producer Richard Perry, disappoints. With the rubber-chicken supper-club stylings of the title track, a drowsily synthesized "I Only Have Eyes for You," and a clumsy speed-up of Harry James' "The More I See You," it's up to Simon's voice -- with its shadings of Rosemary Clooney -- to rescue the proceedings from disaster. It comes close. B-
You once said that James Taylor was a terrific father.
He is. But he doesn't want to be at all involved with me.
Why?
You'd have to ask him. The last time I saw him was at Sally's wedding [in 2003].
Are you and your husband, poet Jim Hart, still together? You were separated.
We have an unconventional marriage, but we are still deeply involved.
You seem to be in a better place now than five years ago, when you made your last CD of new songs, The Bedroom Tapes.
I had a very bad experience [because her label didn't promote it]. And I recorded it at a very tender time. I was undergoing chemotherapy [for breast cancer], and I had a very bad depression around that time. [Simon has since bought back the rights and hopes to rerelease it.]
Are you OK now?
Yes.
Does writing music help you through the bad times?
It's the only thing I can do to help myself. If you're a creator, that's how you express yourself. Without it, you become crazy.
Which of your songs most says who you are?
"Like a River." I wrote it right after my mother died. It sums up how I feel about death and mothers and daughters.
Your good friend Jackie Kennedy Onassis wanted you to write your autobiography.
I realized I didn't want to write about people who didn't want me to talk about them. I couldn't write about James, and I could write a whole book about James.
You revealed who "You're So Vain" is about when NBC Sports chairman Dick Ebersol paid $50,000 to charity. Why?
It no longer seemed that important to keep it to myself. And I told him if he ever tells anybody, I'd say I lied.
We all know it's Warren Beatty.
It's so funny that people are still guessing. [Laughs]



| | |
| --- | --- |
| Stupid Questions with Joe Elliott | |

by Dan Snierson in Entertainment Weekly


ave you spotted something strange lurking in your city this summer? Perhaps a hearing-impaired feline who likes it loud? Def Leppard -- those candy-coated metallurgists from England -- are alive and scissor-kicking their way through a 59-date North American tour to support a greatest-hits package, Rock of Ages: The Definitive Collection. They're also unleashing an all-covers album, Yeah!, on Sept. 20. It sounds like the perfect time to give the man on the mic, Joe Elliott, the shock of ages with some stupid questions.
---
[Gutteral growl] Do you wanna get rocked?
No.
How come?
It's too early in the bloody morning. Gimme a break. Come 9 o'clock at night -- absolutely.
How exactly do you get rocked? According to Sammy Hagar, there's only one way to rock, but surely there have to be other ways.
There's at least two and a half ways to rock. You can rock with your legs wide open. You can rock with your arms up in the air. Or you can just stagedive and hopefully you don't come up with a broken neck.
In retrospect, do you regret the skimpy Union Jack shorts?
Are you kidding? With all the women we used to get in those things? I wish I was still wearing them.
| | |
| --- | --- |
| Released by Mercury/Universal on May 17, Def Leppard's double disc, 35-track Rock of Ages: The Definitive Collection focuses on their familiar MTV hits of the early '80s as well as some of their grittier, overlooked earlier tracks from such albums as On Through the Night and High 'N' Dry. | |
If you wanted to -- and I'm not saying you should -- could you get the guy from Ratt on the phone right now?
No. I met him once. He came to one of our gigs in 1988 and he was so out of his head, he couldn't even clip his laminate onto his rope. We had to get our stage managers to do it for him. That's when I knew we didn't have much in common.
Def Leppard played a concert in Leeds a few years ago that was attended by Queen Elizabeth. How awkward was it when she threw her bra on stage during "Pour Some Sugar on Me"... or was it during "Animal"?
It was "Pour Some Sugar on Me." It was kind of awkward because her staff demanded it back after the gig. But by then, we'd abused it. We use it as a hammock now.
Rick Allen, your one-armed drummer, uses a drum set with specially rigged foot pedals. On this tour, does one of those pedals trigger a machanism that rips your jeans perfectly every time?
No. I'll tell you how that happened. They were sliced with a razor blade and washed. At the beginning of the tour, those jeans didn't look like that. They only looked like that after 120 gigs and 120 washing machines. Then they got a bit too obscene and they had to go because it wasn't so much a rock show anymore as a peep show.
You guys are coheadlining some shows with Bryan Adams. Fifteen years ago, wouldn't your mullets have been revoked for fraternizing with someone in the "wuss rock" genre?
Mullets being revoked couldn't happen quick enough for me. You can stick them on Jeff Foxworthy.
I love that you know Jeff Foxworthy.
I know of him. He comes in the same category as the singer from Ratt. I don't have his number, either.

comments powered by