| | |
| --- | --- |
| Remembering the Godfather | |

The late entertainer's soul is eternal, as his vibrant, vital recorded legacy confirms
by Ken Tucker in Entertainment Weekly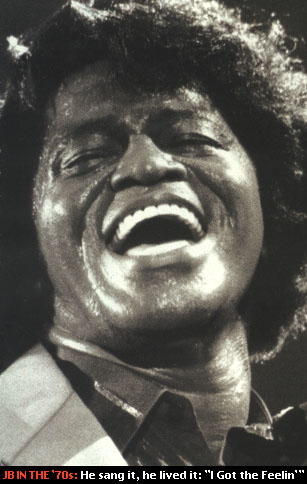 ames Brown died on Christmas Day of congestive heart failure at age 73. We thought it appropriate to salute this ceaselessly creative innovator, who left behind hundreds of songs, by tracing his life through some of his best recordings.
"PLEASE, PLEASE, PLEASE" 1956
The young Georgia native had been listening to gospel, blues, R&B, and proto-rock & rollers like Sam Cooke, Hank Ballard, Clyde McPhatter, and Ray Charles. He took all he was learning and poured it into this impassioned single, a blues vamp built arounda two-note piano hook. The fundamentals were in place from the start of this, his first hit single: the repetition of simple words -- not merely the three pleases of the title but also "I, I, I, I," as Brown almost stutters out the phrase "I just wanna hear you say." Even if the woman in the song didn't love him, the public did -- a Southern hit, it went national, and his reputation was made. A

LIVE AT THE APOLLO 1963
Recorded in Harlem with what was now his crack touring band, the Famous Flames, it sold over a million -- a rare feat at the time for a hardcore R&B album. More crucially, it showcased all he'd been learning as an artist, as a bandleader, and as an entertainer. By this time he was already billed as "Mr. Dynamite" and "The Hardest-Working Man in Show Business." Augmenting any lyric with screams, yells, and emphatic grunts, he would spin in place, thrust his hips, execute splits to the floor. And during this period he initiated what would become a longtime concert-finale stunt: He feigns exhaustion and collapses on stage. An assistant comes out and covers his shoulders with a cape and helps him off stage, but just before he leaves our sight, he breaks away and runs back, his energy renewed, to sing again. It's a beautiful metaphor: the Resurrection of the Soul. A-
"PAPA'S GOT A BRAND NEW BAG"
"I GOT YOU (I FEEL GOOD)" 1965
Released within four months of each other, the singles that brought Brown to the top 10 on the pop charts -- his crossover into the white world of the Beatles era. As always, everything is stripped down to the basics, even the songs' themes: the first, about dancing; the second, about a successful romance. Brown had found a way to pare down the compositions' lengths to make them playable on then-dominant AM radio, while their open-ended structures tantalizingly suggest that these riffs could go on forever. Both: A
"SAY IT LOUD -- I'M BLACK AND I'M PROUD" 1968
The civil rights and black-power movements were in full gear, and so was Brown. He responded with vigorous directness, daring his white audience to come along on his musical freedom ride. You can call his politics expedient -- he supported both Martin Luther King's nonviolence and H. Rap Brown's black nationalism, was a Hubert Humphrey Democrat and a Richard Nixon Republican -- but you can't deny the exhilaration of his distillation: The title phrase was exactly what an oppressed minority as well as a mass pop audience wanted to chant along to. To be followed by "Get Up, Get Into It and Get Involved" and "I Don't Want Nobody to Give Me Nothing (Open Up the Door I'll Get It Myself)." B+

SEX MACHINE 1970
Around this time, key Flames members such as saxophonist Maceo Parker and trombonist Fred Wesley rankled at Brown's autocratic ways and walked. Among their replacements in a reconstructed, increasingly funk-oriented band dubbed the J.B.'s were brothers William "Bootsy" Collins and Phelps "Catfish" Collins on bass and lead guitar, respectively (they would later go on to help George Clinton consolidate the Parliafunkadelicment Thang). This transitional album, cut before Parker and Wesley's mutiny, stands as one of Brown's most consistent, which means it's pretty close to a masterpiece, with "Get Up (I Feel Like Being A) Sex Machine" posessing a riff and a message that hip-hop artists today are still trying to match for precision and braggadocio. A

THE PAYBACK 1973
Parker and Wesley were already back to help form a king of supergroup for this double album. (Avoid, by the way, the two movie soundtrack albums, Black Caesar and Slaughter's Big Rip-Off, both released the same year -- Brown's gifts were not meant for narrative storytelling or blaxploitation instrumental fills.) B+
"RAPP PAYBACK (WHERE IZ MOSES)" 1980
As the '70s wound down, Brown's hits were confined to the R&B charts, and with disco on the rise, he took to billing himself as "The Original Disco Man." In the sense that he was always a dancer, the boast is accurate. His cameo in the Blues Brothers movie that same year amounted to a pop comeback, but "Rapp Payback" had nothing to do with nostalgia -- it looked ahead to the future of rap and hip-hop, demanding by implication that he be acknowledged as the originator of riffs and licks that would be sampled over and over in others' hits. B+

"LIVING IN AMERICA" 1985
His last pop hit, ground out as patriotic piffle for Rocky IV, but even when he was coasting on now-decades-long fame, he put enough oomph in the call-and-response corus ("I'm -- I'm! -- living in America") to turn the public's long-standing fondness for him into fresh enjoyment of the ebullient pugnaciousness of "Soul Brother Number One." B
STAR TIME 1991
The bedrock, the Rosetta stone, the Brown bible: four CDs including every song mentioned here except the Rocky number, but so much more, from "Prisoner of Love" to "Funky Drummer" to "Unity, Pt. 1," his collaboration with Afrika Bambaataa. If you have the dough for an anthology, this is the one to get. A



| | |
| --- | --- |
| Reunited...and it Feels So Good | |

Three much-missed bands from the '70s/'80s are gearing up for potentially mind-blowing reunions
by Simon Vozick-Levinson in Entertainment Weekly


THE POLICE
What's up? Stoking rumors of a reunion tour, frontman Sting recently said: "It is [our] 30th anniversary. We are discussing something." One source confirms: "It's happening... The deal is all but signed." Who's in? "We're still great friends," Sting said of his original bandmates, guitarist Andy Summers and drummer Stewart Copeland. Why care? With buzz at a fever pitch, the creators of hit LPs like 1983's Synchronicity could still fill stadiums.




THE STOOGES
What's up? The punk forefathers return March 6 with their first LP in 31 years. Who's in? Original members Iggy Pop (vocals), Ron Asheton (guitar), and Scott Asheton (drums). The Minutemen's Mike Watt fills in for late bassist Dave Alexander. Why care? 1970's noisy Fun House rocked harder than nearly anything before -- or since. And Ron Asheton assures us the new jams are as raw as ever: "It's still the Stooges. It's still sex, it's still anger."




GENESIS
What's up? The pop icons will tour Europe this summer. U.S. dates should follow. Who's in? The 1977-96 lineup of drummer-vocalist Phil Collins, bassist-guitarist Mike Rutherford, and keyboardist Tony Banks. Why care? Without a new album, the trio's sure to play what nostalgic fans really want to hear: synth-heavy ballads from discs like 1986's Invisible Touch.

comments powered by