| | |
| --- | --- |
| Annie Gets Her Guns | |

Wilson gets to the heart of the matter on her new CD 'Hope & Glory'.
Ann Wilson
Hope & Glory
Zöe/Rounder Records
by David Wild


he world has long known Heart's Ann Wilson is one of the greatest and most enduring vocalists of her generation. Yet on Hope & Glory, her ultimately hopeful and glorious solo debut for Zöe/Rounder Records to be released on September 11, 2007, Wilson is likely to stun even her lifelong fans with what could fairly be called the mother of all cover albums.
On Hope & Glory, Wilson manages to reinterpret and reinvent some of the greatest songs of the past forty years that powerfully and poignantly reflect the here and now, including classics from the Sixties (Bob Dylan's "A Hard Rain's Gonna Fall," "Creedence Clearwater Revival's "Bad Moon Rising," The Animals' "We've Gotta Get Out of This Place," and The Youngbloods' "Get Together"), and Seventies (Led Zeppelin's "Immigrant Song," "John Lennon's "Isolation," and Elton John's "Where To Now, St. Peter?") to gems of a more recent vintage like "War Of Man" by Neil Young and "Jackson" by Lucinda Williams. Hope & Glory concludes with one heartbreakingly moving new song written by Ann herself, "Little Problems, Little Lies," yet one listen to the album demonstrates that Wilson has made each of the songs here very much her own and utterly relevant to the world today.
"Just about every single song was a complete thrill for me to sing because at some point I was a kid out there loving them, or a young adult loving them, or in a few cases a grown-up loving them," Wilson explains. As for the powerful ways the songs on Hope & Glory resonate with current events, Wilson says, "The thing is, I've been itching to make some sort of comment about our times, but I didn't want to do it in a way that was really abrasive and just shouting for the sake of shouting. I wanted to bring people some of the most beautiful poetry from different eras when they were facing a similar predicament and apply it to now."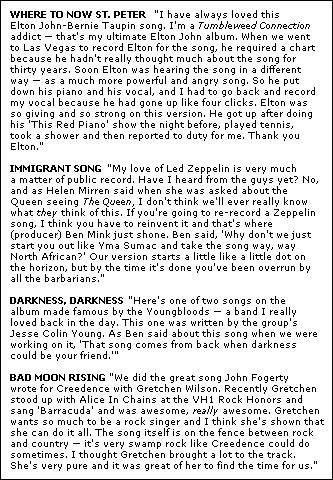 The thematic way that Hope & Glory addresses matters of war and peace gives the album a coherence and passion missing from the vast majority of cover albums. "Most people don't really succeed with cover albums because they just try to redo the songs," says Wilson. "I was so lucky to work with Ben Mink because he wold never just do that or settle for that."
According to Wilson, producer and multi-instrumentalist Ben Mink -- well known for his work with k.d. lang, Feist, and Barenaked Ladies, among others -- was an ideal collaborator on Hope & Glory. "I don't throw the word around easily, but I think Ben's a genius when it comes to getting a sound and knowing when you've gone too far and when you haven't gone far enough. The sounds that Ben gets are just astonishing. Ben did a lot of the arranging and played almost all the guitars, all of the fiddle, a lot of the keyboards. He's really a presence all through the album."
Mink is hardly the only musical figure joining Wilson on the album. Hope & Glory -- recorded in Los Angeles, Seattle, Vancouver, New York, Nashville and Las Vegas -- also features impressive guest turns from an eclectic group of high profile artists, including Elton John, Gretchen Wilson, k.d. lang, label mate Alison Krauss, Wynonna, Shawn Colvin, Deana Carter, and Rufus Wainwright. In addition to those special guests, Ann's sister and longtime musical partner in Heart, Nancy Wilson, makes a number of appearances on assorted tracks, as do two current members of Heart, drummer Ben Smith and bassist Ric Markmann and a number of players who had worked with Ben Mink on many of his projects.
For all that, Hope & Glory finally comes across as very much the statement of one woman seeking to make sense of the world around her. Rather than seeming like a heavy handed political diatribe, the album feels intimate and homespun -- a musical exploration of the very personal consequences of global tensions through some remarkable songs.
"I just wanted to go to each of these great songs and find the one thing that still resonates now," Wilson says. "It wasn't so hard once I made my wish list of songs for the right ones to just float their way right to the top. And Ben was so great about that. We took a couple of days up in Vancouver and just went at every song we could possibly think of and some of them were clearly not right. So I guess all the songs we chose were those that we felt could live in the same family, and live on the same album."
Asked if she feels especially proud of Hope & Glory, the first album she has ever put her own name on, Wilson says, "It feels really different and I don't even necessarily know how that's going to manifest itself yet because I have yet to go out and do gigs yet and play this material live. But I already know that I learned a hell of a lot from with Ben Mink on this album. Nancy and I have a really big comfort zone together, and when she's not around it's a whole other deal. Making this album, I had to reach down into places of myself -- I really didn't know if they were there. Ben demanded that much of me. And in the end, it was a really good thing for me."



| | |
| --- | --- |
| View to A Killer | |

Robert De Niro's chilling turn as lonely gunman Travis Bickle still speaks volumes.
Taxi Driver
Two-Disc Collector's Edition
Robert De Niro
R, 114 mins., 1976
(Sony Pictures)
by Mark Harris in Entertainment Weekly


ravis Bickle can't sleep. His stomach tortures him. He eats nothing but junk food and stares at his TV and writes in his diary. He says he wants to become "a person, like other people," but he's almost always alone. He's cut off, reactionary, moralistic. At night, as he drives his cab through Times Square's seediest streets, where depravity shimmers temptingly in every neon-lit puddle, he longs for a "real rain," one that will wash all the human scum away. He is, he tells us, "God's lonely man." And when he finally decides to "get in shape" and give his life "direction," it's one of the most horrifyingly emblematic moments in all of '70s cinema: In the jargon of the era, Travis self-actualizes into a killer.
Forget, for a second, De Niro glowering at his own reflection in his jail cell of a rented room and saying "You talkin' to me?" (a line the actor improvised). To reduce a film as indelible as Taxi Driver to the equivalent of "I'll be back" is to render it a much safer work than it is. Three decades after its release, Martin Scorsese's drama asserts its enduring power as a New York City noir, a haunted character study, and a Rorschach test for every new viewer: Is it a warning about how easily an ordinary guy can slip into psychosis, or about how easily a psychopath can be mistaken for an ordinary guy? More than three hours of DVD extras -- the best being a previously released feature-length making-of -- will help you decide for yourself, as will Paul Schrader's superb script, which can be accessed on screen at any corresponding point in the movie.
When Taxi Driver opened, there was no disputing the accomplishment of De Niro, who creates as shattering a portrait of solitude-fueled disintegration as the screen has ever contained, or the uncanny poise of 12-year-old Jodie Foster as the child prostitute who becomes an unwitting trigger for Travis' savior madness. But the movie itself was not praised without qualification: Time called it "yawningly predictable" and The New York Times insisted Scorsese turned the story into "less than the sum of its parts." Now it seems so much more, from the muted, carefully paced opening scenes to the transfixing, bloody climax -- a vivid reminder that Scorsese, unlike so many who have tried to ape him, has always understood the moral line between violence that terrifies and violence that titillates. Schrader's screenplay belongs unmistakably to the post-Vietnam moment in which America was gripped by the culture of the lone gunman, the soldier gone mad, and the murderer who imagines himself a martyr. Perhaps that should make the film seem dated; instead, it feels all to current. Taxi Driver may be very much of its time, but if you're listening, it's still talking to you. A

comments powered by