| | |
| --- | --- |
| I'm a 'popper' | |

The drummer formerly in some group named the Beatles
returns with his first album on Capitol/EMI in 34 years.

n January 15 (January 14 internationally), 2008, Ringo Starr will release Liverpool 8, his first new album with Capitol/EMI since 1974's Goodnight Vienna. Liverpool 8 will be available worldwide on CD and digitally, and the album's title track debuted as a digital single on December 4. Starr will launch the album with a hometown performance on January 12 to commence Liverpool's 2008 Capital of Culture celebrations.
"Liverpool 8," also the title of the album's upbeat, vibrant lead track, "refers to the section of Liverpool where I used to live," explains Ringo. "The song was actually Dave Stewart's idea, as a mini autobiographical travelogue: 'I was a sailor first?' and then, 'Liverpool I left you' - because I did. 'but I never let you down,' which is true."
Although Starr and Stewart have known each other for years, this is the first time they have collaborated. It began when Dave asked Ringo to lay down some drums on a track Stewart had done with George Harrison. "After I did the drums I asked Dave to add some guitars to my album, which Mark Hudson and I were working on at Mark's Whatinthewhathe? Studio in LA. After Mark and I parted ways, Dave and I took over producing the record," Starr said. Then added in his trademark wit, "and that's why the credits say: Produced by Ringo Starr and Mark Hudson and Over-produced by Ringo Starr and Dave Stewart."
Liverpool 8's 12 original tracks were all co-written by Starr and were recorded in England and in California. "The writing of the records is always the same," Ringo explains, "it's the same group of guys and we all sit together and write about what's happening."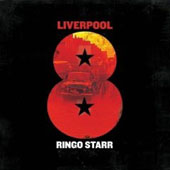 That "group of guys" who joined Starr on the album's songwriting and recording are (in alphabetical order): Gary Burr, Steve Dudas, Mark Hudson, Sean Hurley, Zac Rae, and Dave Stewart.
Since beginning his career in the 1960s with The Beatles, Ringo Starr has been one of the world's brightest musical luminaries. Starr has enjoyed a successful and dynamic solo career as a singer, songwriter and drummer, an active musical collaborator, and as an actor. Drawing inspiration from classic blues, soul, country, honky-tonk and rock 'n' roll, Starr continues to play an important role in modern music with his solo recording and touring. His last studio album, Choose Love, was released in 2005.
Ringo has said that as time goes on there is more and more of his personality in his music, and the songs on Liverpool 8 feel personal. Starr's candor, wit and soul are evident in the lyrics and the heartbeat of every song; I always followed my heart and I never missed a beat. Peace and love are Ringo Starr's primary life beats, and Liverpool 8 propels this universal message in each of its evocative songs, which are imbued with joy, insight, reflection and wisdom from the music icon the world knows and loves simply as 'Ringo.'



| | |
| --- | --- |
| Grammy Gold | |

The new 7-CD set 'Ultimate Grammy Collection' features some
of the best songs from throughout the history of the Grammys.


n a grand commemoration of the 50th Celebration of the Grammy Awards, Shout! Factory and The Recording Academy's Grammy Recordings announce an electrifying 7-CD series encompassing Grammy winners from four of the legendary awards' major genres. With a personal introduction written by 27-time Grammy winner and 50th Celebration Ambassador Quincy Jones, this series is a sumptuous ode to the biggest hits in music history and a must-have for music lovers and collectors alike.
"We look forward to celebrating the past five decades of Grammy-winning music with music fans everywhere through our comprehensive CD compilations," said Neil Portnow, President/CEO of The Recording Academy. "It is exciting to have such classic recordings in the marketplace all at once; we hope people enjoy listening to some of the best music of the last half century as much as we did when compiling this remarkable catalogue of material."


"We are thrilled at the opportunity to join The Recording Academy in celebration of this historic milestone," says Shout! Factory CEO Richard Foos. "For 50 years, the Grammy Award has been recognized as music's highest honor. This series pays tribute to the artists who have helped make it so."
Ultimate Grammy Collection: Contemporary R&B and Contemporary Pop arrived on Nov. 27, just days before the CBS broadcast on Nov. 30 of "My Night at the Grammy's," a two-hour special highlighting 25 favorite Grammy moments as voted on by music fans.
Just in time to get music fans primed and ready for the 50th Annual Grammy Awards to be held on Feb. 10, 2008, at the Staples Center in Los Angeles, five more Ultimate Grammy Collection CDs will be released on Jan. 8. Ultimate Grammy Collection: Classic R&B, Classic Pop, Contemporary Rock, Classic Country and Contemporary Country. Music fans can hear 30-second clips from the releases at the official site for the Ultimate Grammy series, UltimateGrammyCollection.com.


A portion of the proceeds from the Ultimate Grammy Collection CD series will benefit the MusiCares Foundation and The Grammy Foundation, two charitable arms of The Recording Academy. MusiCares provides a safety net of critical health and human services and financial assistance for music people in times of need. The Grammy Foundation cultivates the understanding, appreciation and advancement of the contribution of recorded music to American culture through music education programs for young people and activities that promote and preserve music's rich cultural heritage.
Established in 1957, The Recording Academy is an organization of musicians, producers, engineers and recording professionals that is dedicated to the cultural condition and quality of life for music and its makers. Internationally known for the Grammy Awards -- the preeminent peer-recognized award for musical excellence and the most credible brand in music -- The Recording Academy is responsible for groundbreaking professional development, cultural enrichment, advocacy, education and human services programs. In its 50th year, The Academy continues to focus on its mission of recognizing musical excellence, advocating for the well-being of music makers and ensuring music remains an indelible part of our culture. For more information about The Academy, visit www.grammy.com.

comments powered by