| | |
| --- | --- |
| In the Studio with Queen | |

The British stadium rockers re-form and record 'The Cosmos Rocks.'
by Andy Greene in Rolling Stone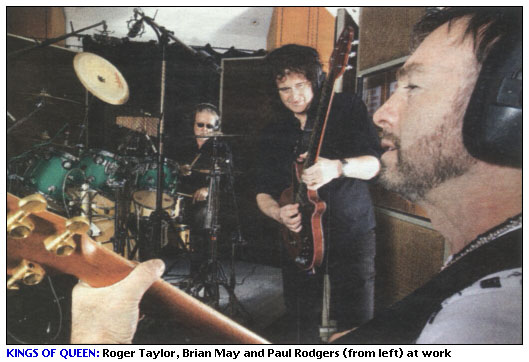 hen Queen performed at their 2004 induction into the U.K. Music Hall of Fame, they asked former Bad Company vocalist Paul Rodgers to take on the unenviable task of filling in for the late Freddie Mercury. "It was amazing how seamlessly our different styles fit together," Rodgers says of that appearance. "We came offstage really buzzed about it and said, "Let's do some more.'" Within a few months, the hybrid group, dubbed Queen + Paul Rodgers, was performing a set composed mainly of Queen hits (with a handful of Free and Bad Company tunes sprinkled in) to packed arenas across the world. Rehashing the past, however, wasn't the ultimate goal. "I don't want to feel just like old guys playing the hits," Queen drummer Roger Taylor says. "Hopefully [this new album] will be a creative rebirth for us."


Last year, Rodgers, Taylor and Queen guitarist Brian May gathered at Taylor's estate outside London to begin recording Queen's first album since 1995's Made in Heaven. (Queen bassist John Deacon -- who hasn't performed with his bandmates since 1997 -- opted not to come out of retirement for the project.) As the newcomer, Rodgers has had to bridge the gap between his blues-rock background and Queen's lush, grand sound.
Brian May's High-Falutin' Blog
brianmay.com/brian/brianssb/brianssb.html

The 60-year-old lead guitarist of classic-rock titans Queen is also an astrophysicist (he recently completed his Ph.D, after years spent touring and recording). Read Brian's thoughts on the discovery of zodiacal light in 1685! Witness his photographic tribute to Spanish moss! Hear about his new job as chancellor of Liverpool John Moores University! Totally random but surprisingly charming; it's like having a dotty scientist uncle who also just happened to play Live Aid. - Leah Greenblatt
"We're learning a great deal from each other," May says. "When we started talking about harmonies, Paul went, 'Oh, really?' 'Cause that hasn't been his thing. It's a new world for him."



The first single will likely be "C-lebrity," which sounds like a mash-up of the brawny "All Right Now" and the harmony-soaked "Somebody to Love." Other tracks include "We Believe," an "epic in Queen's traditional style," according to May, and "Call Me," which he says sounds like it would fit right in on Queen's 1974 classic, Sheer Heart Attack.



The new album, The Cosmos Rocks, is due out in October and is the first the band has recorded without Mercury, who passed away in 1991. "I feel like he's still very much part of the band," May says. "We reference him every day. He always really enjoyed Paul's work. He used to have a go at me in the studio when I tried to have him sing bluesy stuff. He'd say, 'Brian, you're trying to make me fucking sound like Paul Rodgers, and I can't do it!'"



| | |
| --- | --- |
| Swingtown: Welcome to That '70s Sex Show! | |

The Tiffany Network comes up with their own 'Desperate Housewives' - 32 years removed.
Swingtown
Thursdays, 10/9c, CBS

by Matt Roush in TV Guide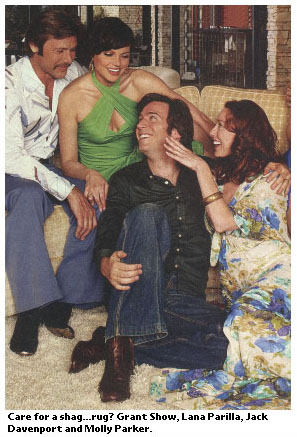 o you know anyone who's truly nostalgic for the '70s, with those ugly clothes and even less flattering hair? (I lived through it and have seriously thought about burning my yearbooks.) If Fox's That '70s Show played the decade for laughs, CBS' smirky, smarmy drama Swingtown plays it for leers.
"They look happy," says airline pilot Tom (Melrose Place stud Grant Show), who does everything but lick his lips as he peers through his window at the new neighbors innocently moving into into their cul-de-sex of an upscale Chicago suburb. Tom and wife Trina (Boomtown's Lana Parrilla) have just wrapped up a threesome when they lay wolfish eyes on the naive newbies.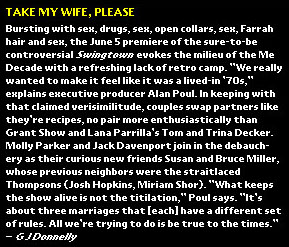 Susan and Bruce (Deadwood's Molly Parker and Jack Davenport), trading their old life of block parties and barbecues for a new world of Quaaludes and open relationships, are fresh meat to these sensuous predators. They're not even fully unpacked before they're unfrocked.
I just wish Swingtown gave us some fresh dramatic meat. Set against the U.S. bicentennial of 1976, the show may be trying to say there's nothing more patriotic than the all-American sex drive. But in the pilot episode (premiering June 5), no one is more than skin-deep, so there's little in the way of irony or metaphor to disguise the fact that Swingtown is so determined to be shocking it seems a little quaint. (Mad Men, AMC's '60s triumph, is much more provocative in its period depiction of sexual attitudes -- but that was then, and this is a less interesting then.)
Everything is innuendo here, from pubescent boys sneaking looks at Penthouse to the relentless and obvious soundtrack. Captain & Tennille's "Love Will Keep Us Together" was an inevitable choice, but if they decide to make a comment on "Muskrat Love," I'm swinging outta there.

comments powered by